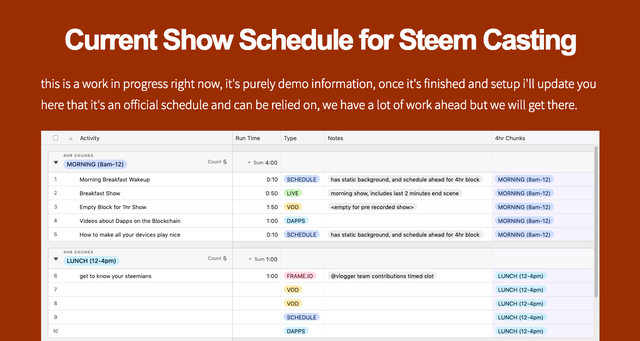 So I've started building out a test version on http://ampsteem.com right now because the http://steemcasting.com site is just a holding page right now, I'm super busy with http://beeb.ee and we have 12 other templates to build out for http://ihaz.carrd.co at the moment so that's our focus.
I did get a basic layout setup, I've got work to do on it regarding the shows and content we will be showing but I think the structure is sound because it means that certain team members can help build out the schedule — I'm gonna need to upgrade my hardware for video encoding on the daily and maybe look around to find a new co-working spot for gigabit internet.
Once we have a solid video standalone machine, with cloud access using expandrive to say back blaze b2 or other cloud hosts, moving files between what clouds people use (google drive etc) then moving them from cloud to local via gigabit should make video file management much easier and should be a good talking point to the local gov strategy to bring people into the city centre to take up gigabit co-hosting so it's a win-win.
building the schedule.
So I've gone with the idea that we create a bunch of assets that program makers utilise on the content they submit — instead of scheduling two minute adverts or schedules at the end of the time period we are going to factor them into the video — this makes the VOD a bit weird standalone away from the site but it might bring people into the idea that this a 24/7 channel rather than just standalone content.

Making up the four hour blocks should be easier with this method and means that each block has the required elements before the program starts, we can offer overlays for OBS and standalone 1080/720 overlay frames for VOD style video, just means the show or content creator can throw these over the front or end (or both) of their content and it's then a self contained piece of content — we can schedule those for 30/60/120 minutes of time then per show, I might factor in doing steem dApp promote for instance in thirty minute block in whatever format that ends up being.
Having SIX blocks of 4 hrs of content actually makes the schedule kinda neat because some people might wanna appear in a certain block of the day and it makes pricing for 'advertising' better for the prime time spots as we move forward as a business to build out proper blocks of time each day.
Don't get it mistaken, I know this is a lot of work, a lot of work that at most can have scheduled a day and a half of content, it might even mean that we repeat 'blocks' until we have a bigger team and better scheduling of those six four hour blocks, we could have a dedicated team focused on their block of time as long as it get's scheduled in and uploaded fast enough (remember a 4 hr HD file is gonna be big so gonna take a long time to upload so time becomes hyper sensitive)
opening up for interest in joining the team
https://airtable.com/shronXoJjEbL0vp61 — if you want to join the team or you are a content creator interested in having your content on the live stream show each day of the week around the clock, 24/7 promoting your dApp or projects then fill out the form — the password is 'steemrocks'
I'm looking for team members, discussion around the content, time of day blocks, advertising costs, if to entertain other blockchain to promote on it and also about whitelabelling the service for other blockchains to use our concept (but paying in STEEM!)
---
That's my update for today, if you are not sponsoring the project, head over to fundition to drop us a little donation — once we get to the first level we can start to put together 4 hr blocks of content to start streaming, I'm really looking forward to the first twenty four hour SIX blocks of content, it's a lot to pull together but as a proof of concept I believe that's when people will finally get how valuable that can be ;)