Welcome to the 11th update of Oracle-D Campaign powered by Fundition - A Decentralized Crowdfunding Platform on STEEM Blockchain. This blog will give you the latest updates on upcoming TokenFest 2018.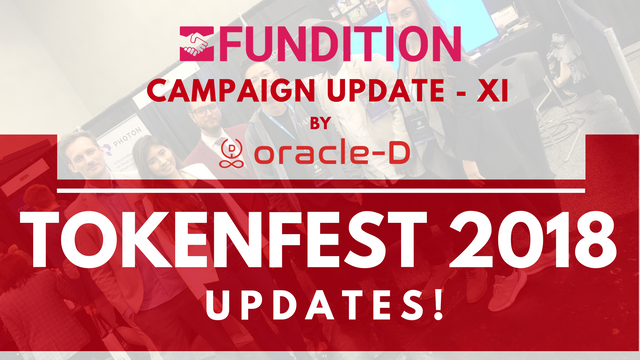 STEEM Blockchain At TokenFest 2018
3 days left to one of the biggest Blockchain Events in the world i.e. TokenFest 2018. From the Steem Blockchain, you can expect below people to join:
Partiko (@crypto.talk) Team.
SteemMonsters (by @yabapmatt and @aggroed) Team.
Steemit Inc. (Elizabeth Powell - Head Of Communications & Advocacy)
Steemit Inc. (@andrarchy - Andrew Levine - Content Director)
Steemit Inc. (Madeline Stone - Public Relations and Special Events Coordinator)
Oracle-D (@starkerz and @anarcotech) Team
Dlive (@wa7) Team
No wonder it's gonna be amazing since they had their first conference of 2018 in San Francisco. We will provide you regular updates of the event. We are also in the list of speakers as announced in the last update. Apart from Oracle-D, @andrarchy and @wa7 are also speaking at the event. Please check out profiles on their Speaker's page: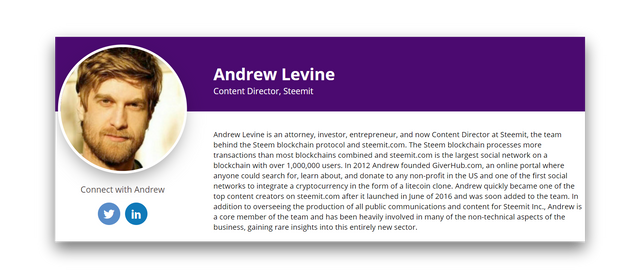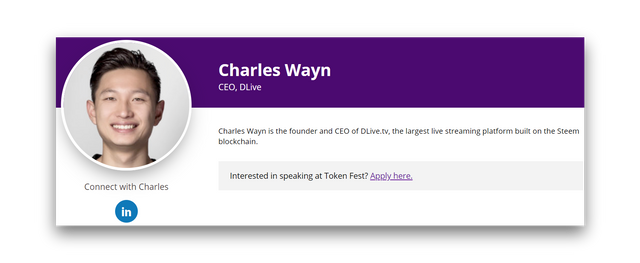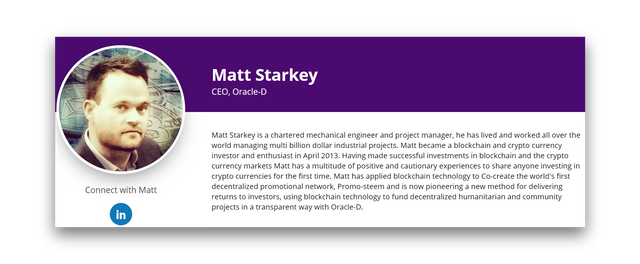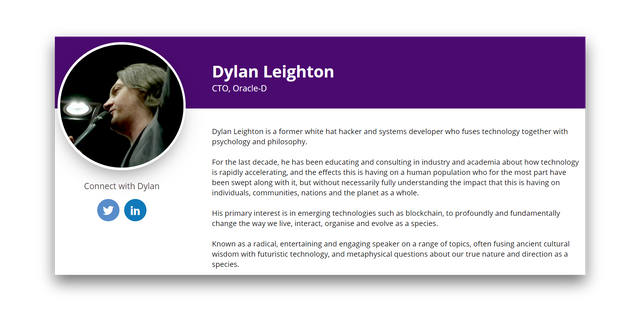 If you have been following official twitter account of Steem i.e. STEEM NETWORK then you might have noticed that they are posting regular updates about TokenFest as well: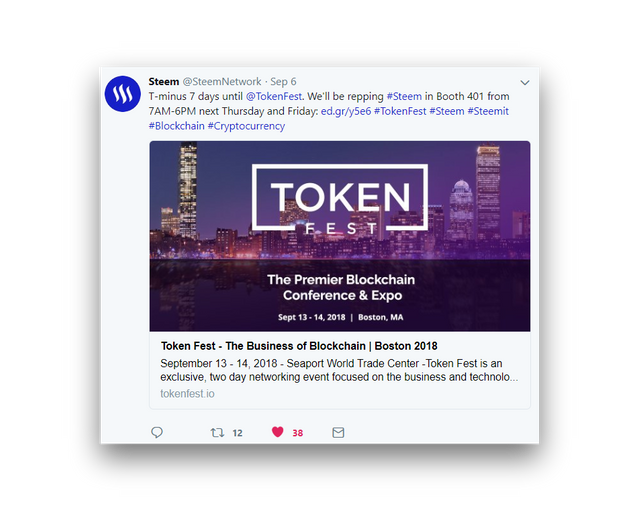 Hopefully you will get to see some action in the form of pictures and videos as well on @steemitblog and other social media channels. Please make sure to follow the twitter account and Oracle-D's blog. We will be making updates during the event and share our experience after completing our trip.
@SteemMonsters is also offering this for the people attending TokenFest. A great and unique way to promote Steem! Hopefully we get to have our starter deck as well. ;)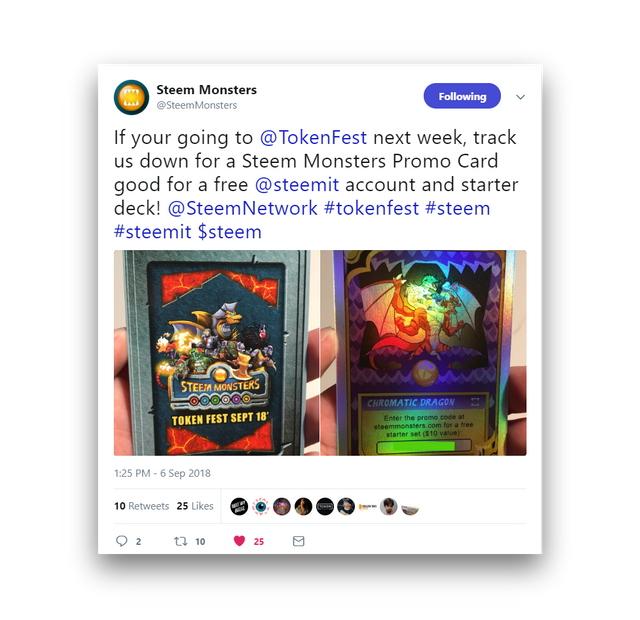 These events offers great opportunities as it is focused on Networking among several corporate Blockchain Enthusiasts and Entrepreneurs. Please stay tuned!

Campaign Update
Kindly check our Fundition Campaign on this link:
You can have a look at the progress made so far: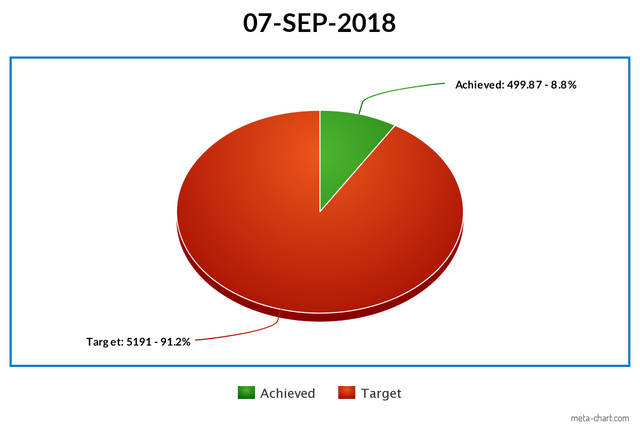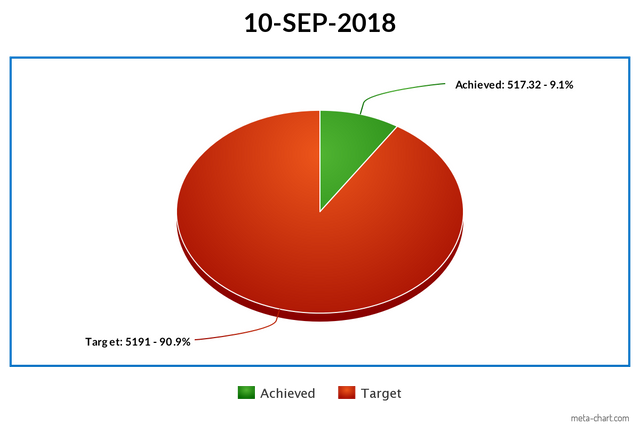 Oracle-D
is a new STEEM blockchain business venture bringing new investment into the ecosystem. Founded by @starkerz and @anarcotech, we previously were co-founders of the promo-steem and steem-ambassador projects, and we developed the CAMPUS curation system, which is a fully decentralised system for distributing rewards.
Core Mission
We remain apolitical, and our number one goal is to raise the price and utility of the STEEM blockchain, improve culture and education about the blockchain, and create opportunities which support exceptional quality content creators through collaboration with external investors. In other words, to add as much value to the blockchain every day as we can.
How You Can Support Us
You can support us in the following ways:
Go to our campaign's link given above and donate to us. The funding we get will be used only to cover the expenses of the events we will attend to attract more investors.
Upvote & Resteem this blog and spread the word about Oracle-D and our campaign.
Support our writers and their content which will ultimately empower quality on the STEEM Blockchain.
Upvote @Oracle-D witness by going to https://steemit.com/~witnesses or by using SteemConnect
Join our curation trail in SteemAuto to maximize your curation rewards.
Any kind of contribution is much appreciated and thank you for being a part of this Journey! Also, please do not hesitate to connect with us for any kind of collaborations that can help the STEEM Community grow.
Find Us At