Fundition.io is a next-generation, decentralized, peer-to-peer crowdfunding and collaboration platform, built on the Steem blockchain. Our aim is to replace old centralized models (such as Kickstarter, Indiegogo, Patreon, or GoFundMe), and offer a way for individuals and organizations to either fundraise for, or give to meaningful projects.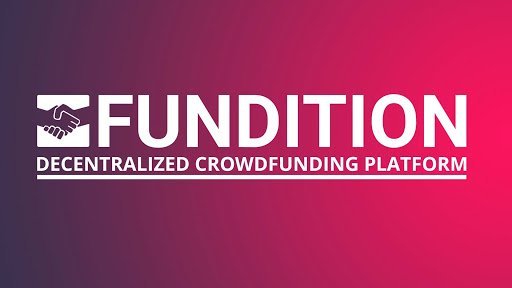 Fundition.io consist of several members that makes up the crowdfunding team. These team members are known as the stakeholders. These stakeholders are three in numbers namely, Founder, Collaborators, and Backers. These stakeholders have several benefit attached to them. So in this post, I will be discussing about the benefits attached to being a founder. But before I do that let me briefly remind you on who a founder is.
A founder is an individual who has successfully created a fundition.io campaign. This is basically the head of the crowdfunding process i.e. where all crowdfunding processes begins. The founder is the person who needs the funds and will tender a proposal to proceed with his/her request. After the initiation of a campaign, the individual is then granted the title of a "Founder" and given the access that goes along with the role a founder.
BENEFITS OF BEING A FOUNDER:
All fundition.io founders have a common goal which is to fund their projects. However, these projects comes in different forms, it could be funds needed to raise a music recording studio, a book publishing, structuring of cutting-edge technology, or perhaps charity purposes. No matter what the form your project takes these overall benefits of fundition.io covers all.
BELOW ARE THE BENEFITS OF BEING A FUNDITION.IO FOUNDER:
CONCLUSION
Fundition.io is trying it possible best to give it users an amazing crowdfunding experience. All theses benefits given to the founders shows that fundition.io wants it founders to successfully carry out their projects. And these gives a great incentive on wanting to use fundition.io to raise your needed funds.
BELOW ARE LINKS FOR MORE INFORMATION ON FUNDITION.IO:
Fundition.io Website
info@fundition.org
Fundition.io Discord channel
Fundition.io @busy.org
Fundition.io @steemit.com
Fundition.io Facebook page
Fundition.io Twitter handle
Fundition.io YouTube channel
Fundition.io Instagram page
THANKS FOR VISITING MY BLOG
BEST REGARDS
@k-banti