A Playmobil 9482 review
Thomas gave away a set of the Playmobil 9482 for Christmas to someone he likes, and he was curious to see the quality of his gift.
As Thomas discovered the Lots of Fair Fun/Family Fun Playmobil set on Amazon.de, it was available at a great discount. It was written that the original price of the set was more than 100 Euro, but at that given time the sales price was only 39 Euro. That was quite amazing, so Thomas quickly bought it.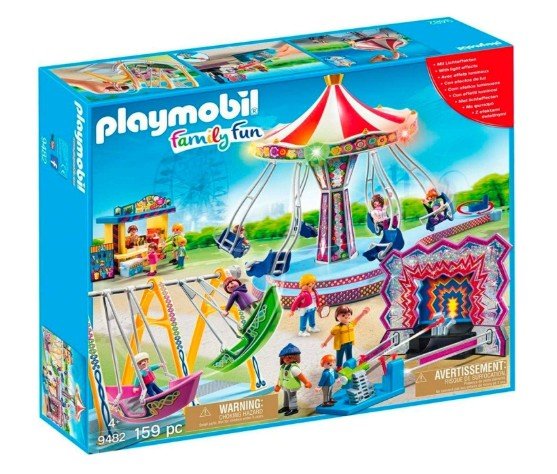 The package of the Playmobil Family Fun (9482)
What do you get in the Playmobil 9482 set?
There are four main parts in the Playmobil 9482 set. You can take a look at the video beneath to see the four parts. The stickers are not properly attached in the video, but besides that, it is the way it should look once you make the correct preparations.
The video is little, but you can see the movements and what the four different parts are capable of doing.
After testing it for a few minutes, Thomas is quite sure that this package would never be worth 100 Euro. Yes, it might be worth 30-40 Euro, but he was a bit disappointed that the carousel didn't move by itself, but it was hand-driven. The lights are blinking at the top of it, but that is all!
In other words, it might be cool and give kids something to play with for a few hours. But, it isn't the coolest. If Thomas had to mention one thing he actually liked it has to be the shooting game in which you have 4 arrows you can shot at 6 boxes in total. This can be fairly fun, and you can compete with kids to see who is best at it!
---
Posted from my blog with SteemPress : https://www.thethomasstories.com/a-playmobil-9482-review/
---