Hello all of our wonderful friends! I don't think it was any surprise with all of the problems to start out the week on here that it was not possible to get the #fruitsandveggiesmonday post up on time. I was hoping things might get back to normal quickly enough to still squeeze in a round, but it didn't quite turn out that way. @lenasveganliving and I hate to miss any week with our wonderful Monday family! Barring anymore unforeseen obstacles, we will be back in action this coming week.
We hope everyone is doing well and that we will see all of the goodies we missed this past week for the next round! Have a great rest of the week everyone!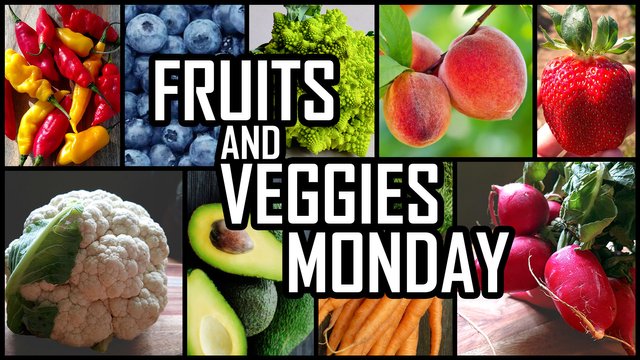 🍒 🍌🍑🌿🍍🍓🍇🍒 🍌🍑🌿🍍🍓🍇🍒 🍌🍑🌿🍍🍓🍇🍒 🍌🍑🌿🍍🍓🍇🍒 🍌🍑
Big thanks to everyone for their contribution! @barbara-orenya, the wonderful artist and creator of the lovely wonkies and @lenasveganliving our fantastic challenge creator. 🍒 🍌🍑🌿🍍🍓🍇
THE RULES ARE:
FRUITS & VEGGIES MONDAY by @lenasveganliving
• Take and post at least 3 photos of fruits and vegetables. (It can be variety or just one kind from the garden, supermarket or anywhere you wish, PLANT BASED RECIPES ARE WELCOMED).
• One entry only!!!
• PLEASE MAKE SURE THE ENTRY IS 100% ORIGINAL CONTENT!!! (images and text)
• Text must be at least 100 words.
• Use hashtag #fruitsandveggiesmonday
• Mention the creator @lenasveganliving, the host @plantstoplanks and the title FRUITS AND VEGGIES MONDAY
• Please copy and paste a link of your entry in the comment section under this post. We always acknowledge and upvote, but only if you follow the rules.
• Please upvote and repost.
• Make sure you post your entry no later than Tuesday morning Toronto time.


For additional details on posting, check out the Cheat Sheet by @plantstoplanks
THANK YOU FOR VISITING AND I LOOK FORWARD YOUR ENTRIES!!!

FOR RECIPES PLEASE VISIT MY Lena's Vegan Living Blog


Authored by
@plantstoplanks