Hey Sunshines,
Remembering that it's that time of the week to post for Fruits and Veggies Monday (as I normally forget and remember by Friday then forget again) done by the lovely ladies, creator @lenasveganliving, the host @plantstoplanks.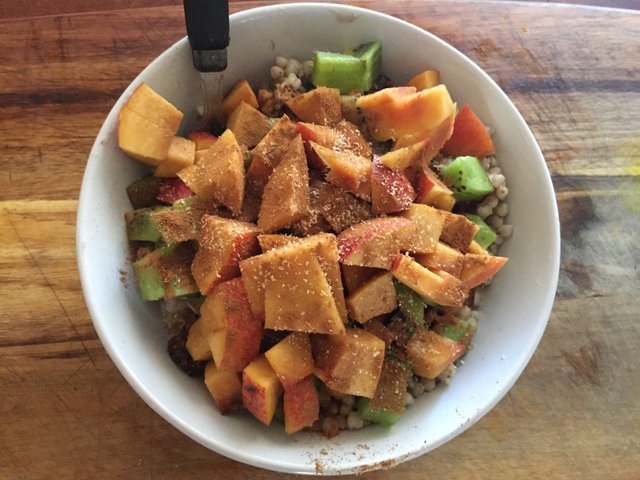 Finding a breakfast to fit into Gluten-free and Autoimmune (AI) without being a juice, 10 kiwifruit or large sums of fruit can sometimes be hard to get your head around, but it is actually easier than you think, there are cultures living off great diets for century's that don't have the same disease as the western world so why not incorporate some of their dishes into your daily life as they must be doing something right, you also may want to check out other aspects of their lives also.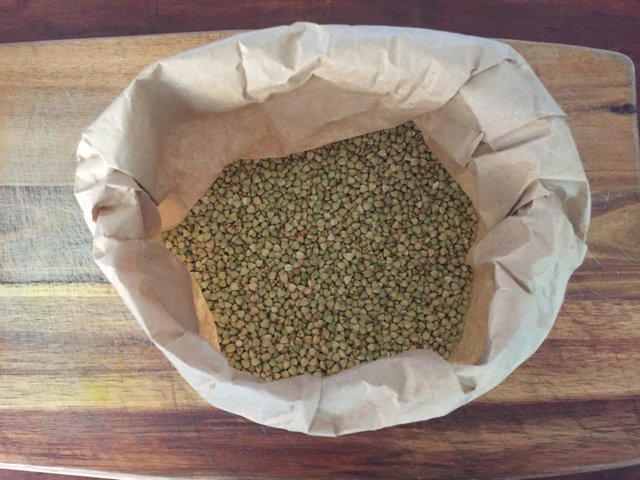 Finally being able to get hold of some Buckwheat grouts I wanted to try buckwheat kasha (porridge) again, the issue was I've eaten it before it was very strong but hadn't cooked it myself so was ready to try my hand at preparing it and retrying it.

After letting my fingers search the internet I found a site I liked which has information about buckwheat and how to cook it, also I learnt that the kasha I had eaten before was darker than the grouts that I had, which means that the darker ones where roasted which gives a stronger nuttier taste.

Following the step by step information on how to cook the grouts from here below is how we did following it, then adding our extras on top.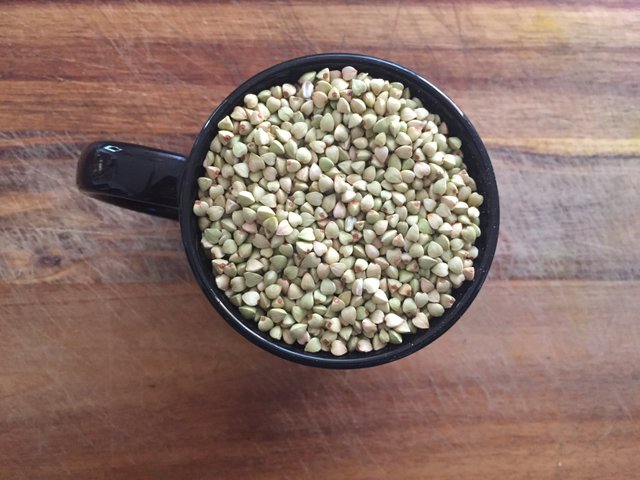 One cup of buckwheat grouts - Buckwheat grouts are gluten free, they are a fruit which is grown from buckwheat.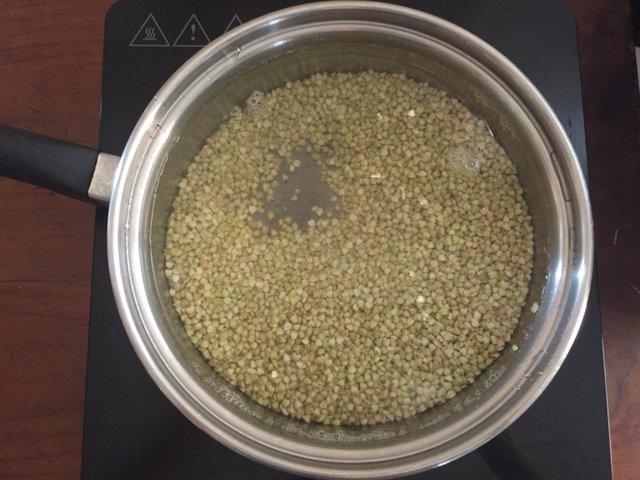 The one cup of buckwheat grouts with three cups of water boil on medium heat, if using an induction top keep stirring so the bottom doesn't burn as these tops cook fast, it will take a while still.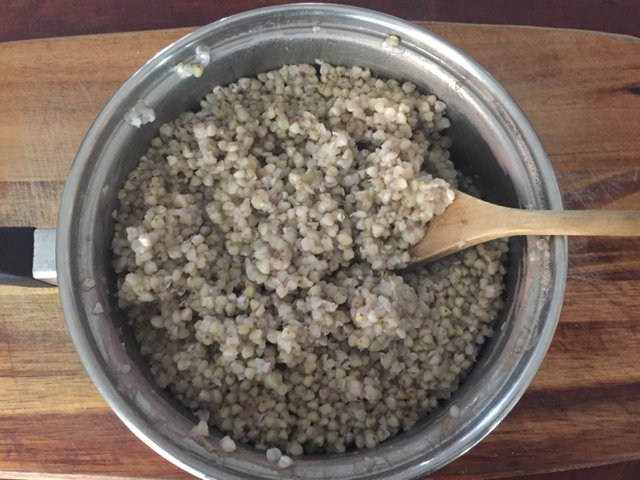 Wholla cooked buckwheat grouts they are like puffy jewels, to tell if they are cooked, I squeeze them between the back of a wooden spoon to see if the buckwheat is al dente.
Adding the toppings...

I like to switch up the toppings to add some anti-inflammatory foods on top and some vitamins via food on top.
For each topping I searched the net for extra information just to make sure that I was getting it right, but I ended up learning a lot more than I knew about these toppings, I add to my breakfast.
There are added links below with the websites with added information that you may want to check out.
Coconut Cream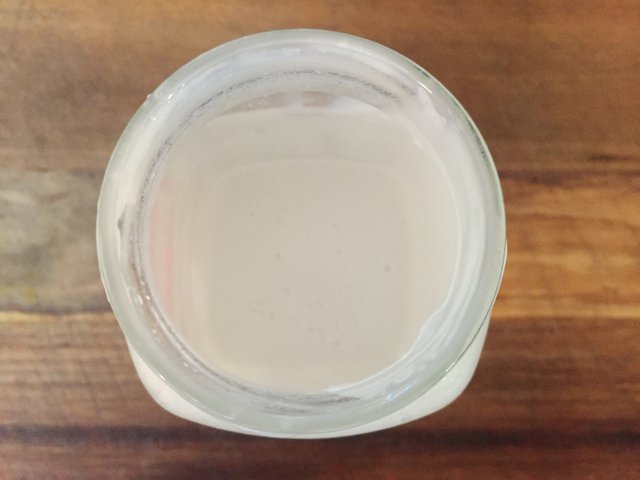 For those dropping dairy, going vegan or AI coconut cream gives a nice creamy taste to meals weather it be sweet or savoury, and just found it also has some great benefits like improving your immunity and slowing down your aging just to name two, if you would like to check out the rest, here's the website I found the information on
Tip
To have a thick coconut cream like a yoghurt texture full coconut cream put in the fridge, in a glass jar gives the best results - will depend on type of coconut cream as all don't thicken up.
---
Hemp Seeds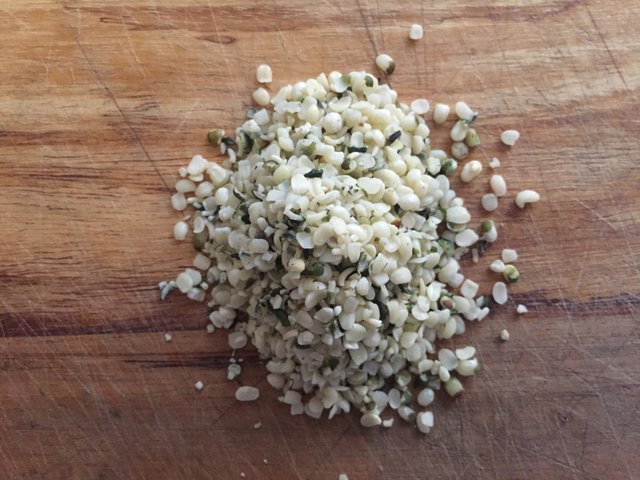 Also known as Hemp Hearts, Hemp Seeds a good source of protein, omega 3 & 6, fatty acids, apparently are a natural anti inflammatory, they have a slightly nutty taste to them.
---
Dates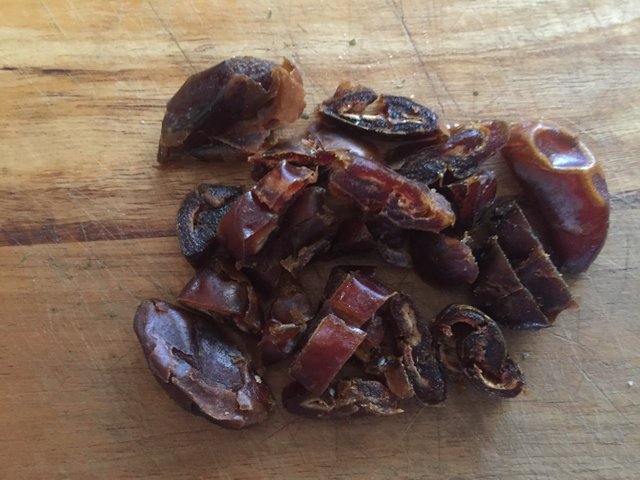 Pitted dates they give this caramel taste when added to porridge, they are a good source of energy and rich in fibre, find more information about benefits of dates here.
---
Nectarine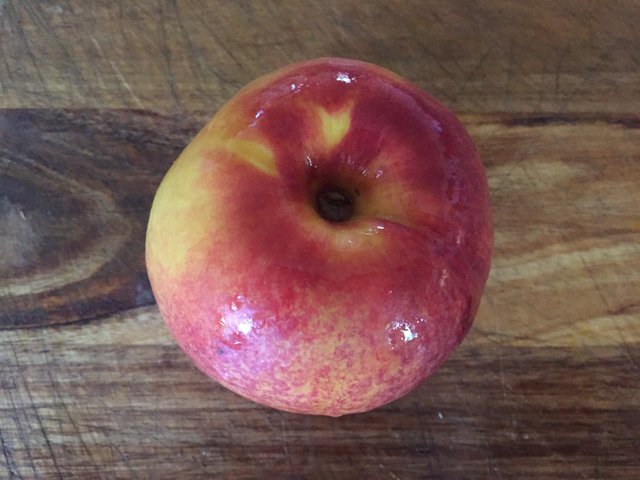 I had to search up the benefits of nectarine's as they were what we had on hand, they aid in digestion and contain a lot of vitamins, with more benefits here...
---
Kiwifruit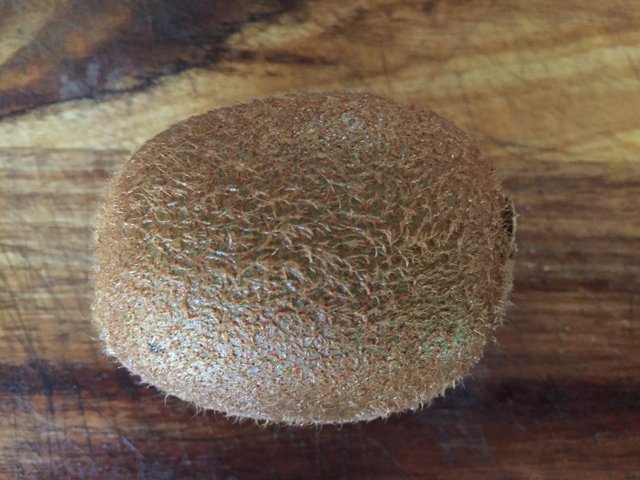 Kiwifruit can give off that sour taste with the fury skin on but the health benefits I'll get used to the taste.
Vitamin c, boosts your immune, antioxidants and fiber.
More benefits that you may not know about kiwifruit which I learnt from this site here...
---
Cinnamon and Nutmeg

With Cinnamon and Nutmeg I found on the [medical medium website] (https://www.medicalmedium.com/blog/cinnamon
) about the benefits of both these two spices that they both help with inflammation and have all these amazing benefits, so I went out and brought both these spices as we were out and add them to my breakfast nearly every day now.
The benefits of cinnamon as a oil and disinfectant for a natural cleaner, it's amazing what natural foods can do and have been used for thousands of years.
---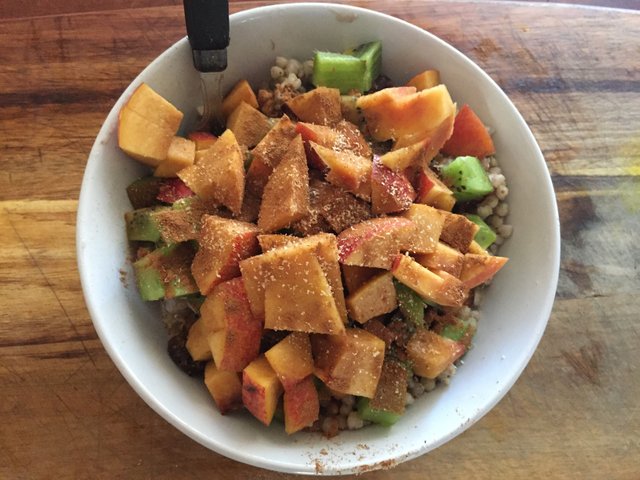 Each item is put in the order shown by the item pictures above to produce the end product just above.
You may want to add some extra coconut cream on top to have a more creamer flavour through the fruit also.
Thank you for stopping by really appreciate it, have a fabulous Day/Evening!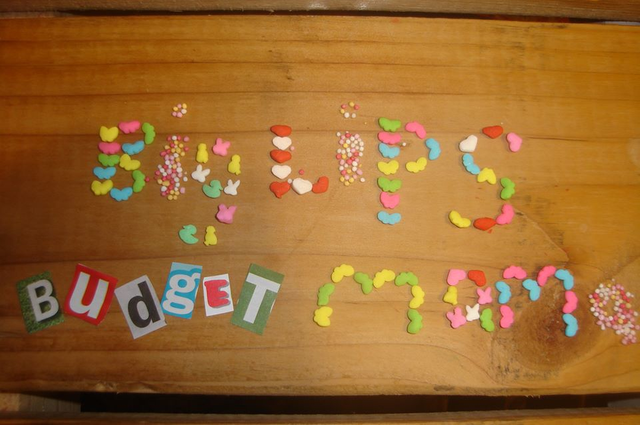 ---
Steemit if full of great community's here are some you may like to check out: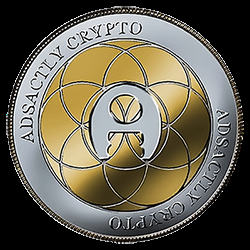 The @adsactly society is fabulous - Don't take my word for it check them out on discord if your interested in the crypto sphere, society.
---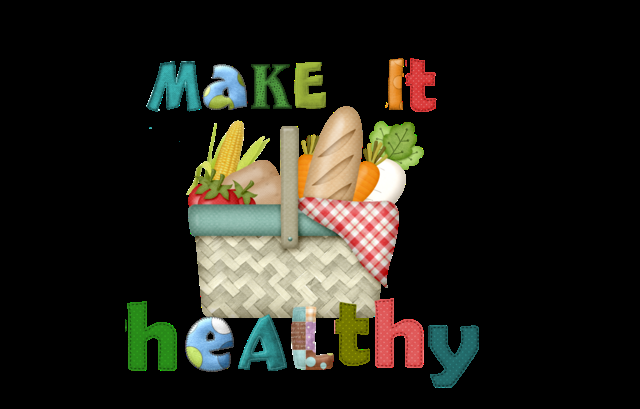 #makeithealthy project is being held by the fabulous @woman-onthe-wing so you don't need to go healthy by yourself.
---

Thank you @teamnz for the personalized banner
---

New to Steemit or a bit lost what to do,Steem Savvy (Full disclosure that is a Refferal link to Steemsavvy you can check them out on their main page if you don't want to use a Referral link. ) is a great place to start with beginners guides, guiding you on your new journey into the world of blockchain social media.