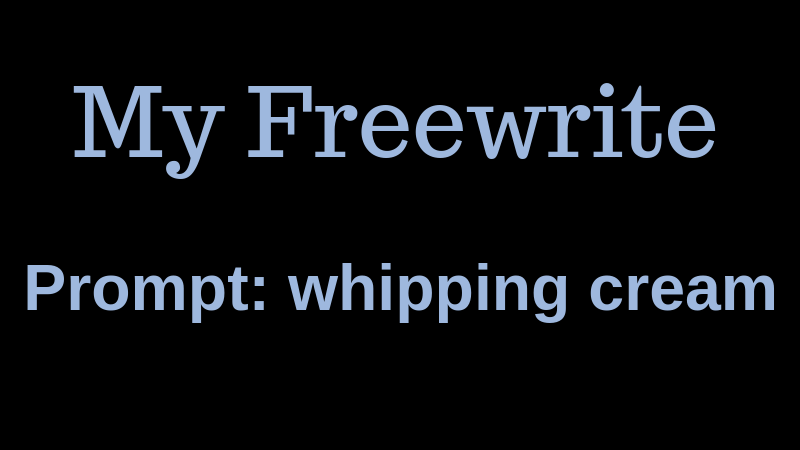 The prompt is whipping cream. I ate whipping cream last night and I love it. always have - ever since I was a kid. Just like coffee. always loved coffee. but my mind is on death and dying. Maybe because I listened to a podcast this morning about death and how we are removing it so much from our lives - make it this other thing we are not welcoming anymore as part of our existence - just like birth. We have removed the beginning and the en from the "normal" life - moved it away. At least in the Western world. I am thinking of death and dying because so many have passed away lately. My daughter in laws dad who was cared for at her home and passed away while she was holding his hand. My sister's husband who was also cared for by her in her home and my friend Robin who I didn't even know had passed. I kept texting and calling her but not wanting to press too hard. We had tea together not that long ago and then she went camping. She had said - I call you... And one never knows what that means. Should I push or should I respect that people need space? And death, of course, is more and more on our minds as we get older. Because - time is literally running out. It is so different to look at life with 20 - and yes, I know, we can go any time. but the average tells us that it is more likely as we get older. And, there is that thing growing that could just be scar tissue... and my voice is weird for a long time. Could be paranoia, could be something.... - let's see what the doc has to say on Tuesday.

Join us for the daily 5 - Minute Freewrite. Check my profile for a new prompt every day.

All images are my own unless otherwise cited.


#SoCalSteemit is building and supporting the Steemit community of Southern California. If you are from SoCal and are into creating quality content here on Steemit, we'd love for you to follow us @SoCalSteemit and join our group on Discord!



Click on the graphics to vote for Enginewitty as a witness
Join us at the Freewrite House for fun and games!!! Weekly drawing for SBI memberships and so much more!!