Thank you mariannewest for your daily freewrites, check her out here!
Prompt: A red scarf
---
A cold night, the wind took over and I shivered, glancing up at the sky to see a few flakes of snow slowly coming down. Noticing a light, and wanting shelter from the cold I head towards it. Opening the door I was hit with the strong aroma of mouth-watering food, quickly I sit down. A waitress asks for my order, giving me a drink then heads off.
Waiting for my food, I hear a laugh. A light, blissful sound, one that you know couldn't be forced. Of course, my head turns, and there I see a woman as beautiful as could be. I almost feel compelled to go to where she sat and ask for her name. Knowing that would be intruding I try my best to focus on the food that had been placed in front of me.
Midway into the meal I notice her making her way out, waving goodbye to the man she ate with. Rushing to finish I follow after her. Her red scarf catches my eye, and I watch it flutter in the wind.
As soon as she see's me she freezes, muttering, "I thought we were done." Giving out a sigh, she places her scarf down onto the railing and leaves.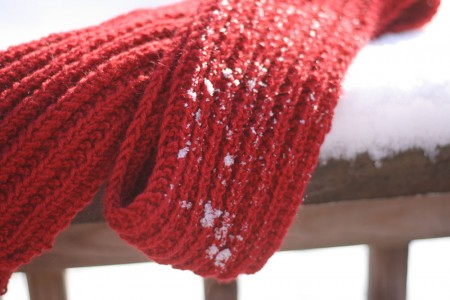 ---
Sources:
Red Scarf
---
Thank you for taking the time to read my post! Please up-vote, re-steem, and consider following me for more content. :) Don't be afraid to comment either!