When there are lots of fakes in this world.
Oftentimes, they are often talked about.
Fake people who pretends to be someone they are not.
Fake people who are imposters.
Fake pictures of someone who's not really on it.
Fake video which seemed real.
Fake money being circulated.
Fake love when someone pretends to love someone.
It is also a song by the top Korean boy band BTS.
Even the top rapper today, Drake, also have such a song.
Fake audios being heard.
Fake documents in order to gain access.
Fake stories being made up.
Talked about in social media.
Fake news in the internet.
Mainstream media is crying foul.
When they are the ones who started fake news.
Fake exists.
In this world where we can't hardly distinguish is real or fake.
It will only make us sigh, and scratching our heads.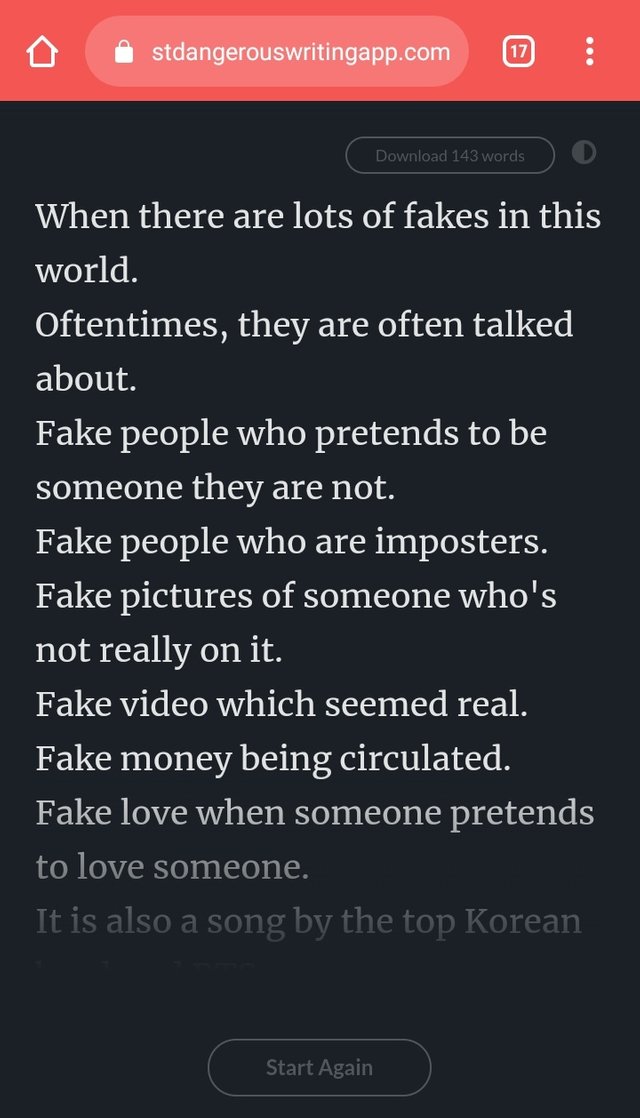 Written using The Most Dangerous Writing App.


Please support @surpassinggoogle as a witness by voting him at https://steemit.com/~witnesses and type in "steemgigs" at the first search box.

You can also give him witness voting decisions on your behalf, visit https://steemit.com/~witnesses again and type in "surpassinggoogle" in the second box as a proxy.

Please support his project as well, which is @teardrops Smart Media Token.
---
Huge thanks to sir @bobbylee.

Do you use eSteem?
eSteem is a Mobile📱& PC💻 app. for Steem with great features. Also, you get Incentives posting through eSteem apps.
eSteem Spotlight; eSteem provides rewards for it top users in Leader Board with most Posts, Comments and Highest Earners.
---

Please vote
for @good-karma as a witness.