Poetry Speaks: Painting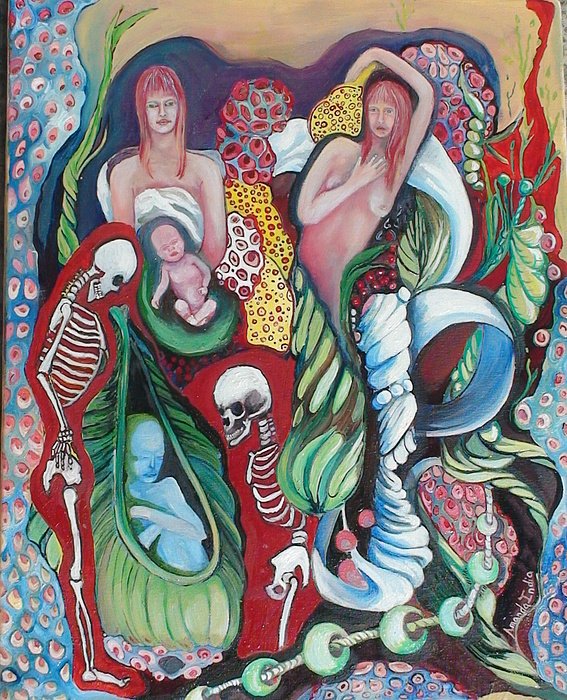 Freewrite Prompt: Paint
I stared at the painting on the wall
The grotesque depiction of life
A mother, an infant, a child, a rebel
A criminal, a judge, a saint, an elder
In the arms of a mother, an infant cries
Demanding sustained attention
Then drifts into peaceful sleep, angelic!
A mother's heart melts with joy
The child plays to the heart's content
No fret, no worry, carefree
Under the watchful eye
The child feels safe-- is safe
Discovery, delinquency across freedom's line
The thrill, the surge of ecstasy
One too many times experienced
The price, I now shall pay
Cling to hope in darkness
Climb above the reeking pit
Bathe in pure spring water
Renewed, a testament to forgiveness
Peacefully I live, peacefully I share
Aged arms opened wide
Nothing to hide
I tell my story one more time
I stared at the painting on the wall
The grotesque depiction of life
A mother, an infant, a child, a rebel
A criminal, a judge, a saint, an elder
Finally laid to rest

Thank you for reading the freewrite. @mariannewest gives a daily prompt and we step up to the challenge.
I don't know how I ended up with this poem. I might've strayed a bit from the prompt. :D
Join in the fun!
Rules for the 5-Minute Freewrite
• Set your timer for 5 minutes.
• Start writing
• Use the hashtag #freewrite
• Publish your piece or post as a reply to the respective prompt post @Mariannewest.
• If you decide to publish it, drop the link at the prompt post here.
Read other 5-Minute freewrite and tell us what you think!
Photo credits to Amanda Schreiber. If you're interested to buy this awesome painting feel free to click the link.
Follow @isaganispeaks for more poetry, freewrite, medical history and, health blogs.
---
Tired of drifting at sea? The Isle of Write welcomes thee.