Mom. Now, lie down slowly and don't go anywhere. I'm going to get your favourite orange flask for you. Just stay here.
Peter headed to the kitchen and took out the orange flask and filled it up with warm water. His mom always preferred to have this particular warm water bottle placed on her bedside table, just so that she could get a sip of water if she woke up in the middle of the night.
Only thing is that, in a water bottle, the water tends to cool down very fast. And he didn't want his mom to be drinking chill water during the night. So, on one of of his off days, he went by to their neighborhood store and bought a flask. The only available color option was either orange or black. Peter decided on orange since it would be easier to notice in the dark.
Turning back and walking towards his mom, Peter felt a stab of pain on his chest. Arrgh...No !!!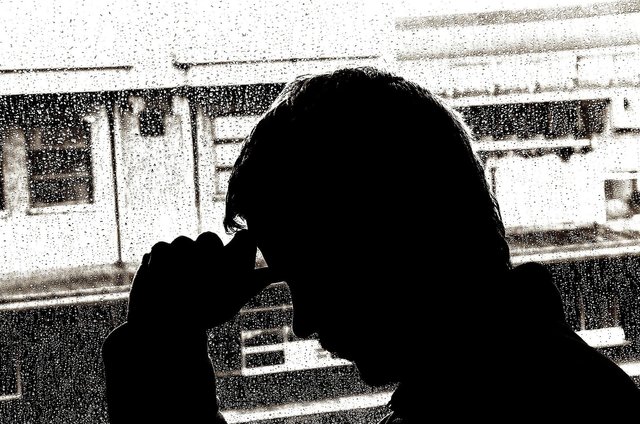 Source image from Pixabay
Dropping the flask on the floor, he clutched the front of his shirt and held it hard to his chest. The pain was excruciating and it wouldn't stop. Taking deep slow breaths, he calmed himself down and settled his body on the floor. Slowly, opening up his eyes, he saw his mom looking down at him, smiling.
Peter deary... What are you doing on the floor. Come on. Get up now. Eight year-old boys should not be sleeping on the floor. Let mommy get you to bed. You've got school tomorrow morning.
Peter's eyes sadden. He knew it's back again.
ALZHEIMER !!
---
Many thanks to @mariannewest and @freewritehouse for bringing me along in this magnificent journey. Through them, I have found back my desires to write, be it fiction, freewrite, true or make-belief. I have evolved myself into more than just a reader. Unlike in the past, where I would stick my nose into a book and be amazed with the creations of others, now I'm able to share my own creations to the world.
My first freewrite prompt was : Time to move on in July 2018. Since then, I've never looked back. Just like the song Let It Go by Idina Menzel, when one start to write, the words just keeps flowing out continuously.
So, come join us and let the feelings come out from your heart and the words will eventually form on its own. Before, you know it, your first Freewrite is complete.
---