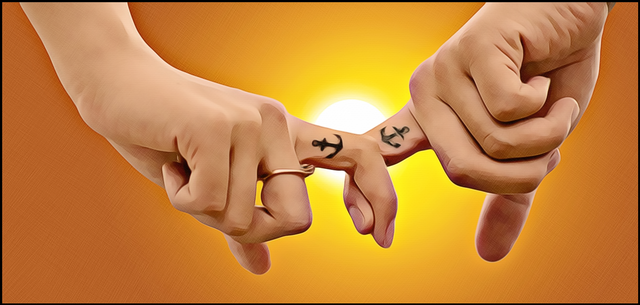 SOURCE


In the fading rays of our last day.
Glimmers of faith fall in her eyes.
Something sudden strikes my heart.
Earthy ties unravel.
The purely selfish part of me.
Begs and pleads with her to stay.
Her wistful voice reminds me.
That fate has other plans.
I place my shaking hand in hers.
Not prepared for this.
My face is filled with panic.
But hers only radiates with peace.
I remember when we thought.
Our dreams would last forever.
Bathed in silver light.
She struggles to draw breath.
Her desire for endless slumber.
Is a mercy from the pain.
I steal from her some courage.
For one last ethereal kiss.
A shiver passes through her body.
And l feel it course through mine.
Her hand in mine relaxes.
Death takes my love away.
Right before my very eyes.
Her soul fades into dark.
I want to hold it here forever.
And never leave her side.
The moonlight mourns.
It drips down from the sky.
To match my falling tears.
The stars above begin to fade.
And lose their will to sparkle.
Will she wait for me?
On the edge of the unknown.
My broken heart is overcome.
There is nothing left to keep me here.
She never knew about my secret plan.
My love...I will see you on the other side.

Original poetry written by @creativesoul...copyright protected.
Please do not take this poem without my permission.