Did you know that China`s great wall is the only human-build thing that can be seen from outer space? The wall was build to keep the Chinese people safe from the nomadic groups in the north. Today it is mostly a touristic attraction and there is another wall - a virtual one, that is build to censor, oppress, over-watch. The Great Firewall.
---
One year ago I did not know much about China or its culture. I knew about the Great wall, had a vague idea about the human rights issues there, but that was it. I was living in London back then, playing full-time poker in London's casinos. There I played with a young man from China, named Bowen. He was very talented in the game, although he was kinda new to it. I could see that he really enjoys it and was attracted to try it professionally. He had just finished college and had a few months off, before having to go back to Beijing. I liked him and how talented he was in the game and tried to encourage him to give it a try. I could see that he wanted, but he just said that he can`t. It was not an option for him, he was not free.
Few months later I was back to Bulgaria, where I live now. I got interested in Chinese culture and language and started to learn it. I got hooked right away and I still learn for at least half an hour every day. One day I decided to say hi to my friend Bowen and tell him what I was up to. His facebook was not responsive. Still isn't.
---
Censorship
Did you know that in China there is no Facebook, no Google, YouTube or NewYorkTimes? No Yahoo, Instagram, Pinterest, Twitter or Bloomberg. No GitHub or Slack. No Dropbox. No XVideos or PornHub. No PirateBay. Or 6 000 000 other websites! The Chinese government employs at least 50 000 people to enforce the censorship.
It is not all about China, the same problems we can see in Cuba, Saudi Arabia, Russia, Turkey, Venezuela and a number of other countries.
Freedom
Can we tear the walls, return the privacy and the freedom to the 3 billion oppressed citizens of the world? Yes we can!
It started with cryptography, with decentralization, with Bitcoin. Now it's going to take off with MainFrame.
MainFrame is a decentralized communication layer of protocols, designed to make it possible for anyone with internet connection to communicate with anyone else, without fear of oppression. MainFrame is unstoppable, uncensorable, untraceable and completely decentralized. Once it takes off, there is not shutting down.
Anyone can build applications on MainFrame, because it is not a website or an application itself, it is a system of protocols. You can build an application for work communications, or a WhatUp, applications are endless. In my point of view people will not use email in the future. Emails rely on centralized servers that get hacked. Yahoo is the biggest example of that, it was hacked a few years ago and the data of few billion people was compromised, myself included. Why would you use a system like that, instead of relying on decentralized communication protocols like MainFrame?
I am very exited about Blockchain and what it can bring to our world. I am tired of governments, banks, corporations, which oppress, steal, use. And the key word in all of this in my opinion is Freedom. Freedom of Identity. Freedom of Speech. Freedom of Living.
I believe that a world where everyone is with equal freedoms is possible. Do you?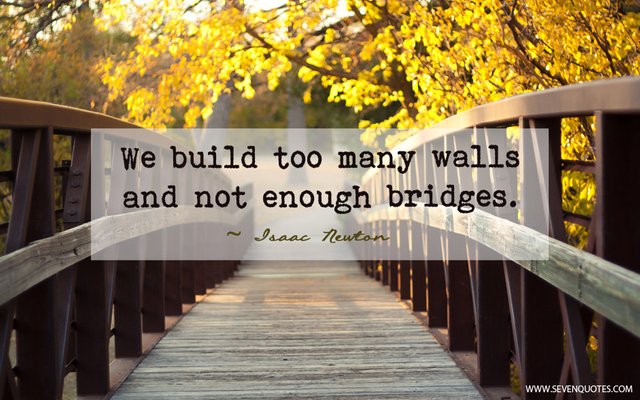 Lets tear down those walls