Steemit was built on anarcho-capitalist ideals - which essentially combines the idea that we can freely own and trade 'things' without having anyone 'ruling'. But is that actually possible?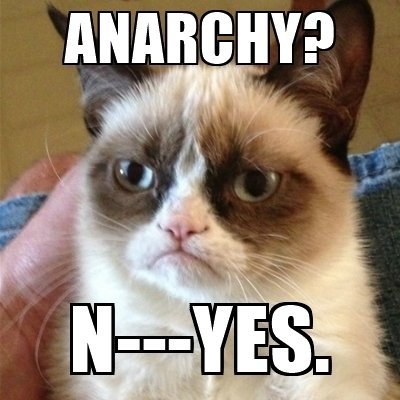 Anarchy?
---
The word 'Anarchy' means 'No Rulers', so the basic idea is that while each individual can create rules which they themselves live by, if those rules or the actions of the individual result in the control (ruling over) of someone else, then the principle of anarchy is not being upheld/lived. As soon as we make a rule that in some way results in a loss of liberty for someone else - by definition, we are not being anarchic.
ALL rules?
---
In the case of rules against 'murder' for example, if there are people who don't agree to prohibit it then it could be argued that having rules against murder prevents anarchy. This though is denying something important, which is that 'ruling' does not just mean that there is a mentally defined and possibly written down set of rules, it actually more accurately means 'overpowering' - therefore, in it's purest form, 'anarchy' means 'No Overpowering'. By murdering someone you overpower them and you also become a de facto 'ruler' who sets the decree that they will die - so therefore, there is no need for us to agree to live by a rule that murder is prohibited in order to live anarchically since murder is inherently against the anarchic principle.
This basic fact is something that is repeatedly being overlooked by many who claim to be advocating for anarchism.
Capitalism
---
There are several definitions of what the word 'capitalism' means since there are many agendas on Earth that like to use their power position to 'adapt' words for their own purposes. I prefer the simple definition that capitalism means: "The voluntary action of freely trading and owning 'things'".
In practise this means that there must also be the right to own things too.
Anarcho-Capitalism?
---
My understanding of anarcho-capitalism is that it is the combination of the two previous terms such that capitalism is allowed and there are no rulers attempting to decide who can do what. That all sounds great, but I am a stickler for details and that is partially because I have lived at the hard edge of life at times and have seen how failure to examine the minute details can result in catastrophe and unnecessary suffering.
My main question about anarcho-capitalism is quite simple - supporters of it often claim that it is a voluntary process and thus it is peaceful, however, are they not omitting to notice that 'voluntary' means not just voluntary from their perspective, but also from everyone else involved too?
For example, if we set aside for a moment the issue of how 'ownership' of land came about historically and just focus on the present moment and 'systems' - let's say there is an area of land that is unpopulated and which has sat dormant for a few years. In Great Britain it is possible for someone to claim it for themselves under certain circumstances - but what if some people come along who are anarchists and who don't voluntary agree to ownership at all? What if they come and live on the land that is unowned? How can you come along and then claim to own the land in a voluntary way if the people who are there already do not voluntarily agree to that?
If we extrapolate that out into the fuller picture - most of the land is currently 'legally' owned by a very small number of people who generally have gotten control of it as a result of war, theft and various other forms of heartlessness. In the present day they have dressed the situation up with gold, crowns, ceremonies and corporate logos - but the origins are a matter of historical fact. None of the people alive today voluntarily agreed to this situation and yet even if anarcho-capitalists had their full way and all 'rulers' were stopped from ruling today - these people would still lay claim to most of the land and would become 'rulers' by default due to them having access to most of the resources. Is it not possible to rule simply by laying claim to what others need? If you can control all the best water sources, you do not need a government and an official 'ruler' position, since you rule everyone anyway based on what you agree to allow with 'your' water.
I find it very difficult (impossible) to see how capitalism can ever be FULLY voluntary - even if we reset EVERYTHING and cancelled all land ownership and said that everyone can start again from today, it would still be highly unlikely that everyone would voluntarily agree to allow everyone to own every bit of land that they wanted to.
Real Anarchy?
---
What I feel is occurring here is that rather than bond emotionally with each other and evolve together as a large family, we have inherited lazy thinking that claims that humans will always fight over things and so we must have a structure to stop that fighting and it must include a degree of ruling or actual capacity for violence. Anarcho-capitalists often claim that 'the state' is what is wrong with capitalism and if we end the state then capitalism will be just fine for everyone - but often try to avoid dealing with criticism of pure capitalism without state control. I have seen they are also often quick to point the finger (deflection) at their arch-enemies 'anarcho-communists' whenever challenged on weaknesses with capitalism itself (minus the state) by saying "oh, no it's not us that wants to steal everything from everyone else - that's the anarcho-communists" without honestly contemplating how anarcho-capitalism can be said to be doing exactly the same thing but in a different way.
If there is only one capitalist on earth and he/she says 'oh, capitalism is voluntary' and no-one else wants to own any land because they don't like the idea of ownership and prefer sharing (without rulers) then that singular capitalist can lay claim to own everything without anyone challenging them. In short, I sometimes see capitalism to be like communism but with a competitive angle thrown in rather than just outright domination and control. One says "We will take everything and it will be great for everyone" and the other says "Everyone who wants to take everything can compete to do so and it will be great for everyone" - with neither allowing for the possibility that there are other people and other ways that would not voluntarily agree to either system and which would be overpowered by their enactment upon the Earth!
Did I Miss Something?
---
I have found in the past that even daring to criticise capitalism meets with a knee jerk reaction from some people who accuse me (absurdly) of being a communist. Identifying possible flaws in something and asking questions about it does not mean you are a supporter of it's potential opposite.
With that in mind - I am excited to learn from all you users of anarcho-capitalist technology exactly what it is I might be missing here - Over to you!
Wishing you well,
Ura Soul

Vote @ura-soul for Steem Witness!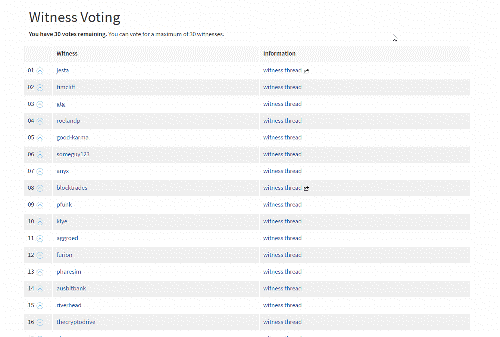 View My Witness Application Here