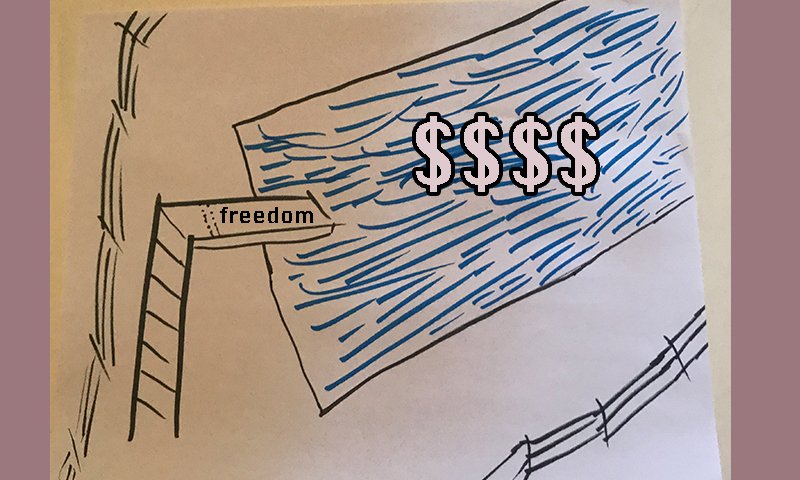 Too many people start with money, hoping to move towards freedom.
The myth is that if you work yourself to the bone and grind it out for decades, eventually you'll have the freedom you want. It lies just on the other side of the hill, and you have to keep climbing.
I am truly baffled by the idea that working 50+ hours per week, feeling stressed out as fuck, extending yourself beyond your means on all levels, would somehow lead to happiness and peacefulness. The concepts of retirement, entrepreneurship, and luxury all serve to reinforce this nonsensical ideal.
In the words of Seneca: "After you have come to possess all other things, shall you then wish to possess wisdom also?"
The truth is that the only path towards peace of mind and happiness is to pursue it now. Some people can find this within a steady job. Others can't.
I Couldn't
So I had to start with freedom.
I am infinitely happier now, earning between $150 and $500 per week, working my way up, and btw only working 30 hours per week total including all of my non-monetized music work.
I had to learn these techniques at the start. I had to start from the right first principles, which meant not trying to go on tour or get tons of listens on my songs yet. The worst case would be to unexpectedly succeed via some kind of "hit" at the early stage. That would not be ideal. It is so hard to maintain any personal joy and strength when you don't get to see your hard work through.
I hope I'm still climbing when I'm 40, 50, and even beyond. I want to put out my best record when I'm 71, just like how David Lynch recently dropped his magnum opus of an 18 hour film with "Twin Peaks the Return."
And to be as free as possible, one must be free now. It is uncommon to hear of people who become both free and happy simultaneously when they start by earning money or building a fanbase.
What do you think? Do you prioritize freedom in your own life?
Join the Mailing List, 2-3 emails per month