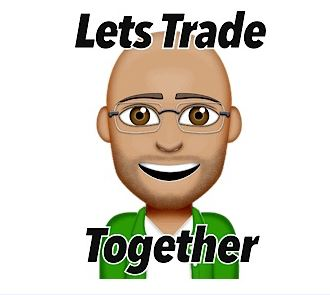 Three weeks ago, I wrote about a trade set-up on the USD/CAD,
Forex Analysis Report 12-22-18...Will The USD/CAD Continue To Rise???
However, because momentum is so strong, I would suggest to wait until price shows you it wants to go lower. Meaning, wait for price to make a lower high and a lower low first and short on a pull back.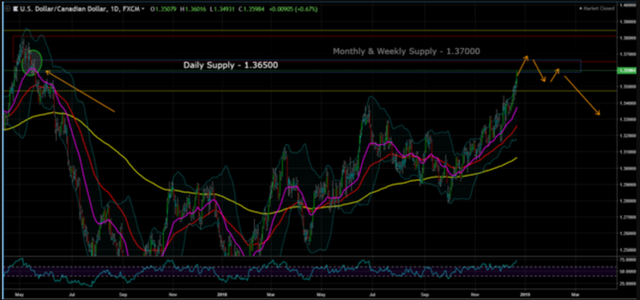 The strong correlation between the Canadian/U.S. dollar exchange rate and oil prices is due, in large part, to the amount of the nation's total foreign exchange earnings that's garnered through crude oil sales. In 2018, Canada was the fourth largest producer and exporter of crude oil in the world. Crude oil is the largest single contributor of foreign exchange to Canada, and its share has been increasing.
If you have been following the financial news in recent weeks, you know oil has been on a tear. Since late December, oil has rallied 17%, while the dollar has weakened on the heels of the US Feds being patient about rising interest rates in the future.
Needless to say, price on the USD/CAD never pulled back, otherwise I would of been all over this trade set-up because price is in a month, weekly and daily supply zone...doesn't get any better than this.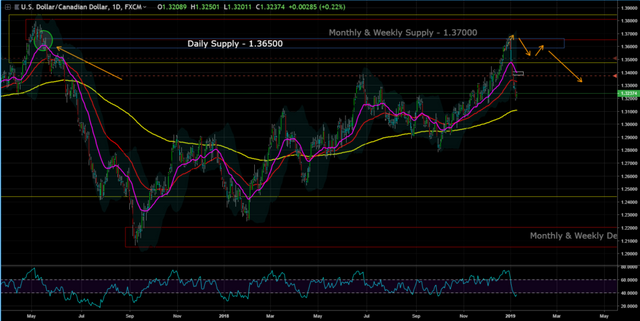 So on the 60 min chart, I have an alert for when price pull back to a 60 min supply zone. Since price has pulled away so far, I will watch the approach and decide at that time to pull the trigger short or not.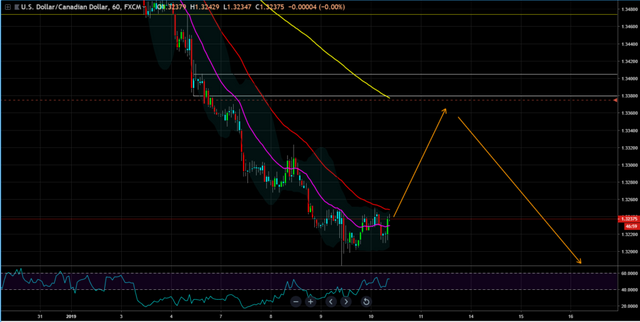 This post is my personal opinion. I'm not a financial advisor, this isn't financial advise. Do your own research before making investment decisions.

---
Published by Rolland Thomas
on

with SteemPress
https://mentormarket.io/rolland/forex-analysis-report-1-10-19-will-the-usd-cad-continue-to-rise-part-2/
---