TRADES THAT WORK.... STRATEGY....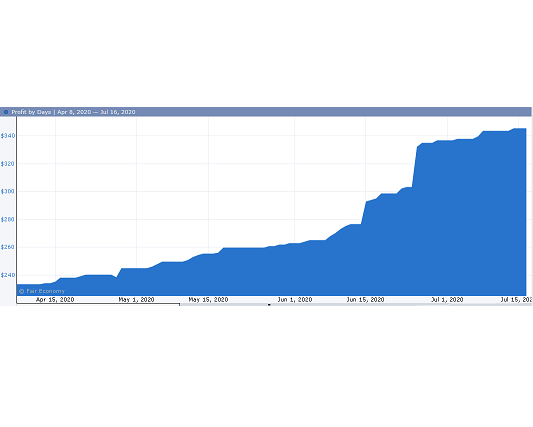 NOTE: The ideas posted here are simply my own speculations on what might be happening in the market. They are in no way recommendations for trading with real funds. Without sufficient experience it is possible to sustain significant losses. I know people who became overwhelmed by the trading experience and lost upwards of $20,000. Please use caution. Practicing trading in a demo account is the an excellent way to become more proficient. This is for educational purposes only.
I want to share my very effective Forex strategy. What the heck why keep it to myself! After years of practicing. Winning then losing then winning again then losing again. Experimenting with every indicator known to man. Getting very complicated, trying robots, yada, yada. Experiencing intense fear of loss and intense greed for gain. etc. etc. I now have a very simple strategy that actually works. I don't expect to make any major changes. Maybe a small tweak here or there but maybe not even that. These are usually fast trades looking for 10 pips.
TRADE PAIRS THAT HAVE A POSITIVE SWAP RATE AND LOW MARGIN
Just in case I get stuck in the trade for a while at least there won;t be the added anxiety of losing profit due to negative interest for holding overnight. There will actually a small gain.
(Depending on the market conditions there may be several pairs to choose from. At present I am seeing only two.

CONSIDER MARKET TIMES
Usually quite a bit of movement around opening and also closing.

CONSIDER NEWS AND SCHEDULED ANNOUNCEMENTS THAT AFFECT THE MARKETS.
Fed statements especially.

TRADE ON THE 1 HOUR CHART
After opening a position monitor the action on the 4 hour.

USE BOLLINGER BANDS AS MAJOR INDICATOR WITH SECONDARY GUIDANCE FROM MACD AND THE 20 SMA
Initial entry. A close outside the bb and then a close inside the bb. in the direction of inside bb. Using the MACD and the 20 SMA is a little more subjective. It takes practice and becoming familiar with how price action acts using these indicators. Monitoring other time frames helps with the subjective analysis. The major indicator is the bb.

IF TRADE GOES AGAINST ON THE 4 HOUR LOOK FOR SAME SIGNAL ON BB ON THE 4 HOUR AND OPEN A SECOND POSITION.
The second position is double the initial position. The take profit for both is moved to about half way between the two. So there will be a small loss and larger gain. For a net profit.

IF TRADE DOES NOT RESOLVE AND STILL GOES AGAINST MONITOR ON THE DAY CHART.
Look for the same set up on the day chart and open a position that is 3 times the initial position size. Move the tp for all positions to just above the second position for a small loss, a small gain and rather large gain. For a decent net gain.
It is very rare open 3 positions but is a good reason to only trade pairs that have positive swap rates.