NZD/JPY Key Points
NZD/JPY rising wedge.
Breakout and retest.
Confluence with horizontal support turned resistance.
NZD/JPY Technical Analysis
Afternoon team,
Remember the NZD/JPY rising wedge that we were watching yesterday in order to try and take advantage of bearish momentum in the Kiwi?
Click the link above to go to yesterday's analysis, or here's the important snippet quoted below:
With the bearish momentum that we've seen in the Kiwi this week, I am much more inclined to trade the pair from the short side. What that means, is that I'm now looking for a short term area of previous support, to be tested as resistance for an entry.

You can see one such example on the NZD/JPY hourly chart below:

Whether it's back up there, or after price has confirmed a breakout of the rising wedge, this is what I'm looking for in order to get short.
Essentially, I was trying to be sneaky and take advantage of NZD bearishness on this particular cross pair because I thought the wedge breakout might give a bigger, more pronounced move than what we were seeing on NZD/USD.
It turns out that I was wrong there, because NZD/USD continued to fall off a cliff throughout yesterday's trading session, while NZD/JPY really didn't go anywhere. In saying that however, the pair has continued to set up for a short.
Just take a look at the updated NZD/JPY hourly chart below: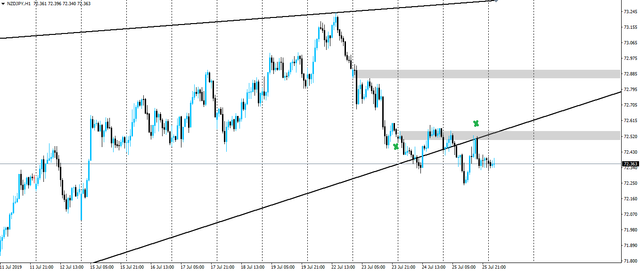 So price has now broken out of the wedge and retested previous support as resistance. This retest also coincides with a horizontal area of short term support turned resistance that I look for to manage my risk around.
Let's see just how weak the Kiwi actually is.
Best of probabilities to you.
Dane.
Upcoming Economic Releases
JPY Tokyo Core CPI y/y
USD Advance GDP q/q
---
Market Analyst and Forex Broker.
Join my Inner Circle ⭕️ - www.forexbrokr.com