GBP/USD Key Points
Price breaks out of GBP/USD daily wedge.
Key intrday levels of interest drawn on our charts.
Price now retesting broken wedge resistance as support.
GBP/USD Technical Analysis
Morning team,
You all had a great weekend I take it. But markets are open again in Asia and it's time to get back to work. As traders, this is what we live for!
I'm goin got stick with GBP/USD today and do a continuation of Friday's GBP/USD falling wedge breakout piece. A quick refresher for you is that we has an hourly wedge form after price bounced on daily support. Price gave us short term previous resistance turned support to get an early entry off, and then broke out of the wedge.
Well take a look at the updated GBP/USD hourly chart below: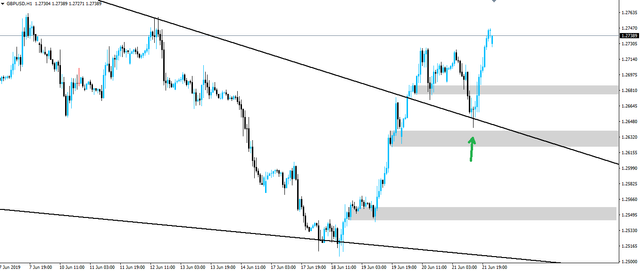 Price failed to make a new intraday swing high and fell back through that final entry point. But after falling through that, price only got as far as retesting the broken wedge resistance as support.
Price formed that beautiful pin bar, on both the wedge support and all but touched the second short term zone that we had identified as an entry. Whether you got in early on the way up, or used this pullback to enter, this was a key area to manage our risk around.
From there, price bounced and made a new intrday higher high to close the week and that's where we've opened again today. You can see how bullish the move was after that bounce, with price not even forming a single bearish bodied candle from the bounce, all the way to the close. The bulls are large and in charge here.
With there not being much resistance for a while on the daily, I'm interested to see how far this one can run if the bulls keep going the way they're going. Keep watching for those intrday pullbacks using the method I desribed in Friday's analysis price. If momentum keeps up, this could be a good one!
Best of probabilities to you.
Dane.
Upcoming Economic Releases
USD CB Consumer Confidence
USD Fed Chair Powell Speaks
GBP Inflation Report Hearings
USD Core Durable Goods Orders m/m
---
Market Analyst and Forex Broker.
Join my Inner Circle ⭕️ - www.forexbrokr.com