GBP/CAD Key Points
Higher time frame, GBP/CAD bear flag.
Intraday retest of short term support turned resistance.
Bears in total control and price closed on its lows.
GBP/CAD Technical Analysis
Morning team,
Just a quick update on yesterday's GBP/CAD bearish trend continuation play. The type of setup that had the potential to either make you VERY happy, or VERY VERY frustrated.
If you're a new reader, or you need a refresher on the GBP/CAD short setup that I'm talking about, then click the link above or take in the key extracts from yesterday's analysis that I've quoted below.
Essentially, the setup was GBP/CAD in a bearish trend and forming what looked like a bear flag:
Take a look at the GBP/CAD 4 hour chart below:

If you're a textbook pattern type of trader, you could call this a bearish flag pattern. The fact it's going back into higher time frame trend line resistance, just adds weight to the bearish nature of the setup.
Price had already started to show weakness at trend line resistance and and the flag looked like it was ready to play out...
...And play out it did: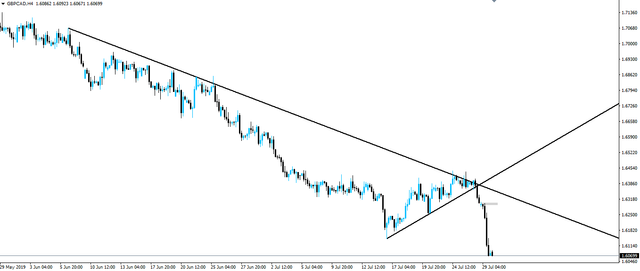 Wow.
But now for the potentially frustrating aspect of the setup - Whether you were able to find a place to short within your risk management rules.
As you by now know, I look for areas of short term previous support turned resistnace to use as an entry point and manage my risk around. This was my little trade plan with the most recent point of short term support on the chart, that I shared yesterday:
Now zoom into the GBP/CAD hourly chart and lets take a look at what we've got:

With price continuing lower, it's here I'm looking for short term pullbacks in order to get short. I look for these pullbacks in order to get the best risk:reward possible out of my trades. By waiting, I lower my risk and allow myself to target more money when the trade goes my way.
Now take a look at an updated GBP/CAD hourly chart and you can see that price never actually got that high again to retest the zone: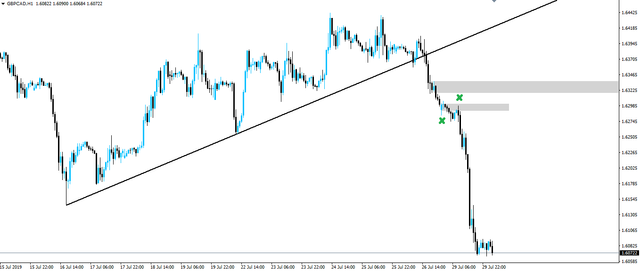 Yes it's frustrating, but you also have to be agile enough to still be able to take advantage of what the market gives you. We have the cleanest, higher time frame flag pattern screaming continuation, so we need to be able to adapt to momentum and still be able to take advantage.
On the updated chart above, take a look at the marked short term support zone that was retested as resistance. Price opened the week with a short lived rally, the bears took control by pushing price lower, then that short term support zone was retested as resistance.
This was your low risk, ideal opportunity to get short if you were agile.
Now in saying that, GBP/CAD fell off a cliff and you literally could have shorted anywhere and still made money. But from an ideal risk managment perspective, that was the play.
Best of probabilities to you.
Dane.
---
Market Analyst and Forex Broker.
Join my Inner Circle ⭕️ - www.forexbrokr.com