GBP/AUD Key Points
Higher time frame, GBP/AUD resistance zone holding on the 4 hourly chart.
Short term support turned resistance holding on the 15 minute chart.
Low risk, high reward setup, even with stops above higher time frame resistance.
GBP/AUD Technical Analysis
Morning team,
Well yesterday's EUR/USD at resistance setup didn't quite pan out, did it. We saw massive Euro strength being the prevailing theme for the trading day and price barely pausing for a breath since the weekly open.
Take the no trade or the stop out and move on.
As for today's focus, the Aussie Dollar is in play thanks to the Reserve Bank of Australia's interest rate decision.
So the RBA just held rates as expected and changed sweet fuck all in their rhetoric. This has simply put all the Aussie pairs back to where they started after the short lived algo fuelled whipsaw in either direction immediately after the release.
From my morning Aussie price action research, the Aussie looks like its setting up for a reversal. AUD/USD looks like its forming a bottoming patter, while the Aussie pair that has caught my eye is GBP/AUD, forming what looks like a top.
Why do I like potentially shorting GBP/AUD over longing AUD/USD? Well lets start with a higher time frame, GBP/AUD 4 hourly chart: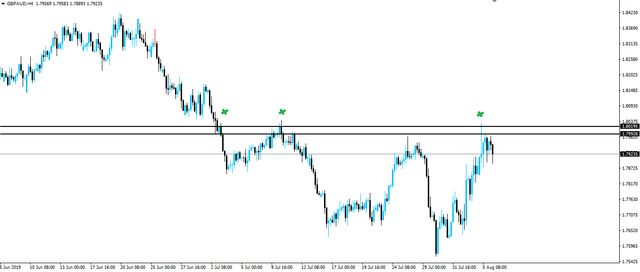 You can see on the chart above that price is back at higher time frame resistance. The zone was previously tested as support and has now been respected as resistance on multiple occasions. The latest such occasion seeing price push through the top and clearing out the dumb money stops just above.
With higher time frame resistance looking like it's holding, I want to be attacking the setup from the short side. I now zoom into the intraday charts to find a potential entry. Here's the GBP/AUD 15 minute chart: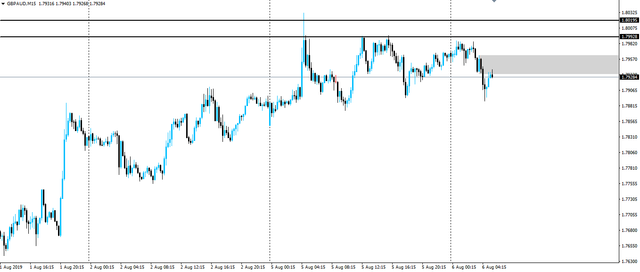 You can see that price has formed short term support at the candle I've marked with the grey box. This is an area that if retested as resistance, looks like a good area to manage our risk around when getting short.
Whether you're an aggressive trader who places their stops just above the intraday retest, or you're more conservative and place them above the higher time frame zone, this one has some potential to be a low risk, high reward trade if you manage your trade sizing correctly.
Best of probabilities to you.
Dane.
Upcoming Economic Releases
AUD Cash Rate
AUD RBA Rate Statement
---
Market Analyst and Forex Broker.
Join my Inner Circle ⭕️ - www.forexbrokr.com