GBP/AUD Key Points
Higher time frame, GBP/AUD resistance zone broken.
Break out was just a fake out and was reactivated as resistance.
From here, intraday retests allowed shorters to take advantage.
GBP/AUD Technical Analysis
Morning team,
Wherever you are in the world, I trust you're enjoying your weekend. It's a wild and windy one in my part of the world so here I am in front of my charts, doing some journaling from the week just gone.
Well as I was allowing some things to play out and didn't blog on Wednesday, I wanted to today write an update on the GBP/AUD at higher time frame resistance setup from Tuesday.
Here's a short extract from that piece of analysis, with the bolded section what I want to highlight the most:
You can see on the chart above that price is back at higher time frame resistance. The zone was previously tested as support and has now been respected as resistance on multiple occasions. The latest such occasion seeing price push through the top and clearing out the dumb money stops just above.

Whether you're an aggressive trader who places their stops just above the intraday retest, or you're more conservative and place them above the higher time frame zone, this one has some potential to be a low risk, high reward trade if you manage your trade sizing correctly.
So with that in mind, lets have a look at where we are today after the dust settled, starting with the GBP/AUD hourly: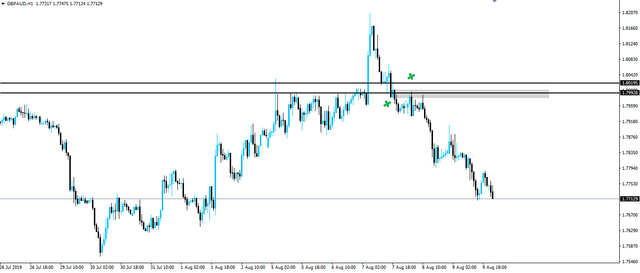 This chart clearly shows the higher time frame resistance zone that we were originally watching and using as our switch to look for shorts. But with the RBNZ cutting rates by 50 bps, the AUD was inadvertently caught up in the carnage and immediately ripped through the zone.
But being an NZD-centric move, there was always a high probabilitiy that this was nothing more than an emotional fake-out across AUD pairs. When NZD/USD closed above daily support it was even more likely that this move across AUD pairs wouldn't last.
So price retraced and settled back under the resistance zone once again. I've marked the fact that price printed intraday short term support and retested it as resistance, inside the higher time frame zone. A low risk, logical place to look for shorts.
Now zoom into the GBP/AUD 15 minute chart and lets have a look at the price action from there: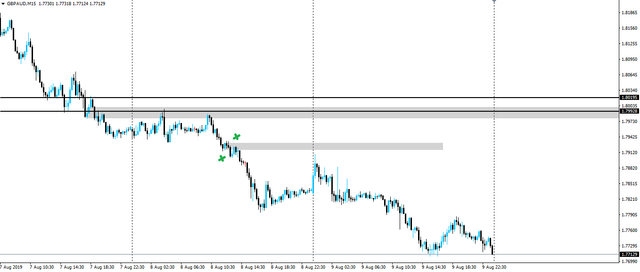 You can see that after making a new low off the higher time frame zone, price then printed another intraday support candle at the marked x, which was then retested as resistance. Another low risk entry if you were waiting for more confirmation.
From either setup, price went lower and never looked back. What this shows, is that higher time frame levels can be reactivated at a later time. A breakout of a zone doesn't render it obsolete.
Best of probabilities to you.
Dane.
---
Market Analyst and Forex Broker.
Join my Inner Circle ⭕️ - www.forexbrokr.com