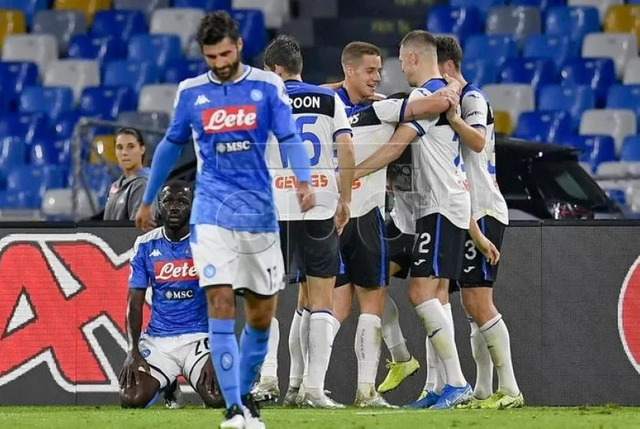 source
Italian Serie A club Atalanta managed to bring home one point from Napoli after successfully holding a 2-2 draw. The match was played at the San Paolo Stadium on Thursday 31 October 2019. But the results did not change the position of the two teams in the standings.
Atalanta currently ranks third with 21 points and Napoli is fourth with 18 points. Bad luck for Napoli because they had to lose his player Allan who was suspected of a knee injury when Allan tried to block the threat from Atalanta in the penalty box. Partenopei then replaced Allan with Piotr Zielinski.
The first to score was Napoli's host in the 16th minute and the other Napoli player who scored was Milik in the 71st minute. While the goal from Atalanta was scored by Remo Freuler in the 41st minute and Josip Ilicic in the 86th minute.
Korea
이탈리아 세리에 클럽 아탈란타는 2-2 무승부를 기록한 후 나폴리에서 1 점을 얻었습니다. 경기는 2019 년 10 월 31 일 목요일 San Paolo Stadium에서 뛰었지만 결과는 두 팀의 순위가 바뀌지 않았습니다.
아탈란타는 현재 21 점으로 3 위, 나폴리는 18 점으로 4 위입니다. Allan이 패널티 박스에서 Atalanta의 위협을 막으려 고 할 때 무릎 부상으로 의심되는 선수 Allan을 잃어야했기 때문에 Napoli에게 불운. 그런 다음 Partenopei는 Allan을 Piotr Zielinski로 교체했습니다.
16 분 만에 처음으로 나폴리의 주최자가되었고 득점 한 다른 나폴리 선수는 71 분에 밀릭이었습니다. Atalanta의 골은 41 분에 Remo Freuler와 86 분에 Josip Ilicic이 득점했습니다.