Who will be the First Champion in the soccer leagues of the old continent?
Who will be the First Champion in the soccer leagues of the old continent?
Everything points that the only League that will be closed until the end of the season is the Serie A of Italy, since it only has 4 points of advantage between Napoli and Juventus (it has one less game) that today must win and leave the difference in 1 point.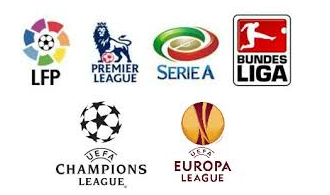 Fuente
Now the other leagues, the teams that are first have some advantage that points that is enough to achieve the championship, but the question is: Who will be the first to achieve it ?.
I open the debate, to read your arguments.
My Opinion, is that it will be the Bundesliga first, then surprisingly the Premier League since it has been characterized as the most competitive league. Third place will be League 1, now in fourth place will be La Liga de España who must be more closed at the end of the season, and finally, the Italian League.
In the Bundesliga, there is no one who can with Bayer Munich, it is a matter of time or days. The Premier League, the fantastic game of Manchester City has managed to easily overcome not only those who are in the last positions but also play in a very comfortable way to those who are fighting for a place in the Champions League next season.
Now the League 1, has only one name PSG, although it had its second defeat, it does not seem to lose many points in what remains of the League. In the fourth place, it is seen that Barcelona achieve another League in their salaries, but there are 3 teams that can take points and leave very exciting at the end of the League, but must win it.
Finally, here if the League of Italy, between Napoli and Juventus, will be well disputed, both teams that are in the Champios and Europa League, have for the middle of February clashes that can leave it out of that Trophy, what the loser has more options to fight smoothly for the League.I await your comments.
Talk to you tomorrow