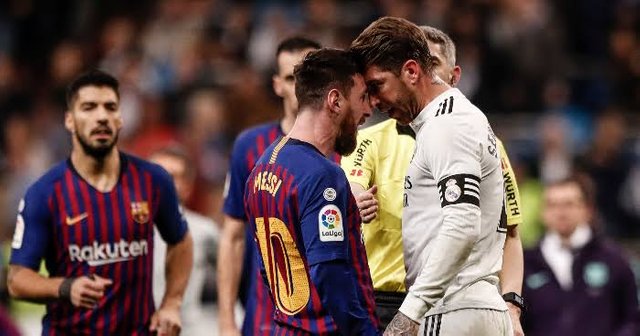 Hello Whalestakers, it's a beautiful morning here in Nigeria. To those that missed yesterday's El Classico here is a brief review of the match and I sincerely hope you will enjoy.
The two best football team in Spain and arguably the two best football team in the world faced off yesterday in a thrilling encounter at the Santiago Bernabeu Stadium. The Stadium was filled to the brim as usual with many football fans outside the stadium glued to their TV sets to watch the prestigious football rivalry. The match kicked off at about 8:45 pm WAT with high intensity, both sides battling each other to emerge winners after just three days where Barcelona was able to knock out their arch rival in the Copa Del Rey to proceed to their record sixth consecutive Copa Del Rey Final.
The match was intense as Madrid were still stung by their midweek lose, fighting doggedly to find a goal with Barcelona waiting patiently as usual to find spaces behind the Los Blancos defense. It was a well-contested match until Barcelona drew the first blood through an important channel Ivan Rakitic in the 26th minute when he was played through at the side post by Sergi Roberto, taking a trick in Messi's playbook he was able to chip the ball over the gloves of Courtois. Madrid after the goal tried to carve a goal of their own, but Ter Stegen and the Barcelona back line were resolute to end the first forty-five minutes in favor of the away side.
The second half was promising to be a spectacle with Madrid coming out in numbers to salvage their pride in front of their fan, pouring out in numbers at every slight smell of blood but all to no avail as Andre Ter Stegen again produces some saves he has been known for recently. Barcelona was comfortable to be in the driver's seat with a lone goal and not moving forward trying to hurt Madrid on the break. Messi was not at really at his best as Madrid players were stopping him by every means possible. It was an exciting match to the end with Madrid deserving a draw, but again Barcelona emerged winners in this encounter making it the second win against their rival in the space of three days. More salt has just been added to the Los Blancos wound as they are only now in pursuit of the Champions league as the domestic league is seemly out of reach.
Thanks for reading @harbysco cares.