Marc Andre ter Stegen beautiful words!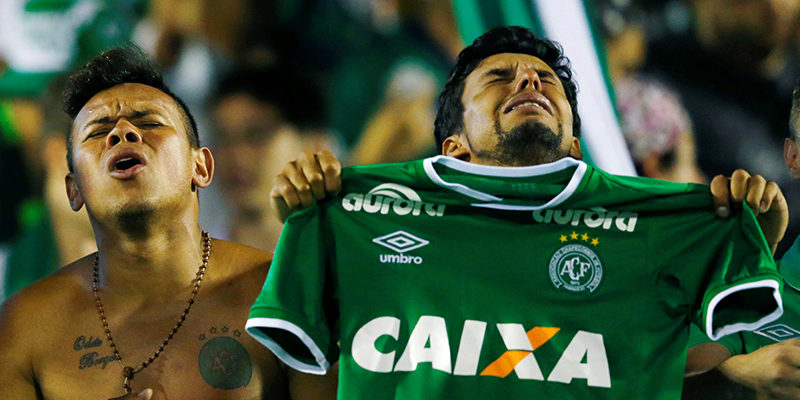 I usually don't post on social media when it's matchday, but today is different. Tonight we play our first match of the season at the home. We are hosting our annual match for the Joan Gamper Trophy. It's the 52nd edition of this trophy.
It's a special match for many reasons. It's the first time all our fans to see us at the Camp Nou this season. Here we're excited introduce our squad and new manager, where we hope to see a full and loud stadium.
This year we play the Joan Gamper Trophy against Chapecoense. And for me, this is what makes it a special game to be a part of. It's an honor. So let me explain...
I'm not sure if you remember or know their story, last year a very unfortunate event happened to this Brazilian team. Last November they had a plane crash in Colombia as they were traveling to start playing in Copa Sudamericana Finals. A chance for them to a big trophy. Other than playing in the first division, this would be their biggest achievement in their 44 year history. The game never happened.
71 people died in total on that flight, including 19 footballers. There were only 6 survivors, including 3 players.
It was a tragedy for world football and it touched the hearts of millions, including FC Barcelona's and mine.
Since the accident, the support Chapecoense has received from all over the world has been amazing. And the speed it took them to rebuild their new team has been remarkable. From players offering to play for the club, to all the fans to all the help from football clubs and the organizations has been. In moments like these, we get to see the positive influence football has all over the world.
But it's important to not forget what happened. Our stories of our past identify who we are today.
One of the survivors was their goalkeeper: Jakson Ragnar Follmann. He lost his leg due to this unfortunate accident and now is continuing his recovery with a prosthetic leg. This is now his right leg. I read that he has an ambition to represent the Brazilian Paralympic football team. I'm speechless. I can't imagine what he's been through, but after everything to then return carrying the desire to keep playing football really is incredible and brave. If this is his next objective, I offer him all my support and would really like to help if I can.
The second player is Alan Ruschel, he will play tonight, making his return to the Chapecoense team since the plane crash. He has recovered from spinal surgery - not something that footballers normally go through. This is a big brave decision that we should all respect greatly. And this is another very important reason why tonight is such a special game for us, the fans and world football. We won't forget to applaud his performance.
And last but not least is survivor and defender Neto. He dreamed about the plane crash before happening. This leaves me lost for words. His recovery is going well and training each day, unlike Alan he is not yet ready to play. But that doesn't matter, he's a champion and to know about the steps he is taking to make it back on the field, as it's both a psychological and physical, makes him a hero. If he can't play tonight, I hope he can come back and play here one day in the future.
We hope to show a beautiful game tonight with the aim to bring smiles to everyone. Football has the power to bring happiness. We will all be thinking about all the players and staff who could've been here too tonight. This match is especially played for all of you and for everyone that represents Chapecoense on any level.
It will be an honor to play the Camp Nou tonight. See you there !
SOMOS TODOS CHAPE.
Associação Chapecoense de Futebol.
Internet source: facebook/Marc Andre ter Stegen