Mourinho's First Game Couldn't Of Gone Any Better.
He had only two days with the squad but it couldn't of gone any better if you ignore the 2 goals West Ham scored to get back into it but considering the week the players had just had. Mourinho immediately brought Eric Dier back in from the cold to provide him with his holding midfielder. He dropped Sissoko and gave Winks the passing role between defence and attack. His full backs were not as active as Poch's with Aurier the only one given permission to attack. This was interesting because Ben Davies the natural left back was happier sitting in and providing a back 3. Mourinho ended up with a 3-2-5 in many cases which is a mile away from his normal methods. Deli Ali was the number 10 which is back to basics for the out of form attacker but this new role gave him a new lease of life. Lucas Moura and Son with Deli provided support for the talisman Kane and things just worked.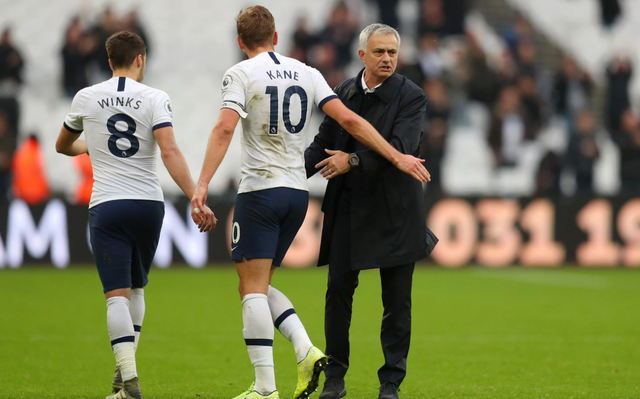 source
Jose has always been a master tactician and this is what I am looking forward to. He already has his big man up front. His defender that sits in front of the back four. He has his number 10 . If he can hold onto Vertonghen and Alderwerald and maybe bring in a couple more he has some squad. Better than he ever had at United. Spurs play them in two weeks time and I am really looking forward to that one.
Tottenham play Greek side Olympicakos tomorrow to get through to the knockout stages of the champions league. If they get through this then Mourinho will have time to work more with the squads which is an easier run of fixtures until Christmas. I am very optimistic of the next few weeks. We played our best football in months during the first half against West Ham. Play the players in their normal positions. It is amazing how effective that can be. With Eriksen sidelined until Jose can understand what he wants that is fine with me. Eriksen is not a Mourinho type player anyway so it might suit him if he goes at Christmas. Sissoko will be disappointed he was dropped but I can see him and Winks needed for different games. Looking forward now until tomorrow night and this Amazon documentary should be juicy next year.