Lewandowski 13 goals in 9 Games. He Just Keeps On Doing It.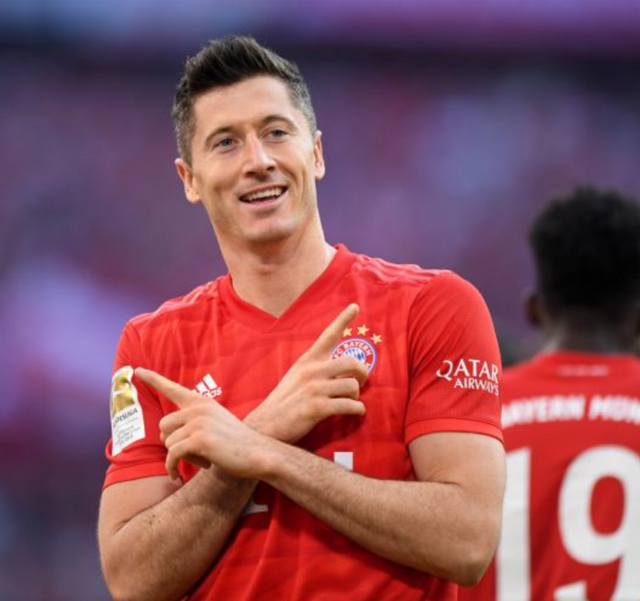 source
Last Saturday seen Robert Lewandowski score his 13th goal of the season so far from Bayern. That is 13 goals from nine games. He is the only player to score in each of the first nine games of the Bundesliga. The stars are aligning for the Pole and he is clearly on his merry way to 40 goals this season which will beat legends Gerd Muller's record at the club. His manager said he is playing the best football of his career at the moment at the club. Here are the goals. There were two against Spurs too that we won't mention.

source
He has been a world class player since 2014 scoring 210 goals in 254 appearances for the champions of Germany. He is a killer but recently he has been alot more forgiving to his midfielders but the team has changed alot since last year. The inverted wingers of Robben and Ribery are no more. These guys used to try and cut inside and shoot for their own glory. Now with Gnabry , Coman and Perisic, the new midfielders are busy trying to find him. The dynamic of the team has changed. Lewandowski has no threats anymore. He is the main man after Thomas Muller has been rumoured to be on his way to United.
Didi Hamann was extremely critical of the striker on Sky Sports Germany calling him a lone wolf and a problem in the team. Rumours had it he preferred to be on his own and go on his phone rather than interacts with his teammates. But Lewandowski is now taking time out to spend time with the younger strikers in training over positioning which would be unknown a couple of years back. He even gave a penalty to Coutinho when he was under pressure against Koln. It seems he has decided that Bayern is the club where he will end up after a deal with Madrid fell through after he didn't play the best against the Spaniards. He signed a deal in August keeping him at Munich until he is 35. The striker has not been injured in ten years. There are not many world class players outside Madrid Barca and the premiership. This guy is up there with the best of them. And then there is the 5 goals in nine minutes that made that famous meme of Pep with his hands on his heads.
Enjoy