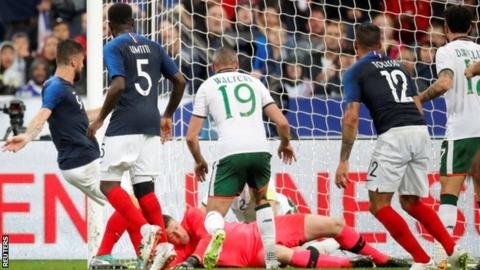 Source
France successfully reap a 2-0 win when host Ireland Republic in an international friendly match ahead of the 2018 World Cup held at the Stade de France, Tuesday (29/5).
Two goals winning Les Bleus all created in the first round, each through the action Olivier Giroud and Nabil Fekir.
Playing in front of their fans, France showed a dominant performance throughout the first half. Unfortunately some opportunities produced by France failed to produce goals.
Giroud successfully opened the advantage in the 40th minute. Starting from a corner of Fekir football, the ball headed Giroud but still can be blocked goalkeeper Colin Doyle. The ball rebound directly dicrogor Giroud to break into the opponent's goal.
Four minutes later, it was Fekir's turn to register his name on the scoreboard when his shot failed to secure well by Doyle. 2-0 score lasted until halftime.