It has been a while since I took the time to do a cooking post so decided to leave the music for today and share our Saturday evening meal which I prepared for my oldest daughters visit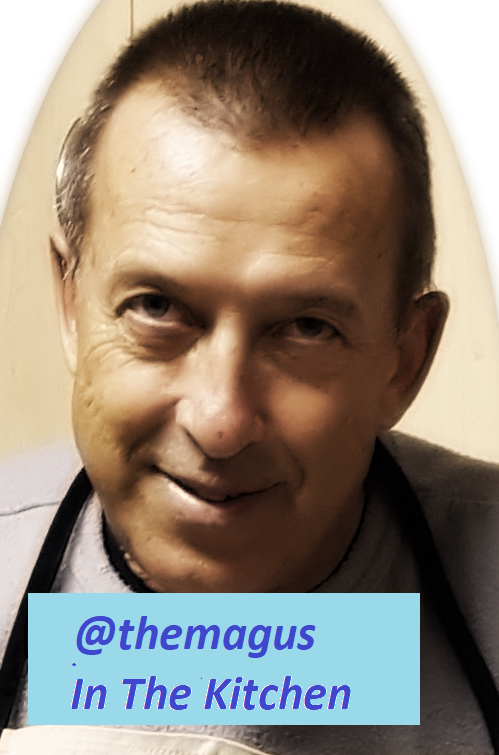 The focus of this dish must be to champion the main ingredient..... the Crayfish (Lobster). So the curry is fragrant with just a mild sting with no sharp tastes to counteract the fleshy sweetness of the crayfish meat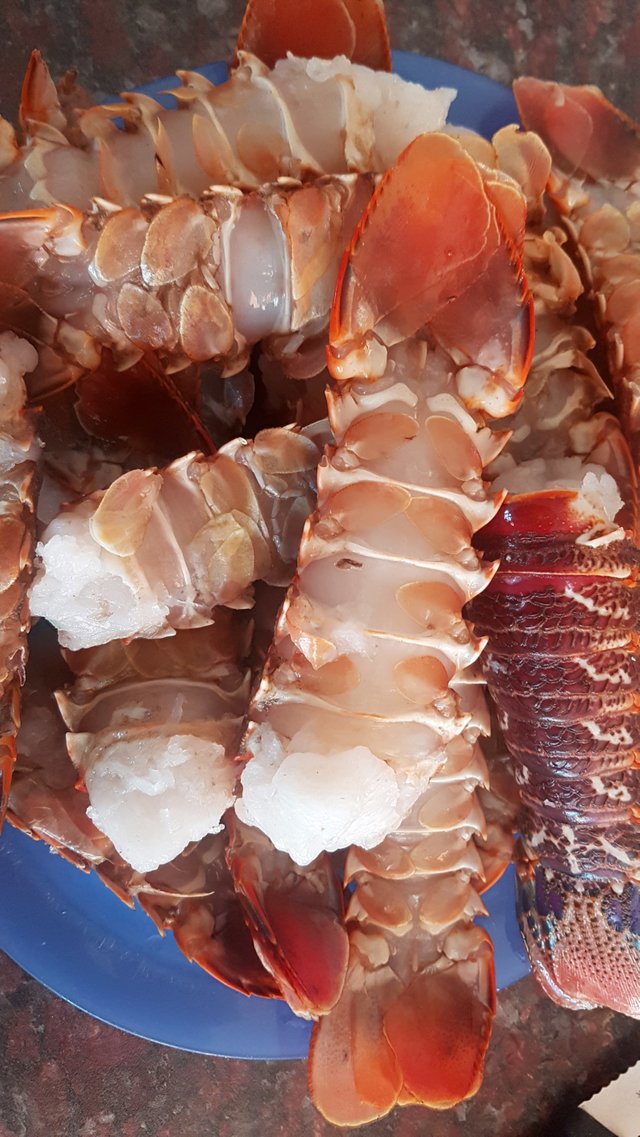 the stars of the show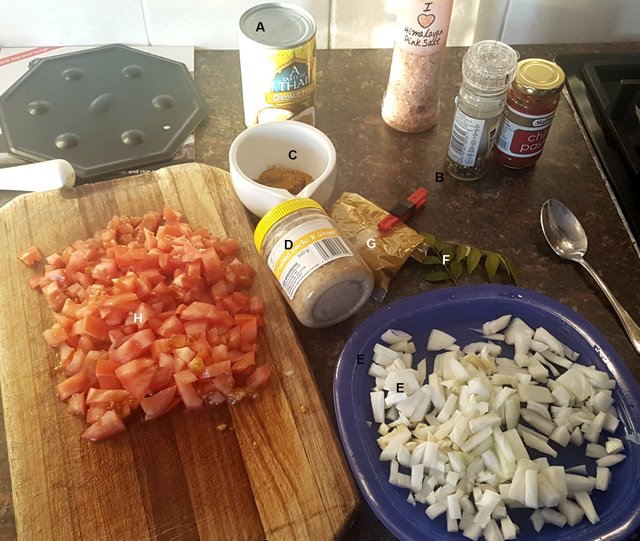 A - Coconut Milk B - Ground salt, pepper and Chilli Paste. C - Spice mix of hot curry powder, 3 cardamom seeds crushed, 1 star anise and stick cinnamon D - Crushed Garlic and Ginger E - chopped onions F - Curry Leaves G - Fish Masala H - chopped fresh tomatos
First thing I did was clean the crayfish by slicing through the back shell and removing the 'waste' vein....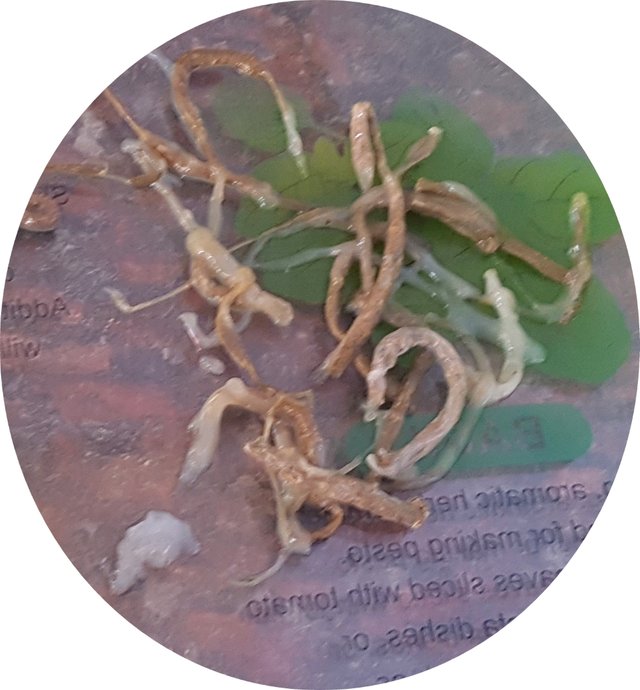 I then lightly steamed the crayfish and quickly plunged them into cold water. This made it easier for me to remove the shell and also stopped further cooking. The cooking process has to finish in the sauce.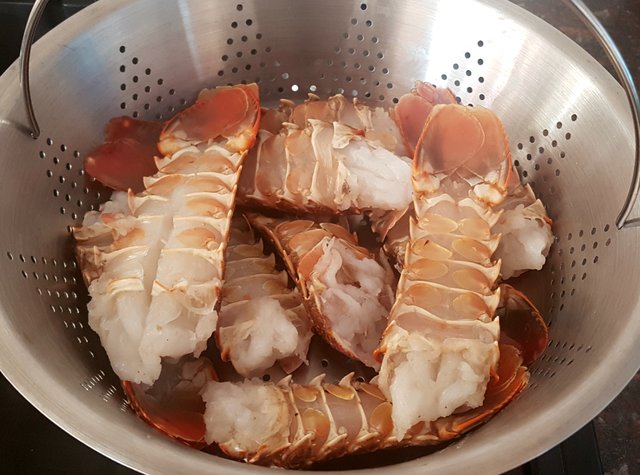 I put the flesh one side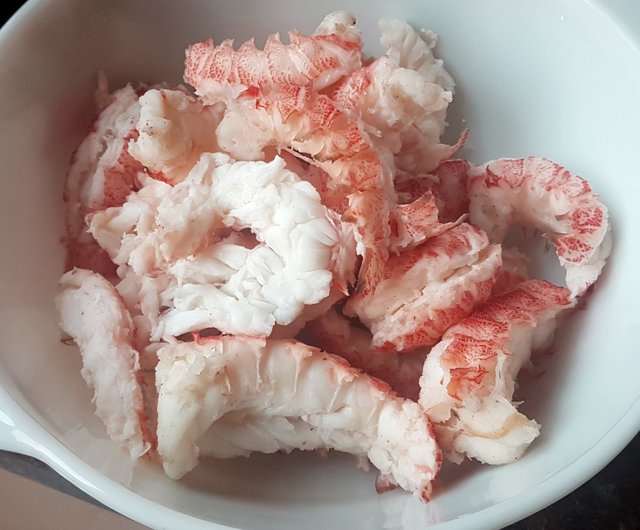 and placed a few handful of shells in some chicken stock with a sprig of thyme and allowed this to simmer for at least half an hour, reducing the stock by about 50%.
< center>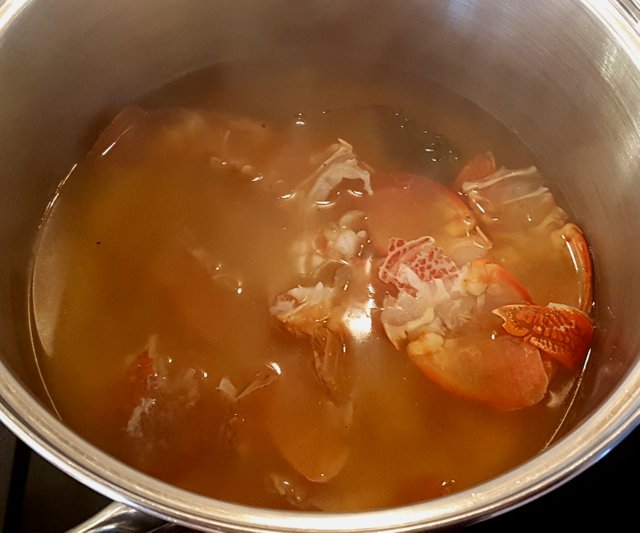 While that is simmering, I placed some olive oil in a large pot and sauteed the chopped onion until just turning brown.
Add the spices (not the fish masala), a tablespoon of red curry paste and cook while stirring for about 5 minutes. Add the tomatos and the STRAINED stock and allow to simmer for a good 20 minutes.
Add half a tin or about one cup of coconut cream and keep tasting until you have the taste you want. Add two teaspoons masala powder and the curry leaves; taste again. Keep adding coconut cream until it is to your liking.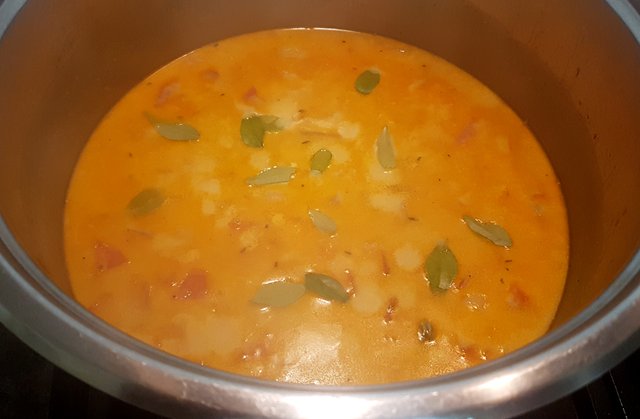 When to your taste, add the lobster meat and once again let the dish simmer for 15 minutes. Not too much as you do not want to overcook the lobster.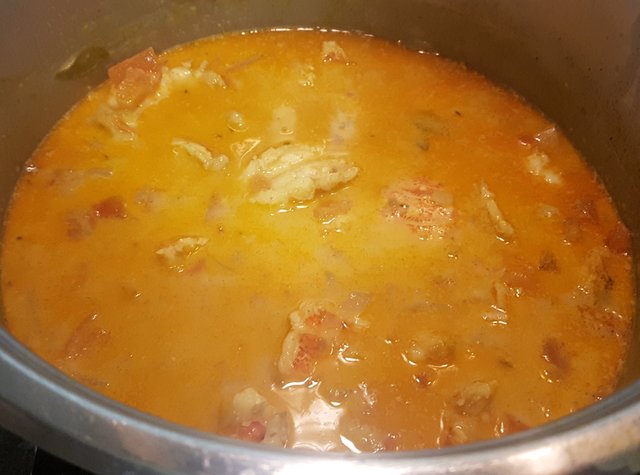 I made a brown basmati rice with fresh peas in it and a side green salad for serving !!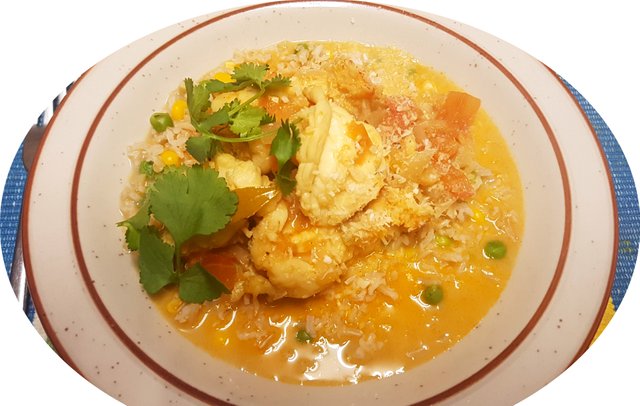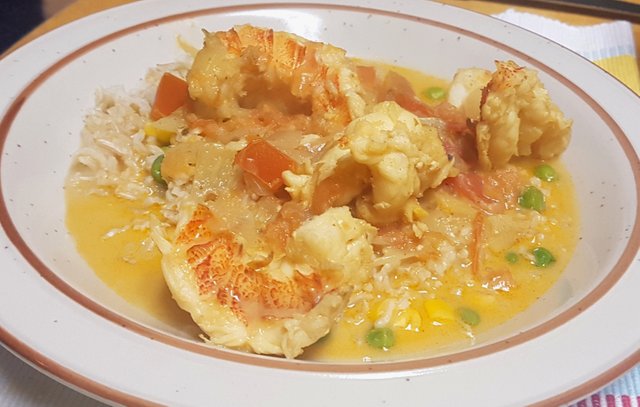 Sprinkled fresh coriander (dhania) and dried coconut complement the dish admirably
The family cleaned their plates and had seconds until there was nothing left.
For more of my kitchen endeavours you can check out any oor all of these more recent ones ...
https://steemit.com/food/@themagus/in-the-kitchen-curried-prawns-and-potatoes-cooked-in-yoghurt
https://steemit.com/food/@themagus/in-the-kitchen-aubergine-pizza-slices
https://steemit.com/food/@themagus/in-the-kitchen-morrocan-lamb-stew
https://steemit.com/food/@themagus/in-the-kitchen-red-wine-and-garlic-roast-lamb
As always, thank you for reading and the continued support.... all five or maybe six of you