Now it must be said, that I am not the world's greatest foodie. It may even be said that I am an absolute food philistine, but that's OK with me!
So upon remembering a series of pics I took at a seafood resaurant in Chonburi recently, I couldn't actually remember what the food was I'd taken pics of!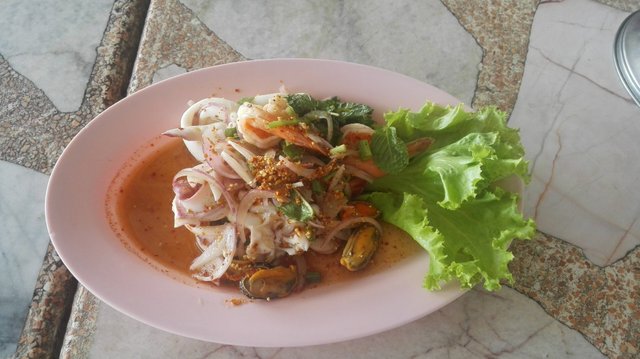 Well, it looks like there are some Muscles in this, loads of chilli seeds, lettuce and red onion (as there is in every Thai dish known to humankind) tomato, some leaves and some reddish coloured juice stuff.
Now as much as I have turned native so much as to say I now often take pics of food before I eat it, this wasn't my food. It was the wife's. It was a fish and seafood restaurant without chips, very poor form, so I just took the photos and let others enjoy the taste sensations.
At least it looked nice........