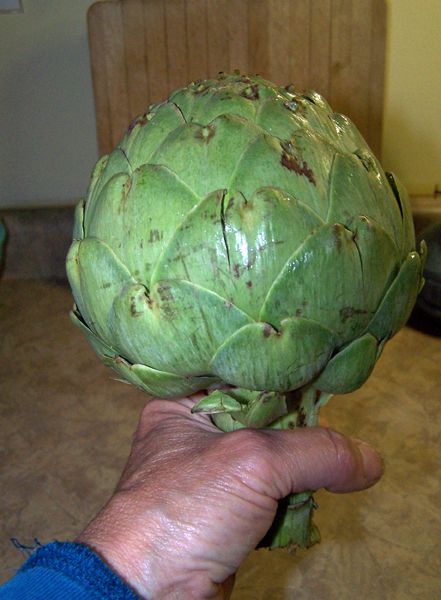 Twice the size of my fist
Our local market had a huge shipment of these beautiful artichokes. They were selling them for $2 each!
I had my first artichoke in 1974 in Tacoma, WA. When I met my husband, he'd never eaten one. So of course, I had to make them for him. He prefers the leaves dipped in melted butter; I prefer Hellman's Mayo.
Cooking artichokes is very easy, but it does take a long time. These monsters steamed for 1½ hours and were perfectly cooked.
To buy artichokes: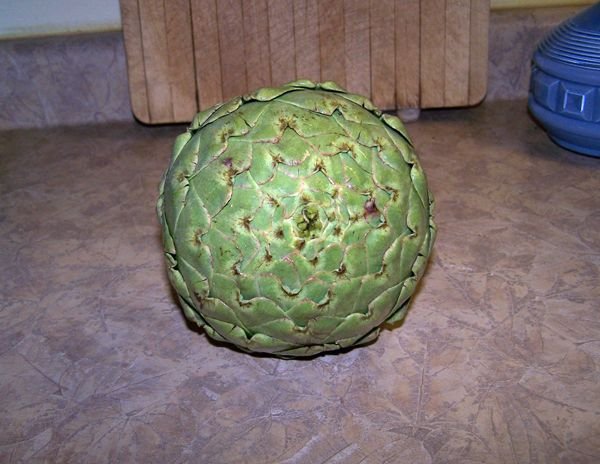 If you are looking at buying artichokes, you want the leaves tight in the bud. If the leaves have come away, it is getting old and they will be tough, at least the bottom leaves.
To cook artichokes: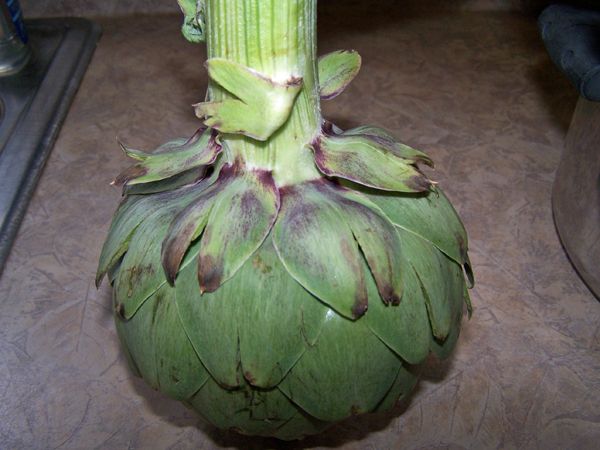 A few of the bottom leaves will be gone by: split, discolored, damaged. Removed these, just pull them off.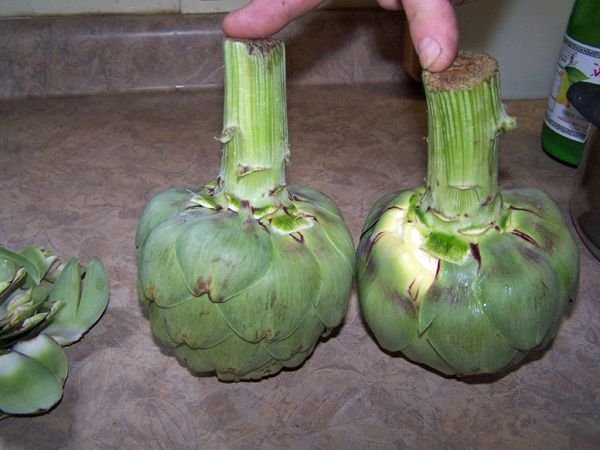 Then, holding the choke under running water, gently pull the leaves back to let the water rinse inside, if you can. These chokes were so tight, we couldn't really do it!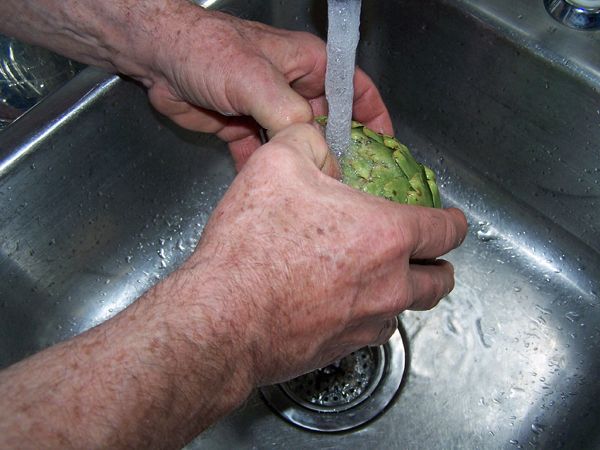 Hold them upside down to drain out water. In a large stock pot with a steamer in the bottom (make sure you put water in up to the bottom of the steamer) add 2 -3 tablespoons of lemon juice.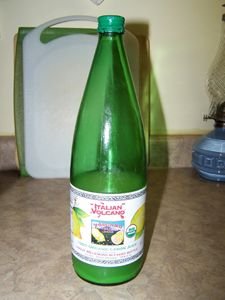 Set the chokes in on their sides.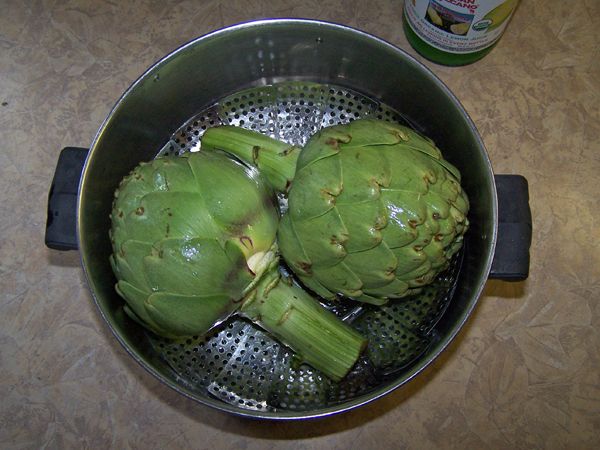 Cover and bring to a boil. Turn down until the steam continues steadily. Depending on the size of your chokes, it can take between 45 mins and 90 mins as ours did. The leaves will pull away easily, and the underside should be tender.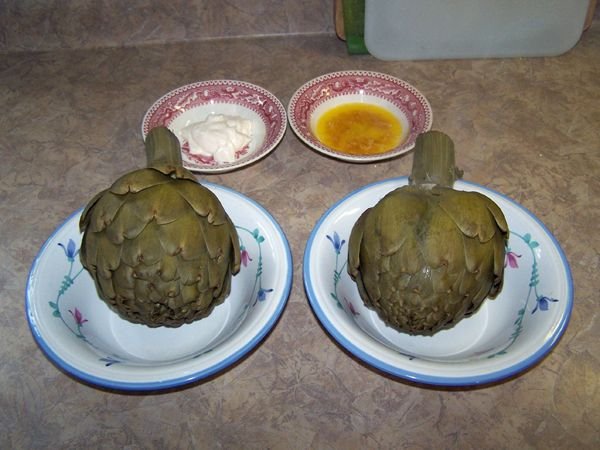 To eat artichokes:
Prepare bowls of melted butter or mayonnaise. Have a large bowl for the discarded leaves.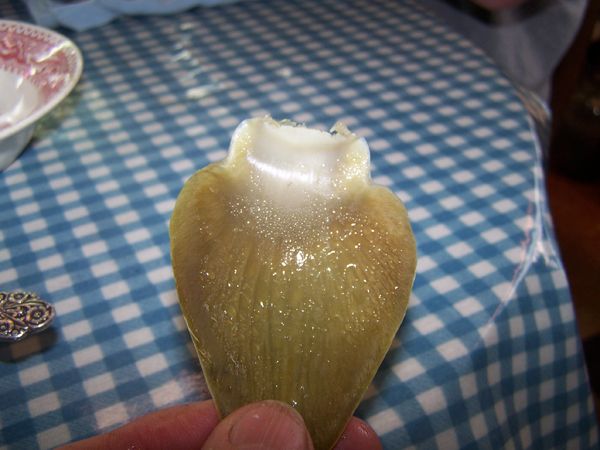 Pull the leaf off, dip it in your condiment of choice, and drag the underside of the leaf over your lower teeth, scraping off the tender flesh. You don't want to bite through the leaf, as it is full of strings.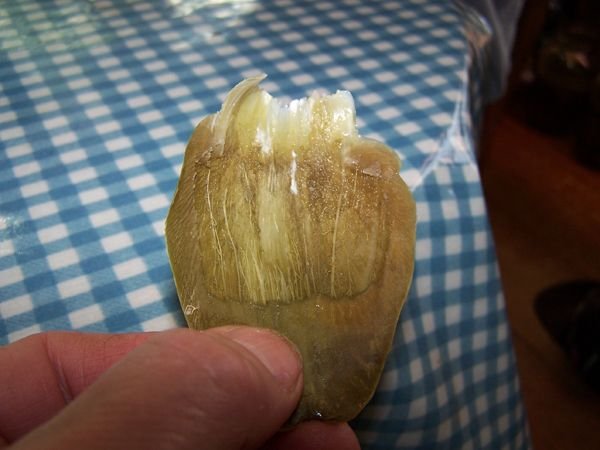 Keep pulling and dipping until you reach the transparent inner leaves that are usually tinged deep red. These tend to be a bit bitter.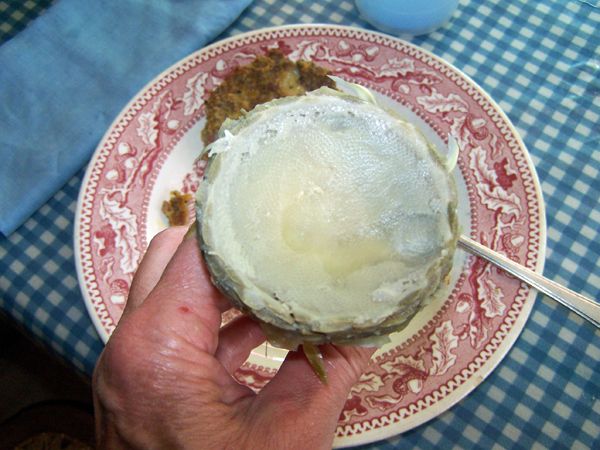 Using a small spoon, pull these off like a cap off a head. Underneath are the under developed prickles. Using the spoon gently scrape them off the soft heart underneath. This soft heart is the prize you've been working for! So don't dig into it or discard any.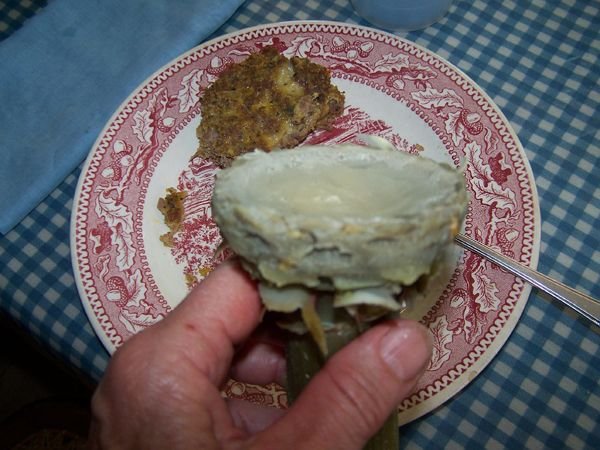 Once the prickles are removed, dip or coat the heart with your condiment. You can eat the entire thing, down to the stem. If the stem is large enough, there's even a good center.
We adore artichokes and I've grown them here for over 20 years. Some years we get some, some years we don't. But this is not their climate of choice, so they don't get very big.