Salad with squid and mushrooms\ Die Salat mit Tintenfisch und Champignons
Hello,my friends!
Today we will cook a delicious salad with squid, mushrooms and potatoes. If desired, potatoes can be replaced with long-grain rice, it will also be very tasty. The recipe is simple, all you need is good frozen squid. Squids are cooked easily and quickly, there are only a couple of subtleties about which I will tell you further.
As a last resort, you can always take canned squid.
Let's Go!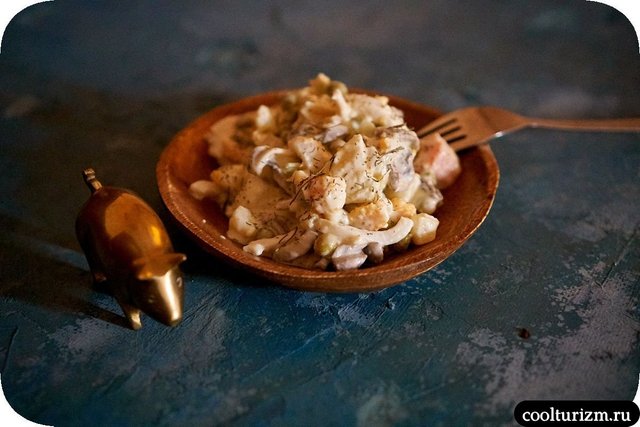 Ingredients:
● Squids-3-5 pieces
● Potatoes -6 pcs
● Pumpkin - 300 gr
● Canned cut mushrooms - 1 can (300gr)
● Canned green peas -1 can
● Mayonnaise 400 gr and more
● Salt, pepper, eggs (optional), spices, herbs - to taste
1.First we need to boil potatoes and pumpkin or carrots. They can be cooked in a skin, you can immediately peel them, but at the exit we need to have ready-made boiled potatoes and pumpkin / carrots. Cut the cooled potatoes and pumpkin into medium or small pieces. We open a can of canned mushrooms, drain the liquid. Depending on the size of the mushrooms, we immediately add them to the salad or cut them into smaller pieces. We mix it up. To prevent the vegetables from darkening, you can immediately add mayonnaise.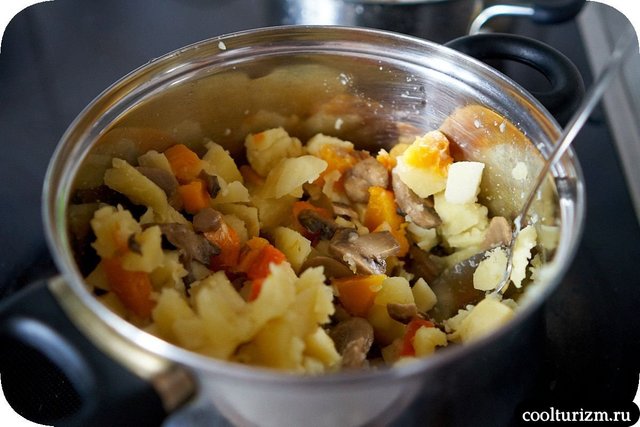 2.It's squid time! I take Far Eastern squid in the skin. This is the "right thing" for salads! Squids do not need to be thawed first, this is unnecessary. Squids are delicate and, alas, perishable. With the help of cold water from the tap, we wash off excess ice from the squid carcasses, then rip off the skin with our fingers, it easily comes off. You can make the water a little warmer. Then we cut the squid and remove all the insides and the long membrane, rinse. Bring the water to a boil. If some part of the skin remains, it doesn't matter, it will peel off during cooking. We put the squid carcasses in boiling water and cook for 1-2 minutes. This is enough for cooking tender squid protein. But you need to understand that squids should not have an extraneous dubious smell. The color of squid is white and cream, pinkish, but definitely not bluish. If squid arouses suspicion, then it is better not, do not take risks. Now we rinse the squid under cold water and all the remnants of the skin will peel off. It remains only to cut the squid into arbitrary pieces. I don't salt squid.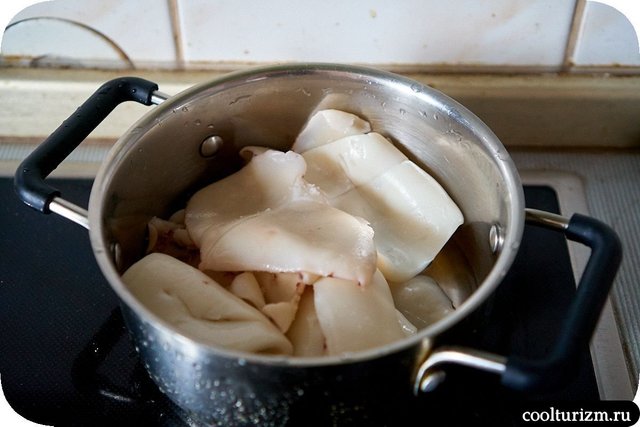 3.Add squid strips and green peas without liquid to the salad. We mix it up. You can add salt, pepper and herbs to taste. It would be nice to put a pot of salad in the refrigerator. At least 1-2 hours.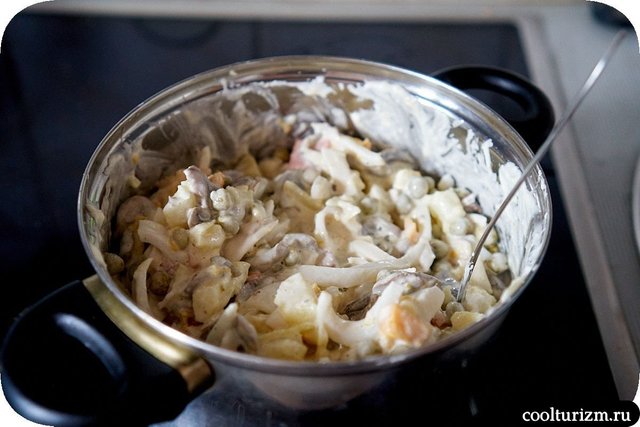 4.Put the salad with squid and mushrooms on the plates. Very delicate enveloping taste.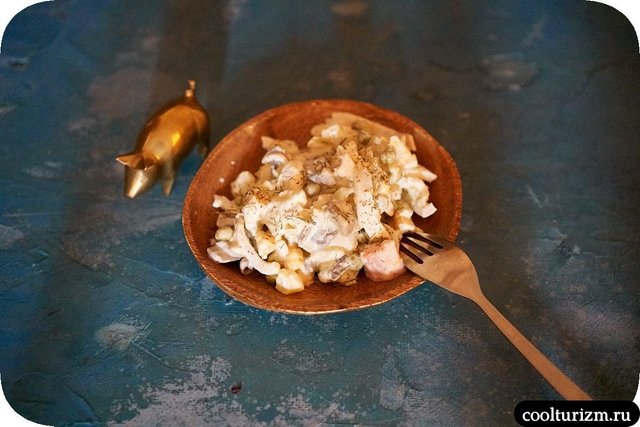 One of the best squid salads, IMHO. I like it. This is a variant of the "Russian" salad with squid.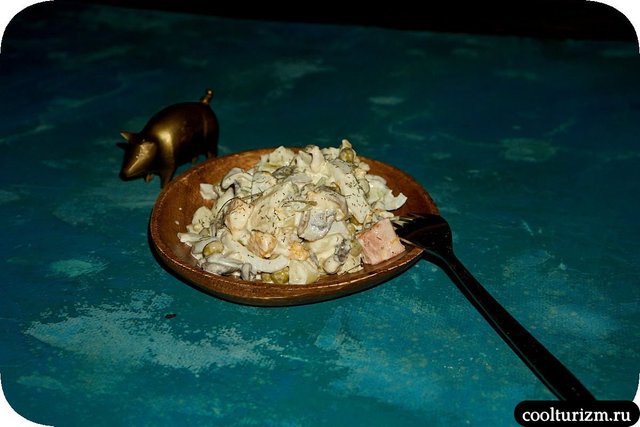 Will We Cook?

Heute bereiten wir einen leckeren Salat mit Tintenfisch, Pilzen und Kartoffeln zu. Kartoffeln können auf Wunsch durch Langkornreis ersetzt werden, es wird auch sehr lecker. Das Rezept ist einfach, Sie brauchen nur guten gefrorenen Tintenfisch. Tintenfische sind einfach und schnell gekocht, es gibt nur ein paar Feinheiten, über die ich Ihnen weiter erzählen werde.
Als letzten Ausweg können Sie immer Tintenfisch in Dosen nehmen.
Lass uns gehen!
Zutaten:
● Tintenfische-3-5 Stück
● Kartoffeln -6 Stück
● Kürbis - 300 gr
● Geschnittene Champignons in Dosen - 1 Dose (300gr)
● Grüne Erbsen in Dosen -1 Dose
● Mayonnaise 400 gr und mehr
● Salz, Pfeffer, Eier (optional), Gewürze, Kräuter - nach Geschmack
1.Zuerst müssen wir Kartoffeln und Kürbis oder Karotten kochen. Sie können in einer Schale gekocht werden, Sie können sie sofort schälen, aber am Ausgang brauchen wir fertige Salzkartoffeln und Kürbis / Karotten. Die abgekühlten Kartoffeln und den Kürbis in mittlere oder kleine Stücke schneiden. Wir öffnen eine Dose Pilzkonserven und lassen die Flüssigkeit abtropfen. Je nach Größe der Pilze geben wir sie gleich zum Salat oder schneiden sie in kleinere Stücke. Wir vermischen es. Damit das Gemüse nicht dunkel wird, können Sie sofort Mayonnaise hinzufügen.
2.Es ist Tintenfischzeit! Ich nehme fernöstlichen Tintenfisch in der Haut. Das ist das "Richtige" für Salate! Tintenfische müssen nicht zuerst aufgetaut werden, das ist unnötig. Tintenfische sind empfindlich und leider verderblich. Waschen Sie mit kaltem Wasser aus dem Wasserhahn überschüssiges Eis von den Tintenfischkadavern ab und reißen Sie dann die Haut mit den Fingern ab, die sich leicht lösen lässt. Sie können das Wasser etwas wärmer machen. Dann schneiden wir den Tintenfisch und entfernen alle Innenseiten und die lange Membran, spülen. Bringen Sie das Wasser zum Kochen. Wenn ein Teil der Haut zurückbleibt, ist es egal, er wird sich beim Kochen ablösen. Wir legen die Tintenfischkadaver in kochendes Wasser und kochen 1-2 Minuten. Dies reicht aus, um zartes Tintenfischprotein zu kochen. Aber Sie müssen verstehen, dass Tintenfische keinen fremden zweifelhaften Geruch haben sollten. Die Farbe des Tintenfisches ist weiß und cremefarben, rosa, aber definitiv nicht bläulich. Wenn Tintenfische Verdacht erregen, ist es besser, kein Risiko einzugehen. Jetzt spülen wir den Tintenfisch unter kaltem Wasser ab und alle Reste der Haut werden sich ablösen. Es bleibt nur, den Tintenfisch in beliebige Stücke zu schneiden. Ich salze keinen Tintenfisch.
3.Tintenfischstreifen und grüne Erbsen ohne Flüssigkeit zum Salat geben. Wir vermischen es. Sie können nach Belieben Salz, Pfeffer und Kräuter hinzufügen. Es wäre schön, einen Topf Salat in den Kühlschrank zu stellen. Mindestens 1-2 Stunden.
4.Den Salat mit Tintenfisch und Pilzen auf die Teller geben. Sehr zart umhüllender Geschmack.
Einer der besten Tintenfischsalate, IMHO. Ich mag es. Dies ist eine Variante des "russischen" Salats mit Tintenfisch.
Werden wir kochen?