Meat appetizer on pita bread\Die Fleischvorspeise auf Fladenbrot
Hello, my friends!
This time we will cook a simple pita bread with a filling. This is a Mexican-style hot appetizer. You can take any meat, chicken or even canned fish. Complete improvisation!
I took a thin sheet of Lavash, but you can use some pita bread and tortillas. We will work with what is at hand! The recipe is simple.
Let's Go!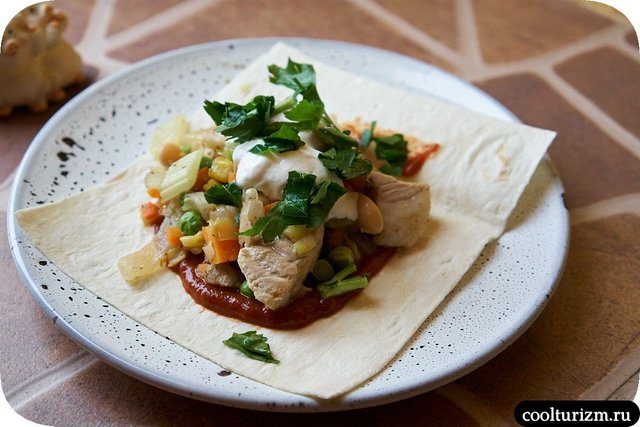 Ingredients:
● Lavash or flatbread -1 pack.
● Any meat or chicken, fillet -300-400 gr
● Onions -1 pc
● Tomato paste -4 tbsp.
● Canned white (red) beans -1 can
● Mexican mix frozen (vegetables, beans, red peppers, onions, green beans, corn) -200 gr
● Sour cream -200 gr
● Sugar -1 tbsp.
● Pinch of cayenne pepper
● Salt, pepper, herbs, oil, water - to taste
1.Cut the meat into small pieces, ideally in narrow strips. Fry the meat in a pan, add pepper and a little salt. We put the meat aside. It takes about 15 minutes, depending on what kind of meat and what pieces.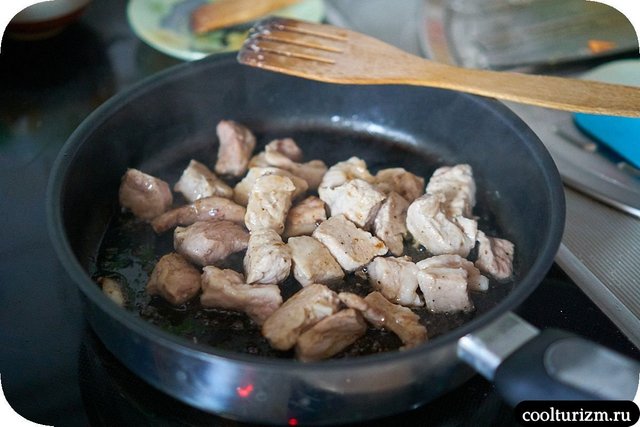 2.Peel the onion and cut it into half rings. We take a "Mexican" mixture, you can even use frozen or fresh vegetables. Quickly fry the onion and vegetable mixture until tender, which takes 10-15 minutes maximum. Add canned beans, pre-drain the liquid from the jar. Mix, add fried meat. Hot spices can be added. The filling is ready!
Now we need to make the tomato sauce. Mix together tomato paste, 1/3 - 1/2 cups of water, a spoonful of sugar, a pinch of salt or a spoonful of soy sauce, pepper, dried paprika (it would be nice to add it), crushed garlic and cayenne pepper.
I leave it on your conscience what you add to the sauce, it's always a fantasy. The sauce is ready!
Cut the pita bread into arbitrary pieces. It is only important that it is convenient to roll an envelope or roll.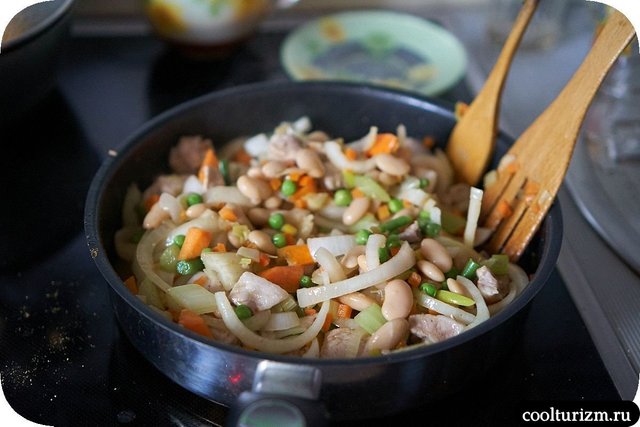 Spread pita bread with spicy tomato sauce.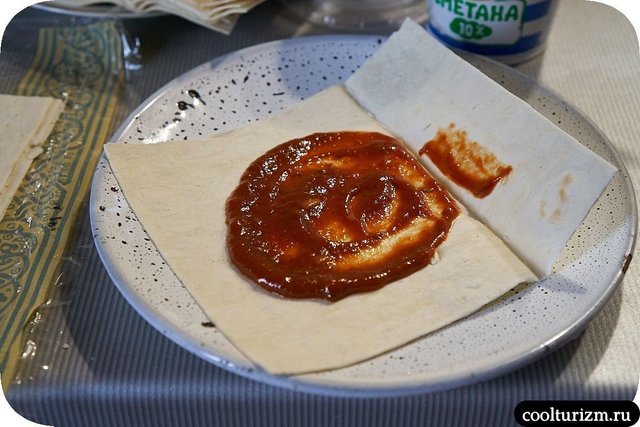 Then we spread the filling and sour cream. Sour cream will slightly smooth the pungency of the sauce and filling. The main thing here is not to be greedy, otherwise everything will fall out and get your hands dirty. Then we try to fold the envelope by bending 4 corners. But you can make a tube and tighten the edges. Experiment!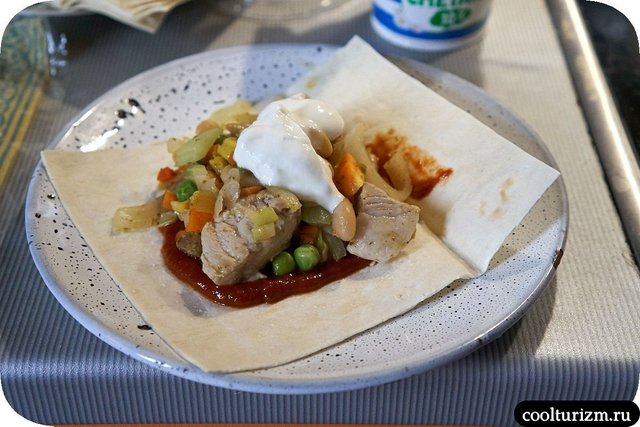 A quick and tasty snack! Never fails! But stock up on napkins, you will still get dirty! This is the whole point!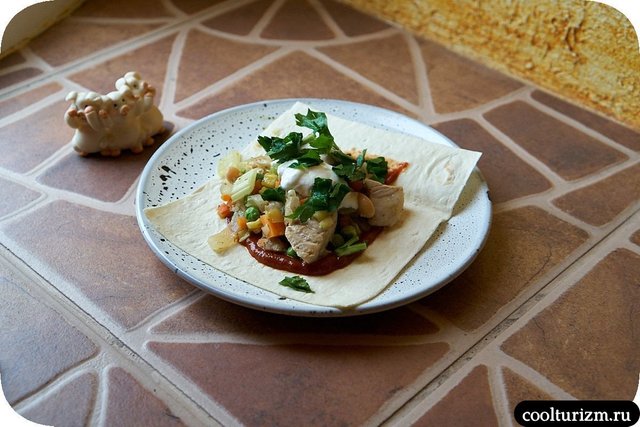 I highly recommend this!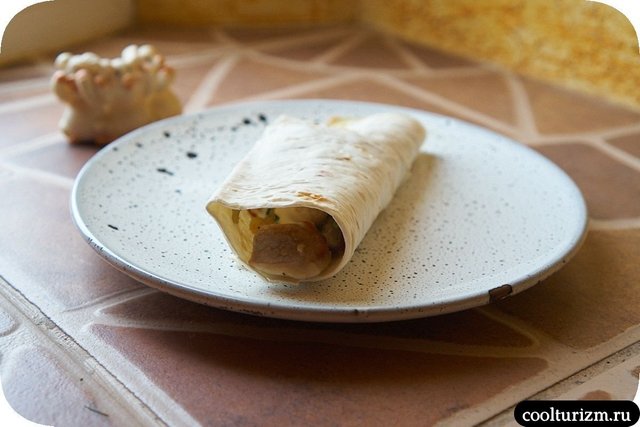 Will We Cook?

Dieses Mal bereiten wir eine einfache Fladenbrot-Vorspeise mit einer Füllung zu. Dies ist eine heiße Vorspeise nach mexikanischer Art. Sie können jedes Fleisch, Hühnchen oder sogar Fischkonserven nehmen. Volle Improvisation!
Ich habe ein dünnes Blatt Lavash genommen, aber Sie können etwas Fladenbrot und Tortillas verwenden. Wir arbeiten mit dem, was zur Hand ist! Das Rezept ist einfach.
Lass uns gehen!
Zutaten:
● Lavash oder Fladenbrot -1 Packung.
● Beliebiges Fleisch oder Hühnchen, Filet -300-400 gr
● Zwiebeln -1 Stück
● Tomatenmark -4 EL.
● Weiße (rote) Bohnen in Dosen -1 Dose
● Mexikanische Mischung gefroren (Gemüse, Bohnen, rote Paprika, Zwiebeln, grüne Bohnen, Mais) -200 gr
● Sauerrahm -200 gr
● Zucker -1 EL.
● Cayennepfeffer Prise
● Salz, Pfeffer, Kräuter, Öl, Wasser - nach Geschmack
1.Schneiden Sie das Fleisch in kleine Stücke, idealerweise in schmale Streifen. Das Fleisch in einer Pfanne anbraten, pfeffern und etwas salzen. Das Fleisch legen wir beiseite. Es dauert etwa 15 Minuten, je nachdem, welche Fleischsorte und welche Stücke.
2.Zwiebel schälen und in halbe Ringe schneiden. Wir nehmen eine "mexikanische" Mischung, Sie können sogar Tiefkühlgemüse verwenden. Die Zwiebel-Gemüse-Mischung schnell anbraten, bis sie weich ist, was maximal 10-15 Minuten dauert. Bohnen aus der Dose dazugeben, Flüssigkeit aus dem Glas abtropfen lassen. Mischen, gebratenes Fleisch hinzufügen. Scharfe Gewürze können hinzugefügt werden. Fertig ist die Füllung! Jetzt müssen wir die Tomatensauce machen. Tomatenmark, 1/3 - 1/2 Tassen Wasser, einen Löffel Zucker, eine Prise Salz oder einen Löffel Sojasauce, Pfeffer, getrocknetes Paprikapulver (es wäre schön, es hinzuzufügen), zerdrückten Knoblauch und Cayennepfeffer miteinander vermischen Pfeffer. Ich überlasse es deinem Gewissen, was du der Sauce hinzufügst, es ist immer eine Fantasie. Die Soße ist fertig! Das Fladenbrot in beliebige Stücke schneiden. Wichtig ist nur, dass es bequem ist, einen Umschlag oder eine Rolle zu rollen.
Fladenbrot mit scharfer Tomatensauce bestreichen.Dann verteilen wir die Füllung und die saure Sahne. Sauerrahm glättet die Schärfe der Sauce und Füllung leicht. Hauptsache hier nicht gierig sein, sonst fällt alles raus und macht sich die Hände schmutzig. Dann versuchen wir, den Umschlag zu falten, indem wir 4 Ecken biegen. Aber Sie können ein Rohr machen und die Kanten festziehen. Experiment!
Ein schneller und leckerer Snack! Geht niemals schief! Aber decken Sie sich mit Servietten ein, Sie werden trotzdem schmutzig! Das ist der springende Punkt!
Ich kann dies sehr empfehlen!
Werden wir kochen?