Bulgur with squids\Den Bulgur mit Tintenfische
Hello, my friends!
Today we are cooking bulgur again. This time we will serve bulgur with squid and vegetables in cream.
Bulgur is not the easiest food, so you shouldn't weigh it down with meat. Fish or seafood is fine.
In this case, I chose squid.
The recipe is simple. Pumpkin and green cardamom will add bright colors and piquant taste to the dish.
Let's Go!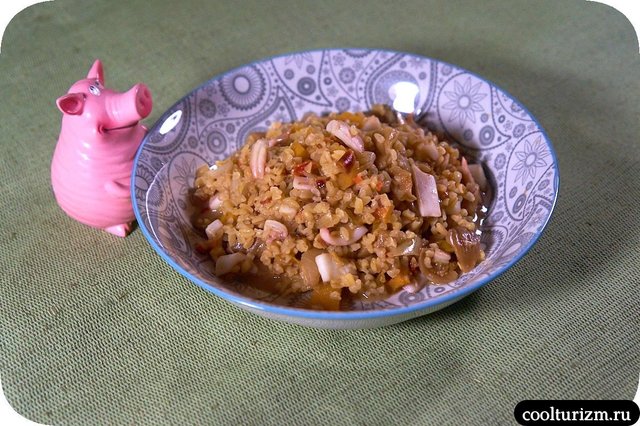 Ingredients:
● Squids -2-3 pcs
● Bulgur - 1-1.5 cups
● Onion-1 pc
● Dried apricots - a handful
● Pumpkin -300 gr
● Celery - 1-2 stalks
● Cream -200 ml
● Salt, pepper, cardamom, herbs, oil, spices - to taste
1.We peel the onion from the husk. Peel the pumpkin from the skin and seeds. Chop the onion and celery stalk into small pieces. Cut the pumpkin into small cubes. Ok, pumpkin pisses you off! Then replace it with carrots.
Fry vegetables in butter or vegetable oil, fry the onions until golden. Pre-add 3-4 boxes of crushed green cardamom to the oil and warm them up. Cardamom will add an oriental flavor to any dish. I also added a pinch of masala, but this is not for everybody.
Cut dried apricots into pieces and add them here. Believe me, dried apricots are needed here!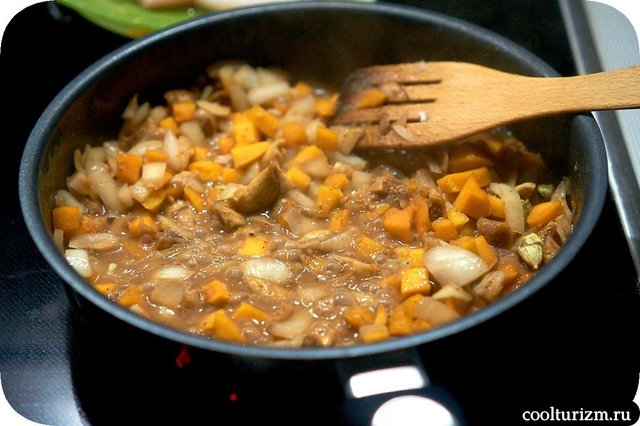 2.At this time, you should already cook bulgur. Cooking bulgur takes 15 minutes. Proportion Water and bulgur 2 to 1 It's simple, but there are a couple of nuances.
Add 10% cream at room temperature to the pan. After 5-7 minutes, add the chopped pieces of raw squid. I took small Far Eastern squid in the skin. The skin is easily removed with water from the tap and hands. Then we remove all the insides and cut the squid into small pieces. Mix vegetables with squid in cream and cook for another 5 minutes. Add salt and pepper to taste if necessary. Put the contents of the pan into a saucepan with cooked bulgur. Mix gently. Greens never hurt!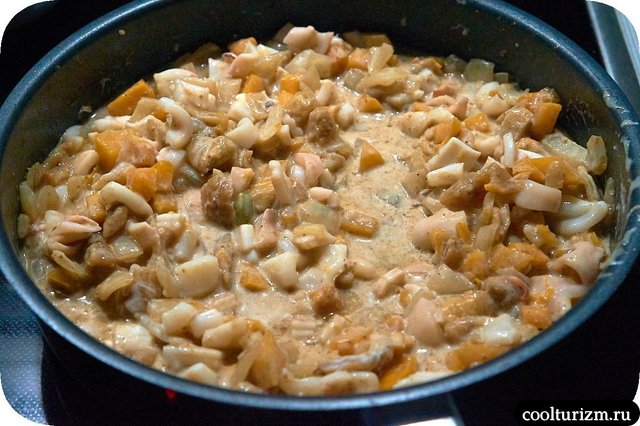 3.It remains only to serve bulgur with squid on the table. Put bulgur with squid on a plate. This is a very tasty and savory dish!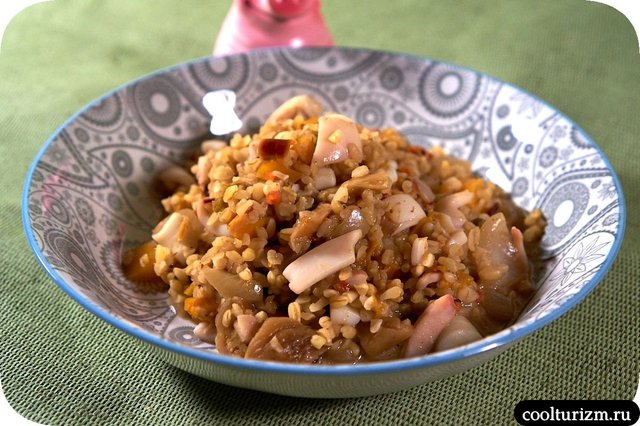 Dried apricots look especially interesting here. Unexpectedly, it is so refreshing to the dish!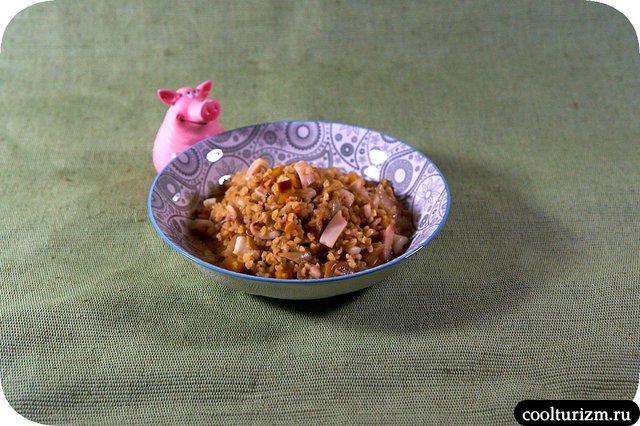 Will We Cook?

Heute kochen wir wieder Bulgur. Diesmal servieren wir Bulgur mit Tintenfisch und Gemüse in Sahne.
Bulgur ist nicht das einfachste Essen, daher sollte man es nicht mit Fleisch beschweren. Fisch oder Meeresfrüchte sind in Ordnung. In diesem Fall habe ich Tintenfisch gewählt.
Das Rezept ist einfach. Kürbis und grüner Kardamom verleihen dem Gericht leuchtende Farben und einen pikanten Geschmack.
Lass uns gehen!
Zutaten:
● Tintenfische -2-3 Stück
● Bulgur - 1-1,5 Tassen
● Zwiebel-1 Stück
● Getrocknete Aprikosen - eine Handvoll
● Kürbis -300 gr
● Sellerie - 1-2 Stängel
● Sahne -200 ml
● Salz, Pfeffer, Kardamom, Kräuter, Öl, Gewürze - nach Geschmack
1.Wir schälen die Zwiebel von der Schale. Den Kürbis von der Haut und den Kernen schälen. Die Zwiebel- und Selleriestange in kleine Stücke schneiden. Den Kürbis in kleine Würfel schneiden. Ok, Kürbis kotzt dich an! Dann durch Karotten ersetzen. Gemüse in Butter oder Pflanzenöl anbraten, Zwiebeln goldbraun braten. Vorher 3-4 Kisten zerkleinerten grünen Kardamom in das Öl geben und erwärmen. Kardamom verleiht jedem Gericht einen orientalischen Geschmack. Ich habe auch eine Prise Masala hinzugefügt, aber das ist nicht jedermanns Sache. Getrocknete Aprikosen in Stücke schneiden und hier hinzufügen. Glauben Sie mir, hier werden getrocknete Aprikosen benötigt!
2.Zu diesem Zeitpunkt sollten Sie bereits Bulgur kochen. Es ist einfach, aber es gibt ein paar Nuancen. Das Kochen von Bulgur dauert 15 Minuten. Wasser und Bulgur 2 zu 1 anteilen. 10 % Sahne bei Zimmertemperatur in die Pfanne geben. Nach 5-7 Minuten die gehackten Stücke des rohen Tintenfischs hinzufügen. Ich habe kleine fernöstliche Tintenfische in die Haut genommen. Die Haut lässt sich leicht mit Wasser aus dem Wasserhahn und den Händen entfernen. Dann entfernen wir alle Innenseiten und schneiden den Tintenfisch in kleine Stücke. Gemüse mit Tintenfisch in Sahne mischen und weitere 5 Minuten kochen lassen. Bei Bedarf Salz und Pfeffer nach Geschmack hinzufügen. Den Inhalt der Pfanne mit gekochtem Bulgur in einen Topf geben. Vorsichtig mischen. Grüne können nie schaden!
3.Es bleibt nur noch Bulgur mit Tintenfisch auf dem Tisch zu servieren. Bulgur mit Tintenfisch auf einem Teller anrichten. Dies ist ein sehr leckeres und herzhaftes Gericht!
Getrocknete Aprikosen sehen hier besonders interessant aus. Unerwartet ist es so erfrischend zum Gericht!
Werden wir kochen?