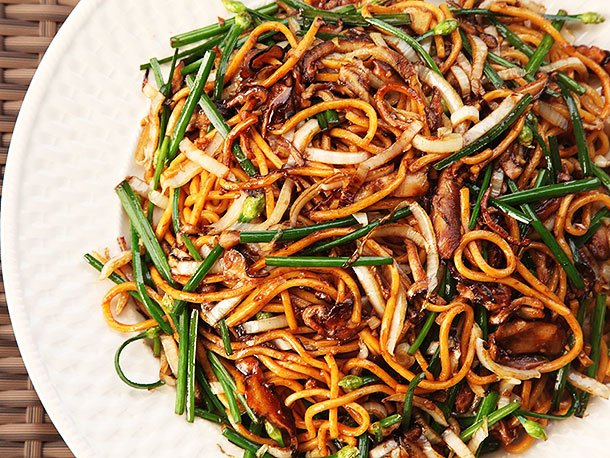 INGREDENT
1 pound wide lo mein noodles
1/4 pound snow peas, halved diagonally
1/4 cup soy sauce
1/4 cup mirin
2 teaspoons toasted sesame oil
3 tablespoons canola oil
1 pound shiitake mushrooms, stems discarded and caps thinly sliced
6 scallions, cut into 1-inch lengths
1 tablespoon minced fresh ginger
2 tablespoons water
2 tablespoons chopped cilantro
HOW TO MAKE IT
Step 1
In a large pot of boiling salted water, cook the noodles until tender; add the snow peas to the noodles in the last 2 minutes of cooking. Drain the noodles and snow peas and rinse under cold water until cool. In a small bowl, mix the soy sauce with the mirin and sesame oil.
Step 2
In a very large, deep skillet, heat 2 tablespoons of the canola oil until shimmering. Add the shiitake and cook over moderately high heat, undisturbed, until browned, about 5 minutes. Add the remaining 1 tablespoon of canola oil, the scallions and ginger and stir-fry until the scallions soften, about 3 minutes. Add the water and cook over moderate heat, scraping up the browned bits from the bottom of the pan, 1 minute. Add the noodles, snow peas and soy sauce mixture to the skillet and cook, tossing the noodles until heated through, about 2 minutes. Add the cilantro, transfer to banana leaf cones or bowls and serve.
SUGGESTED PAIRING
This goes well with a berry-inflected light red.