Crispy Baked Zucchini Wedges with Basil Chimichurri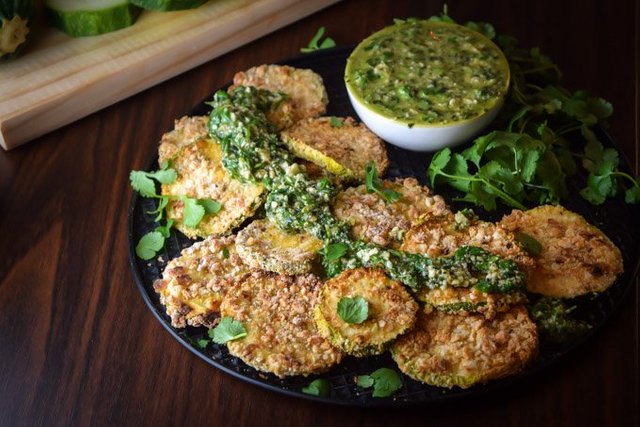 Looking for a healthier alternative to fried potato chips? These baked zucchini wedges make the perfect smarter snack for sharing with friends and family.
Prep Time 30 minutes
Cook Time 30 minutes
Total Time 1 hour
Ingredients
2 medium zucchini washed and sliced into 1/4 inch wedges
1/2 cup all purpose flour see notes
1 teaspoon salt
1/2 teaspoon cracked black pepper
3/4 cup unflavored almond milk
1 1/2 cups seasoned breadcrumbs see notes
Basil Chimichurri:
1/4 walnuts
1/3 cup nutritional yeast
1/2 cup fresh basil leaves packed
1/2 cup fresh cilantro packed
2 cloves garlic
1/3 cups olive oil
3 tablespoons red wine vinegar
1 teaspoon salt
1/2 teaspoon pepper
Instructions
Preheat oven to 425 degrees F (220 C) and line 2 oven trays with parchment.
Whisk together milk, salt, pepper, and flour in a small bowl and pour breadcrumbs into another separate bowl. Dip zucchini pieces in flour batter then into breadcrumbs and place on prepared pans. Repeat until all are dipped.
Bake for 20 - 25 minutes until edges are browned and crispy.