First of all, I wish you all a happy 2019 year. This is my first release this year and I thought I should write about something that was not music to start the year differently. So I decided to post over the dish that I prepared for dinner last December 31st.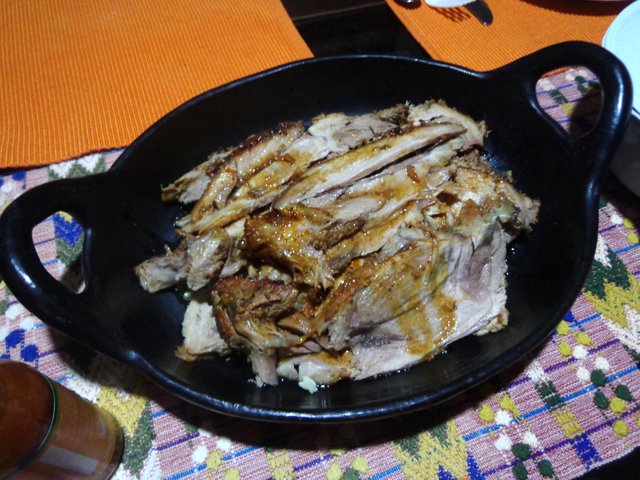 ---
Deutsche Version zur Vefügung in dieses Link!
Versión español disponible en este enlace.
---
The baked pork leg has been part of the Decembre tradition in Venezuela for many years. Although it's a regular dinner on December 24th, it's very popular during the whole month, and in the case of my family, we decided that this would be our family dinner for New Year's Eve.
It is noteworthy that the Spanish word "Pernil" wich has no translation but is something like a Christmas ham refers to the hind legs of the pig, which is also called ham, Yule ham or thighs of hog.
The first moment I saw myself facing this piece, I was worried about the amount of work it would give me because it came with skin and tail. But the popular saying "The pig has no waste" is very appropriate because everything can be used in this animal. What I thought could be a problem became an advantage. Well, from the same piece I separated the tail with which we made a spectacular soup that made our lunch on the 30th. From there, I also prepared the skin as Pork rind, which is waiting in the fridge to be prepared for a typical Venezuelan dish, as well as the "Chicharronada ". I also took the opportunity to "produce" some lard with which I can prepare several additional dishes.
Of course, the most important part of all was the leg itself, which was already clean and ready to be baked.
But let's see what the process was.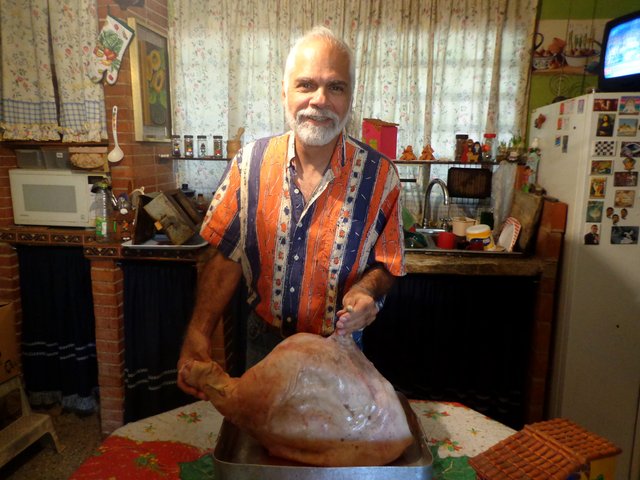 In the picture above the complete piece with skin and tail can be seen. The first task was to remove the skin and make the cut to separate the tail.
As in the pictures above, a cut is made to separate the skin, allowing it to be separated when inserting the knife. Once the largest piece of skin is severed, the remaining pieces and excess fat are cut off.

The next step is to separate the tail, for which you have to locate the beginning of this part of the pork to cut off the entire piece that comes from further back.
Once this piece is separated, it can be used for various recipes. As I said, in our case we made a soup, but it could have been stew or something else.

Before we cook the pork, we prepare the liquid in which we'll marinate the piece for 24 hours.
The ingredients for this are:
English sauce
Cooking wine or red wine (in my case I used cooking wine)
Orange juice
Beer
Wine vinegar
To marinate, we add to our taste salt, a crushed garlic, oregano and spices.
Before "bathing" with this preparation, I mixed a little wine and English sauce and used a syringe to inject this mixture into the piece. It is also advisable to drill it through with the knife so that the liquid penetrates into the meat and there is better taste.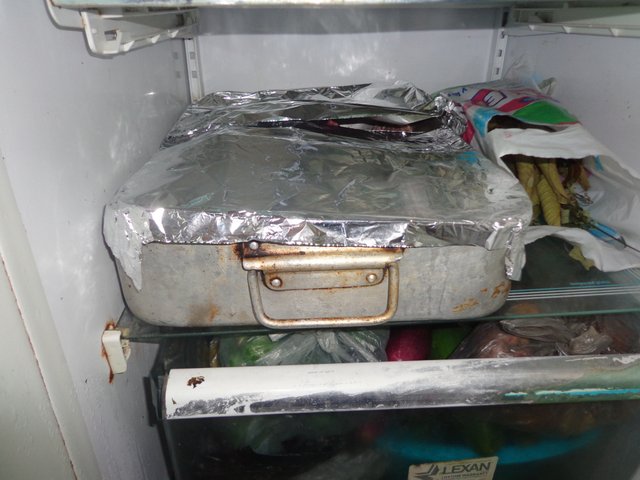 Once the leg is smeared with the liquid, it should be covered with aluminum foil and placed in the refrigerator.
It is important to take the piece out of the refrigerator about every 4 hours and make sure that our preparation covers all parts of the pork. In this way it is ensured that it gets a uniform taste and that the meat is well moist before being placed in the oven.
Marinate for 24 hours.

Once this process is completed, it is placed in the oven at a temperature of 250° C.
It should be covered with aluminum foil to ensure even stewing and prevent evaporation of the liquid. You have to calculate 45 minutes for each kilo that weighs our Pork leg.
Every one and a half hours we have to take the piece out of the oven to moisten everywhere and turn it. It should be noted that the meat is cooked, but looks moist and rosy.
We cover again and continue to bake the piece.
When only one hour left, we turn it, but this time we put it in the oven without aluminum foil to make it brown. Leave it for half an hour, turn it over and leave it for the remaining half hour.

Once we're done, we "bathe" it again with liquid and cut it into thin slices.

Many people prepare a sauce that gives this preparation a special touch, but without it it also has an extraordinary taste. We decided to eat it without sauce. I can assure that it did not need anything else...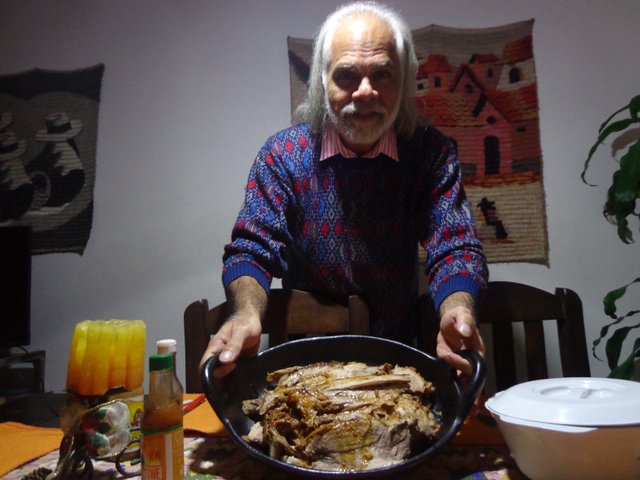 ---
All photos are my property and were taken with a Sony Cyber-shot DSC-W650 camera

---

Follow - Upvote - Resteem
---
Recent posts / Artículos recientes / Kürzliche Posts
---
* If this post is older than 6 days, you may go to the most recent and upvote it!
* Si este artículo tiene más de 6 días, puedes ir al más reciente y votar por él!
* Wenn dieser Artikel mehr als 6 Tage hat, kannst du zum letzten gehen und diesen upvoten!