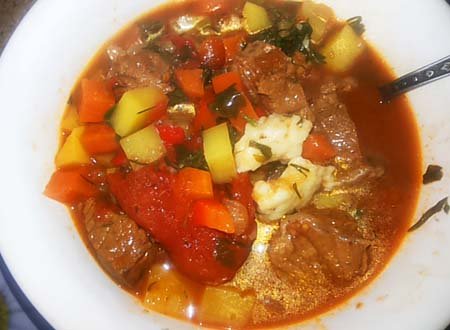 Ingredients:
beef (better to take a shovel) - 480-500 gr
onion - 1 head,
potatoes (hard grade) - 3-4 pieces
Bulgarian pepper - 2 PCs,
tomatoes - 2 PCs,
garlic - 2 cloves,
tomato paste or ketchup - 1 tsp. spoon,
broth (bone) or water - 900 ml
paprika (dried.) - 1 table. spoon,
pork fat or oil (raises.) for frying,
a bit of cumin (if desired),
salt
Recipe:
Beef washing and drying is cut into 1 cm cubes peel the Onions and finely chop. Bell peppers, tomatoes, remove the seeds from the peppers and cut into the same cubes. Potato peel, wash and also cut into cubes. Clearing the garlic, passed through chesnokodavku.
In a cast iron (or heavy-bottomed) saucepan, melt the fat or oil and heat it up. Put onion, a little salt and fry it until soft. The pan with the onion, remove from fire, allow to cool slightly, add to it the paprika and stir.
In a frying pan heat a little oil or fat and fry the meat pieces until browned. Put the meat in a pan to the onions and paprika. Add the garlic and a little cumin. Pour a little water (so the meat potosinos). Stir and cook an hour and a half on a slow fire, stirring occasionally and adding a little water.
Add to extinguish the potatoes and increase the flame, fry stirring, and salted 3-5 minutes Now add in the pan the chopped peppers, tomatoes and tomato paste. Fill with broth or water to just cover the vegetables. A real Hungarian soup is very thick, but you can add liquid to your preference.
Bring goulash to a boil, cover the pan with a lid and cook on low heat 15 minutes until cooked potatoes. Then turn off and allow to infuse lid on 10-15 minutes.
Bon appetit
source - http://2tasty.ru/sup-gulyash-iz-govyadini-po-vengerski