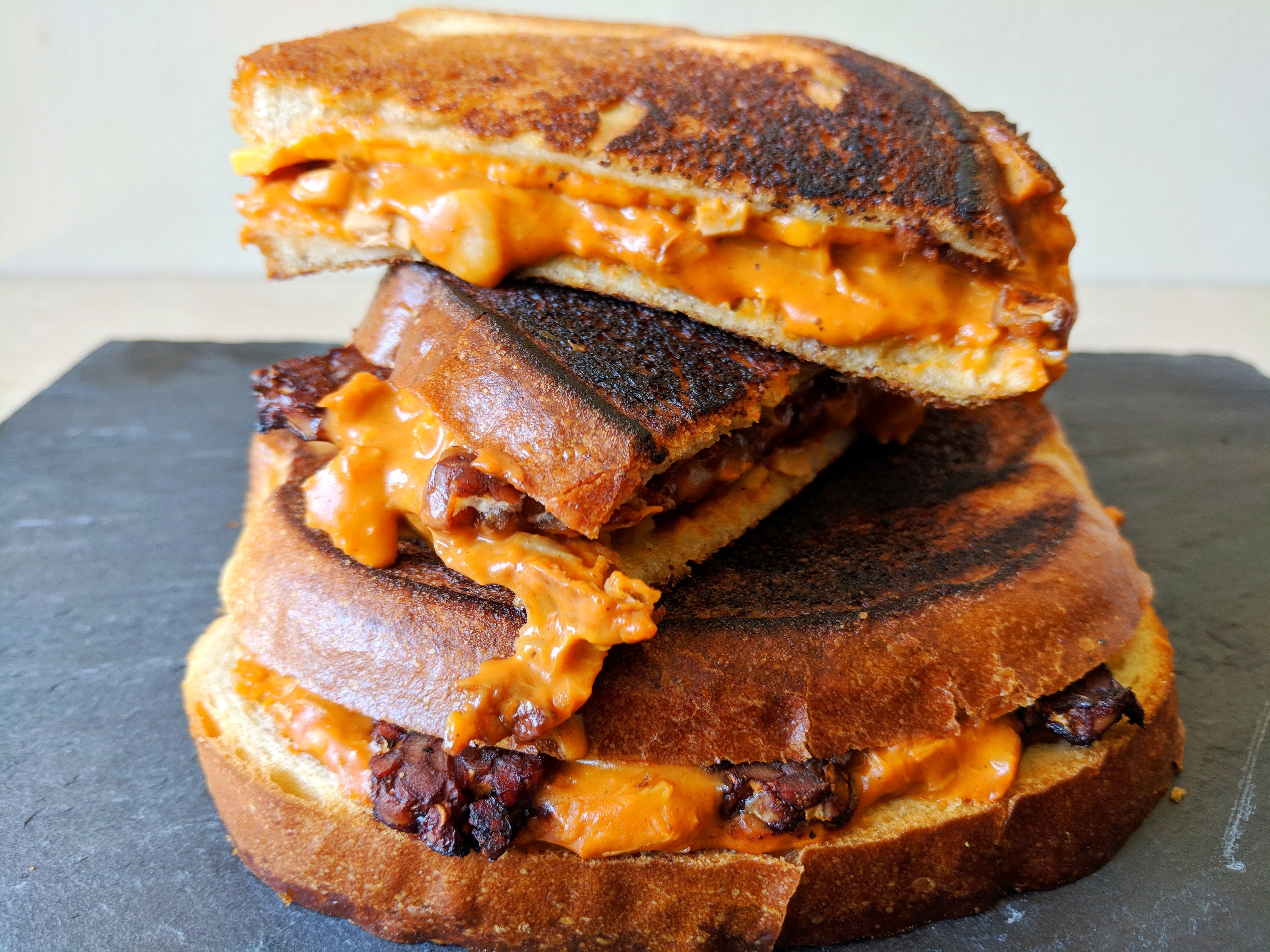 This has to be one of the best things that I have made on this blog so far! For this recipe I'm using my tempeh bacon recipe and I'm also using Daiya shredded cheese and their sliced cheese. This isn't the old daiya cheese I know some people didn't like the old daiya formula I didn't mind it but I understood why people didn't like it, but this new formula is simply amazing! If you don't want a sandwich this recipe works great just as a dip, I used the leftovers as a dip for my fries and it was phenomenal!
3/4 cup hot sauce (I used Valentina)
1/4 cup vegan cream cheese
1 cup shredded vegan cheddar cheese (I used daiya)
20 oz can jackfruit
1/2 teaspoon poultry seasoning (optional)
sea salt to taste
pepper to taste
16 slices vegan bacon
8 slices of bread
4 slices vegan cheddar cheese slices (I used daiya)
butter for melting
Drain the jackfruit and pulse about 4 times, set to the side and prepare the tempeh bacon.
In a medium sauce pan add the jackfruit, hot sauce, shredded cheese and cream cheese. Stir until the cheeses have melted, season with the poultry seasoning, sea salt and pepper and prepare the sandwiches.
Top one of the bread slices with some of the jackfruit mixture, four slices of the tempeh bacon, a slice of the vegan cheddar slice and the other slice of bread.
Heat a griddle over low to medium heat and melt a teaspoon of the vegan butter on the griddle. Place the sandwich on the griddle and cook until golden brown about 2-3 minutes.
Add another teaspoon of butter on the griddle and flip the sandwich over and cook for another 2-3 minutes or until golden brown. Take off of griddle and dive in!