Southern Comfort Food Saturday - Homemade Chicken Fried Steaks w/ Loaded Sausage Gravy Part 1.
Both the chicken fried steaks and the gravy are lengthy recipes so I've broken them up into two parts. Click here for my homegrown loaded sausage gravy post!Finished product!
It was pretty busy in the kitchen and everything turned out good except for the fries. We won't talk about the fries... If you'd like to see a better example of how baked steak fries are supposed to look, check out my Steak and Mesquite Steak Fries post here.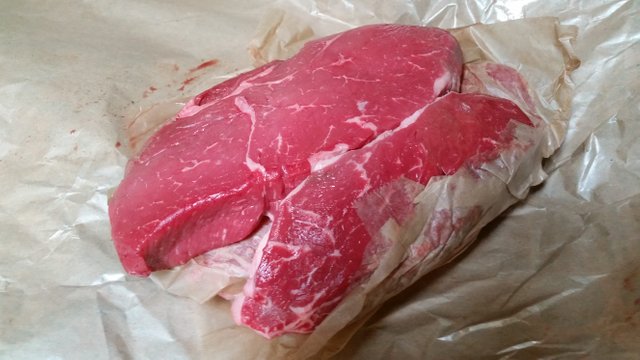 Getting started.
So first things first, there's a couple of different cuts of meat you can use to make chicken fried steak. The two most popular types are cube steak and top sirloin. The latter of which is what we have here. Cube steak is by far quicker and easier to prep but I think the top sirloin comes out much more tender and flavorful.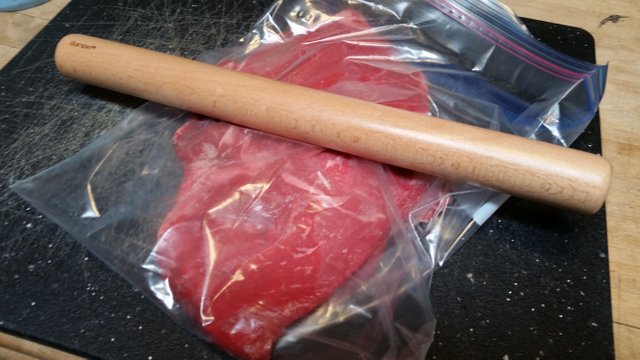 It's time to beat your meat!
How can you have any pudding if you don't beat your meat? Sorry, Pink Floyd reference... While my friends were watching me prep the jokes just didn't stop. I hit the top sirloin with a rolling pin, making sure to smash out the meat in both directions. The main reason I'm using a bag is here is to contain the mess and keep my cutting board semi-clean for later. Notice how long the piece of meat is now? That tells you you're on the right path and it will make it that much easier to tenderize the meat later.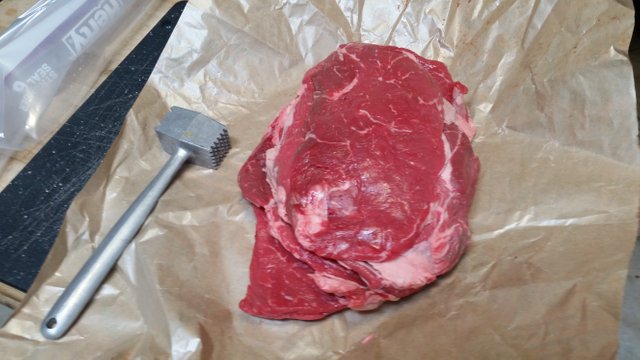 TWO TICKETS TO MEAT MOUNTAIN!!!
Now that all the meat has been properly smashed out were going to tenderize the meat with this cool looking hammer! I think its just called a meat hammer, but whatever...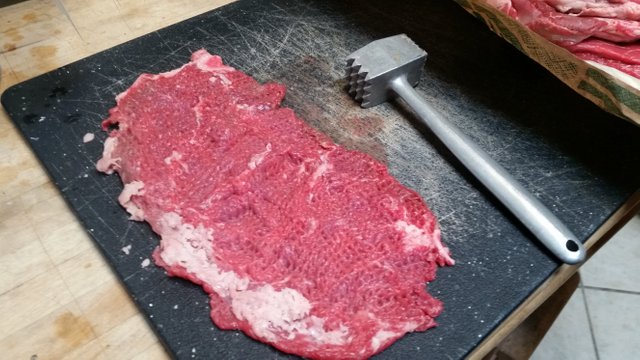 All smashed out.
I start off hitting the meat with the large end of the hammer and then follow up with the small tipped end alternating my pattern so I don't hit the same spot twice. This is typically done to both sides of the meat. As you can see we've really flattened this piece of meat out. It started out at approximately one inch, and now its been pounded to a quarter of an inch.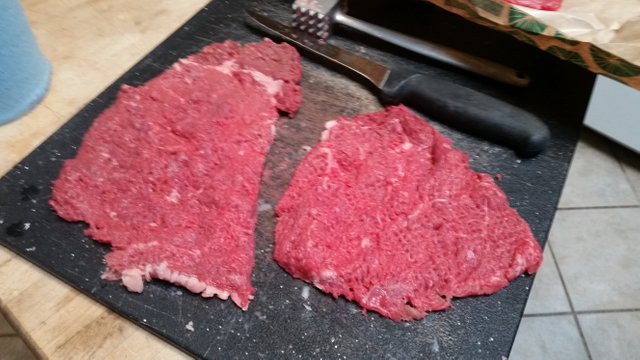 Prepping for the fryer.
Quick shot in between changing food safe gloves, sorry for the potato quality pic. Since my deep fat fryer is only so big, I'm cutting them into more manageable size patties, but you do you. I've also trimmed off some excess portions of fat/meat, which I'll later use for a stew or something.
Back in the bag.
Here I've got all of our meat placed back in the bag so we can do a marinade.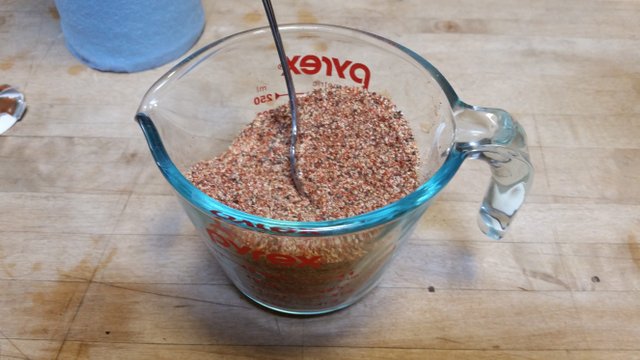 Rub a lub a dub a dub!
For the marinade I'm going to use my usual "go to" set of spices that I use for a lot of grilling: equal parts fresh cracked pepper, onion powder, garlic powder, and paprika. Approximately a 1/2 cup of this mix with a few splashes of low sodium soy sauce makes for a well rounded marinade. Marinate in the fridge for approximately 2 hours or overnight - I'm not your supervisor.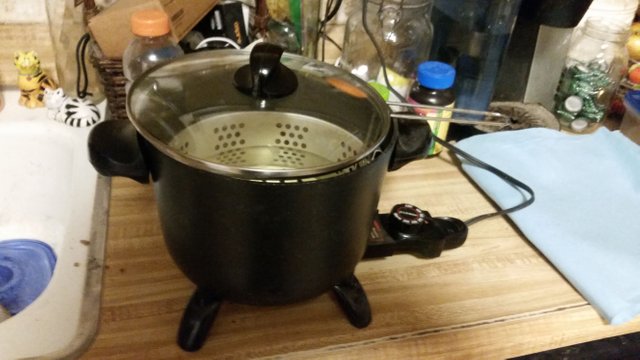 Don't forget to preheat your fryer!
So after the steak has been marinating for 2+ hours they are ready to be breaded. Go ahead and preheat your deep fat fryer to 350 F / 176 C degrees using an oil of your choice. I'm using canola oil. It's really important your oil is ready to go and up to temp when you cook the steaks, otherwise the breading may fall part and they'll end up soggy.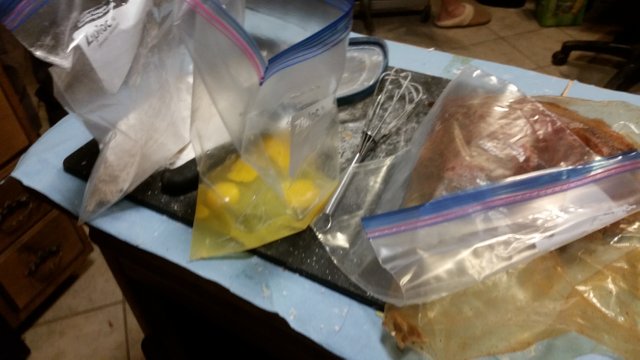 Now comes the messy part...
Some folks do bowls but I prefer bags as you can just toss them when you're done. I've got about 6 eggs (that I'm going to beat shortly) and about 3 cups of flour to start with. Add more flour as needed. The nice part about having eggs in a bag is you can close the bag and literally shake the crap out of them to mix / scramble them.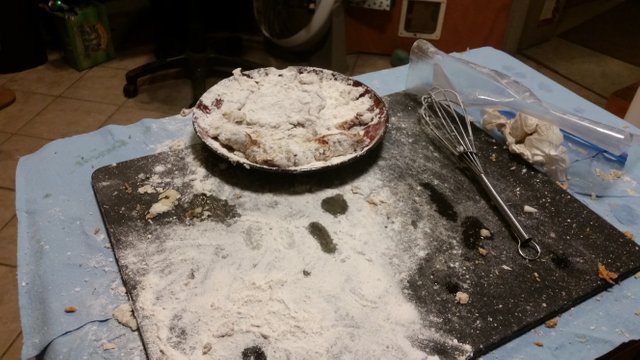 Flour everywhere!
Maybe I should just rename my feed/blog to "messiest cook channel..." Who knows, maybe it'll be someones fetish... Whenever I get to breading I just can't help but make a huge mess. I'm also a messy cook by nature so yeah...  Back to the food: When I bread chicken fried steaks, I dust them in flour, dip in egg, then dust in flour again. To speed things up I went ahead and finished breading and just started placing them on a plate. This will allow me to at least start cleaning up this massive mess while the steaks cook. In hindsight I should have used parchment paper in between the steaks but oh well. We've gone to far...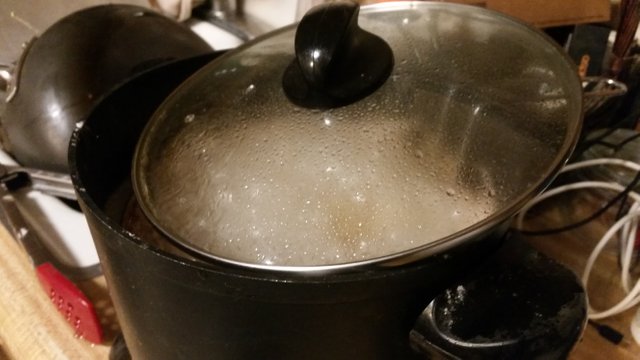 Frying it up!
Now were frying them up! After you're finished frying one steak make sure your fryer comes back up to temp before adding in the next one. No one likes soggy steak!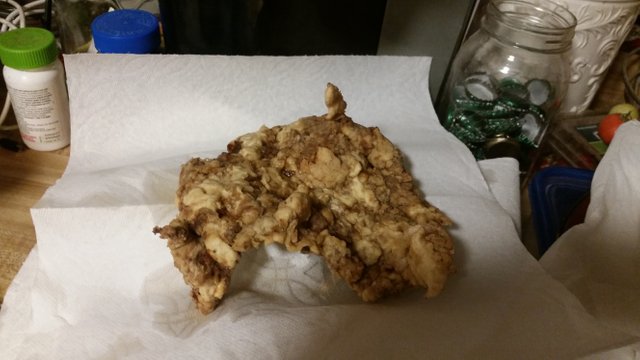 First couple down, more to go.
This is the third one fried up and is looking good - I'm claiming this one as my own. As I'm cooking each chicken fried steak , I'm placing paper towels in between to soak up the excess grease. You can alternately use a rack over a baking sheet.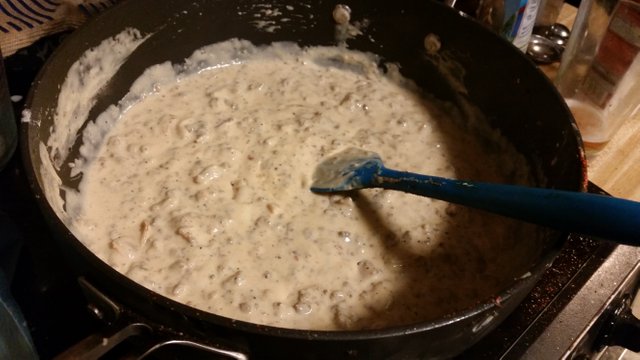 Best breakfast leftovers ever!
Mhmm... loaded homemade sausage gravy. You cant have a chicken fried steak without some good southern style sausage gravy. Recipe / pt. 2 posted here!   Hope you all enjoyed and let me know if you have any questions!
Cheers,