So, I got my account verified few days ago. I admit it was one of most exciting moment of my life (maybe because my life is boring, idk). But then, now what? What should I share here on steemit with you steemians? Should I introduce myself? Should I start with writing things I love? Or should I just post pictures of cats and clouds? Oh well, screw it! I overthinking things. I'll just write whatever I have in mind. It's not like anyone will be offended with smoked fish anyway. Well, other than those vegans, vegans offended by everything ( lol just kidding, my wife's family is a vegan, I respect their way of life).
I said it was smoked fish on the title, but actually it's not really a smoked fish. It's a Pindang.
I used smoked fish terms just so you English speaking people could have a gist about it. Also the first phrase of the title is Sundanese, it's a language exclusively used in West Java, Indonesia. We are one of many ethnics existed in Indonesia.
So, what is Pindang you may ask. Well, according to wikipedia, Pindang is cooking method of boiling ingredients in salt and certain spices, usually employed to cook fish or eggs. Pindang has preservative property, which used to extend the shelf life of fish. The technique is native to Java and Sumatra. The Indonesian dictionary describes pindang as "salted and seasoned fish, and then smoked or boiled until dry for preservation."
Pindang itself is a raw material that can be cook further into tons of gourmets. Well, it's actually edible the way it is, but we mostly use them as ingredient to make another meals.
What I had this morning for breakfast is pindang bumbu merah, literally pindang with red spices. The color is redish due to it's spices that has lot of red pepper and some red chilies. So if you can't stand spicy foods, you may need to consider not to try one. But there's also exist a variation that doesn't spicy at all, in case you want to try one.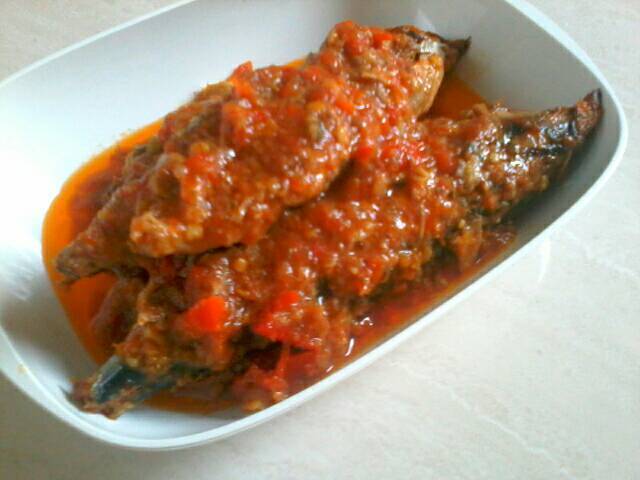 Courtesy of Mrs.Bara Liem
I'd like to share the recipes with you steemians, but I'm not good with recipe writing and there's tons of better recipes on the net you can search. I'm rather bad in cooking actually, good thing my wife isn't lol.
Well, I'll see you on the next post. Cheers!