Conscious eating stars with the eyes 🤤
Let's start with breakfast!
Actually, what I would like to start with is with body awareness. I like to begin my day by listening to what asana my body needs. Before I get to
#foodphotography
lets talk Yoga.
(If want to skip this part please press 2 and head over to The smoothie Bowl)
CRICK 🙈 CRACK 🙉 CROCK 🙊
Disclaimer, if this is the sound of your back, it might sound good and feel good but it ain't good. After a good nights rest, your muscles resemble the flexibility of a frozen Neanderthal and need to be warmed up. We carry so much tension in our bodies from the emotions that we hold on to and from the postures that we force ourselves into. Moving first thing in the morning will help us feel more alive and energetic, even it is for 10 minutes. Utilising the breath to calm the mind and therefore the body, you can enjoy calmness within.
Mens sana in corpore sano
.
Another good reason to exercise before breakfast is to experience the joy of filling your mouth with orgasmic flavours as your belly rumbles with anticipation.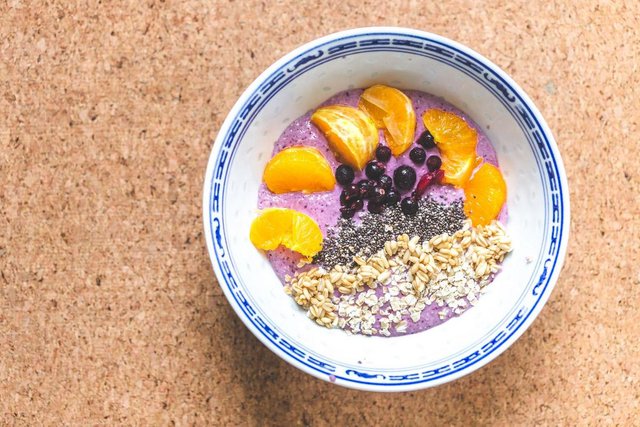 THE SMOOTHIE BOWL 😋
I mean look at this delicious meal! You are already eating it before you can pick up the spoon. You can taste it before it touches your tongue. The taste of the succulent berries oozing their dark red flavoursome juices. The sharp but sweet taste of soft oranges waking up your still dormant senses. The crunchy exotic chia seeds and organic oats just chilling there for good looks. Let's be honest they have no flavour.
All of these sensations are dumb down while we eat, as all too often we are distracted by the internal verbose monologs that we hold with ourselves, or by the conversations that we have with other.
At times, I would look at food almost like a mantra in a mediation. I find stillness, I envision the experience of eating it with all its flavours and textures. I hold that joyful sensation in my mouth and belly, until it naturally fades away. What I have found is that by being present, by being conscious and by being calm I can feel full without eating...as much 😁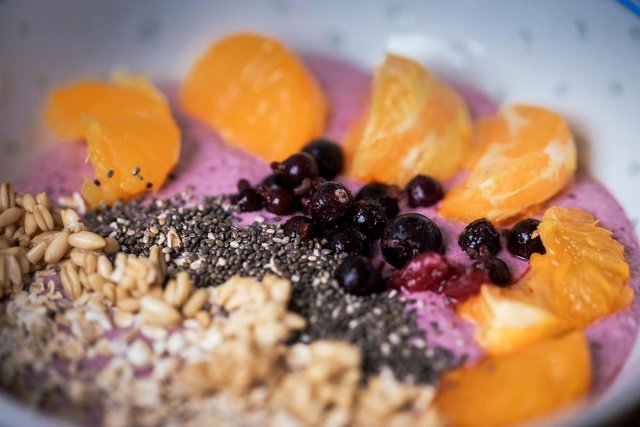 INGREDIENTS 🥑
Now that even England is nearing towards the summer, despite the fact that I'm still wearing a jumper, having a cold breakfast is very refreshing. I blend up:
frozen blueberries, oats, hemp seeds, half a spoon of coconut butter, a spoon of peanut butter and some plain rice (if there are any leftovers)
. To properly melt the peanut butter and to defrost the berries, I add a bit of lukewarm water.
I occasionally add some stuff on top, like in the photo above or if you are feeling more banana the bottom one. Actually, these were graciously made by @sanskar.yoga who has taken a liking to the idea of smoothy for breakfast.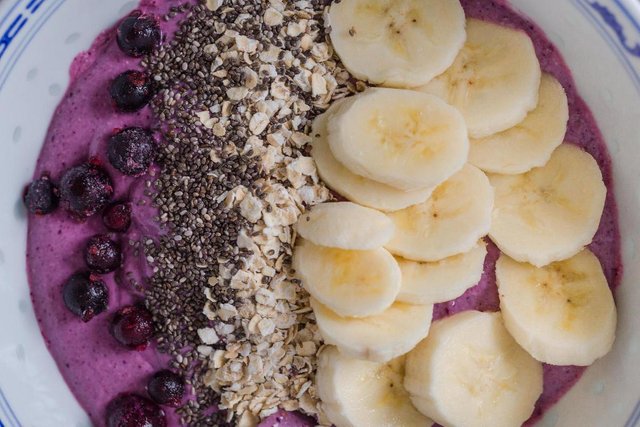 MORNING ASANA 🧘‍♂️
I have different variations for this warm up, as it changes with my mood and needs. Play and explore moving your body around. Targeting a warmup for wrist, hips, shoulders, and ankle I feel are very important to do even before sun sal's. Most lower back tension and pain comes from having tight hamstrings and rigid hips. This warmup is designed to open the hips and lenghthen the hammies.
I start by laying down on the floor, rocking back and forth to warm up the spine.
-- Pull one knee in towards chest while other leg is pressed to the ground flexing foot towards you, and vice versa.
-- Hug both knees to chest and push sacrum down to touch the floor. Similar to what your legs do in a breaststroke, let the legs drop to hip sides, slowly extend them at hovering distance from the floor, bring the feet together and bend the knees to chest. Repeat.
-- Supta Padangusthasana 1 (one leg stretch).

Come up to a seated position and do Ardha and then Poorna Titali (half and full butterfly pose).
-- Some forward folds and side stretch for both ardha and Poorna Titali.

Come to tabletop for Marjariasana (cat and cow).
-- Keeping your hands firmly pressed, move your hips back to Balasan (child pose) and forwards to and awkward upward dog by rotating in a clock and anti clock direction.
-- Bring yourself neutral position in tabletop and move the weight into your hands, keeping the fingers glued to the floor use the strength in your wrist to lift your upper body up (good to strengthen arm flexors and therefore reinforce wrist joint).

Lift your knees, push your sacrum towards the sky and slowly lower your heals down to the floor into Adho Mukha Svanasana (down dog).
-- Slowly lift the heals up and work on keeping the hips high when lowering the heals down. (it will help lengthen lower back).