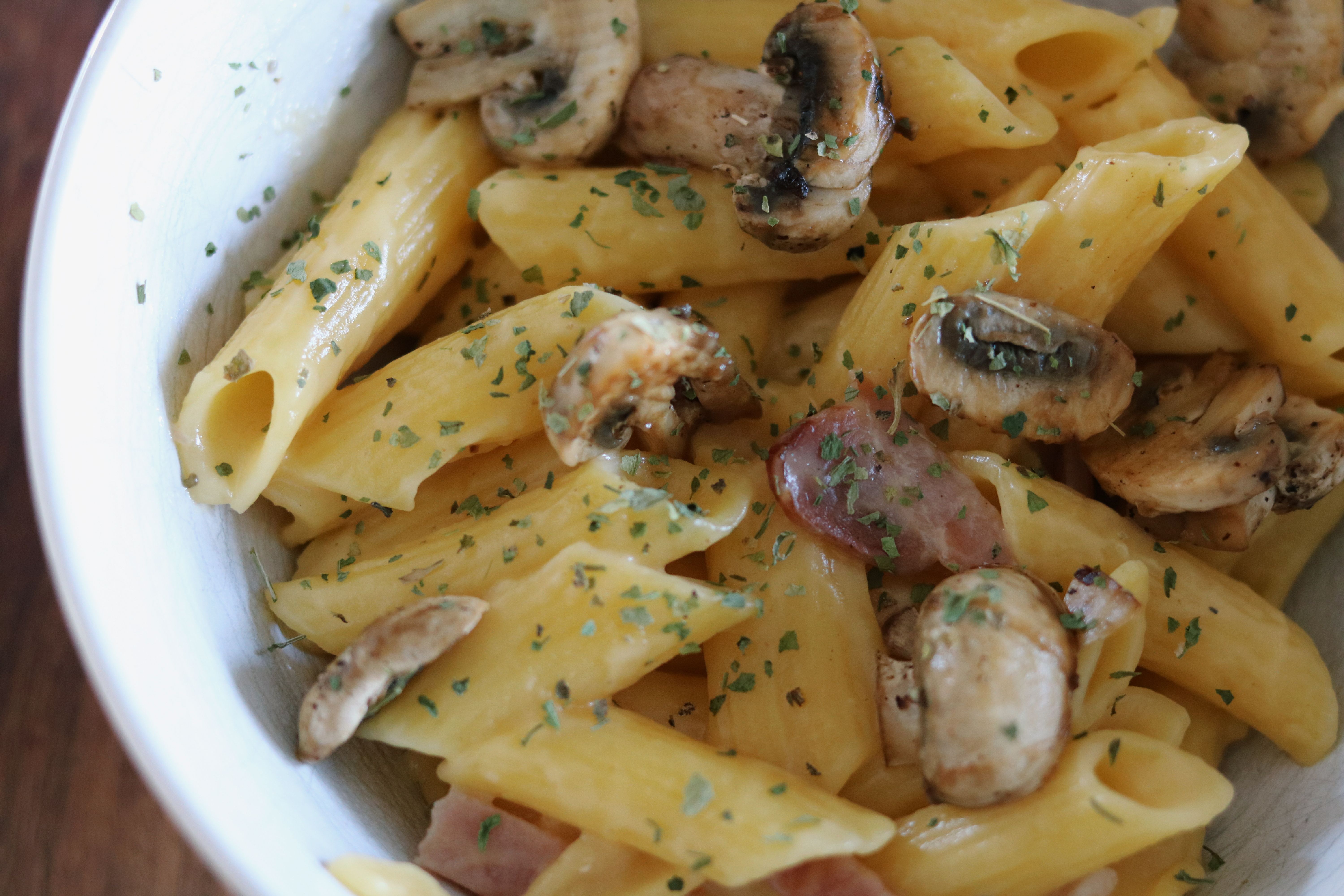 You can't quite see how cheesy this pasta is in the picture, but it taste so creamy and delicious. I absolutely love mac and cheese, so this was amazing for me!! 😌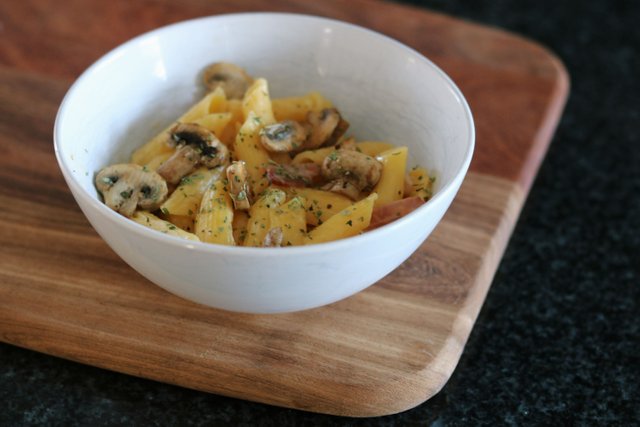 What you'll need:
100g gluten free corn pasta
60ml of reduced fat cheese sauce
2 rashers of back bacon
1/4 chopped onion
3 sliced button mushrooms
Ground parsley
Salt
Pepper
1/4 tsp Balsamic Vinegar
Put a pot of water onto a stove on high heat and wait until the water starts to boil. There needs to be quite a bit of water in to cover the pasta. Add a generous pinch of salt and pepper to the water and put the pasta in. Reduce the stove to a medium heat and put a timer on for 12 minutes for the pasta. Prepare another pan to fry the bacon in. Spray some spray-cook onto the pan and fry the bacon on medium heat until they are crispy and a little brown. Remove them and clean the pan for the mushrooms. Then fry the mushrooms and the onions with the balsamic vinegar until they are brown and remove them too.
When you are done with that, cut the fat off the bacon and discard of it. Then chop the bacon into bits and put it together with the mushrooms and onions. When the timer is done, strain the pasta and put the pot back onto the stove with the strained pasta inside and add the cheese sauce and the rest of the ready-prepared ingredients in and let it all warm up.Should be only 2-3minutes if that. When it is done, plate the pasta and add a pinch of the parsley to finish it off and some more salt if it is needed and you are done. I love this recipe so much. I'm not a pasta person, but Mac and Cheese or pasta with cheese is amazing! I hope you try this at home and see what I mean. 😉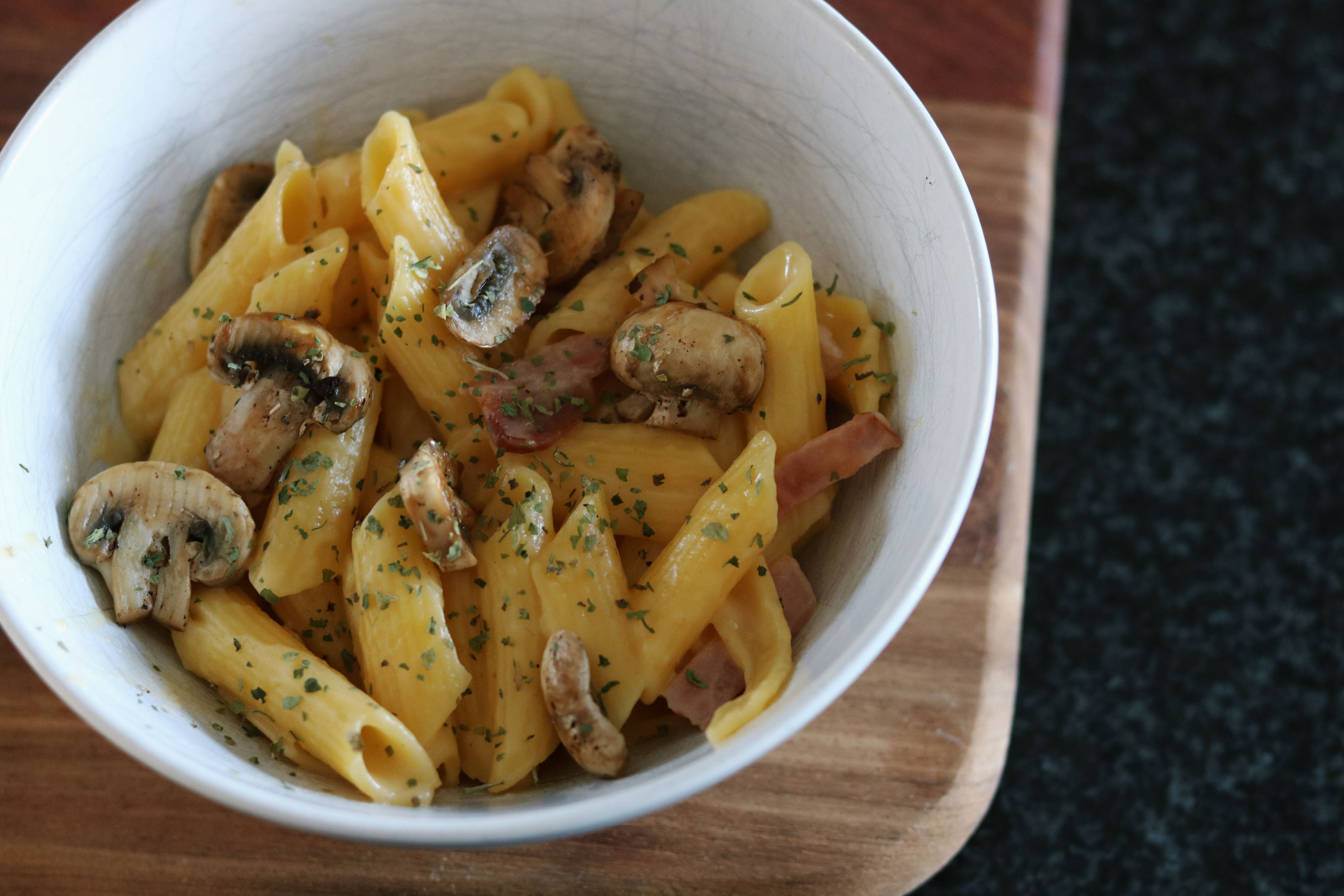 I hope you enjoyed another Lazy Kitchen🍳 post. I hope I see you in the next one. 😌
Other recipes include:
5 Ingredient crunchies
Quick Chicken Schnitzel and Caulimash
2 Minute Reeses Oatmeal
Simple Wrap That Will Blow Your Mind
One Ingredient Gluten Free Tortilla Wrap
Easy Baked Carrot Cake
5 Minute Beef Tacos
Savoury Egg Breakfast
Best Chocolate Peanut Butter Smoothie
Chicken Quesadilla
Rocky Road Waffles
Quick Delicious Burgers and Sweet Potato Fries
Easy Butter Chicken Curry
5 Minute Tacos
Healthy Lasagna
And so on..
All my recipes are gluten free because I can't consume gluten for medical reasons, but you can always substitute if you wish and the recipes will still taste amazing. 😌


CHECK OUT MY LAST POST✋: https://steemit.com/food/@themessup/lazy-kitchen-simple-4-ingredient-crunchie
And if you like my work, be sure to click here to follow me and together lets build a bigger bond on steemit. ✊
I ALSO UPVOTE GOOD COMMENTS ❤