Miss. Delicious #72 : The Swimming Pig Gastro Pub at Baha Mar!
Dear Steemit friends: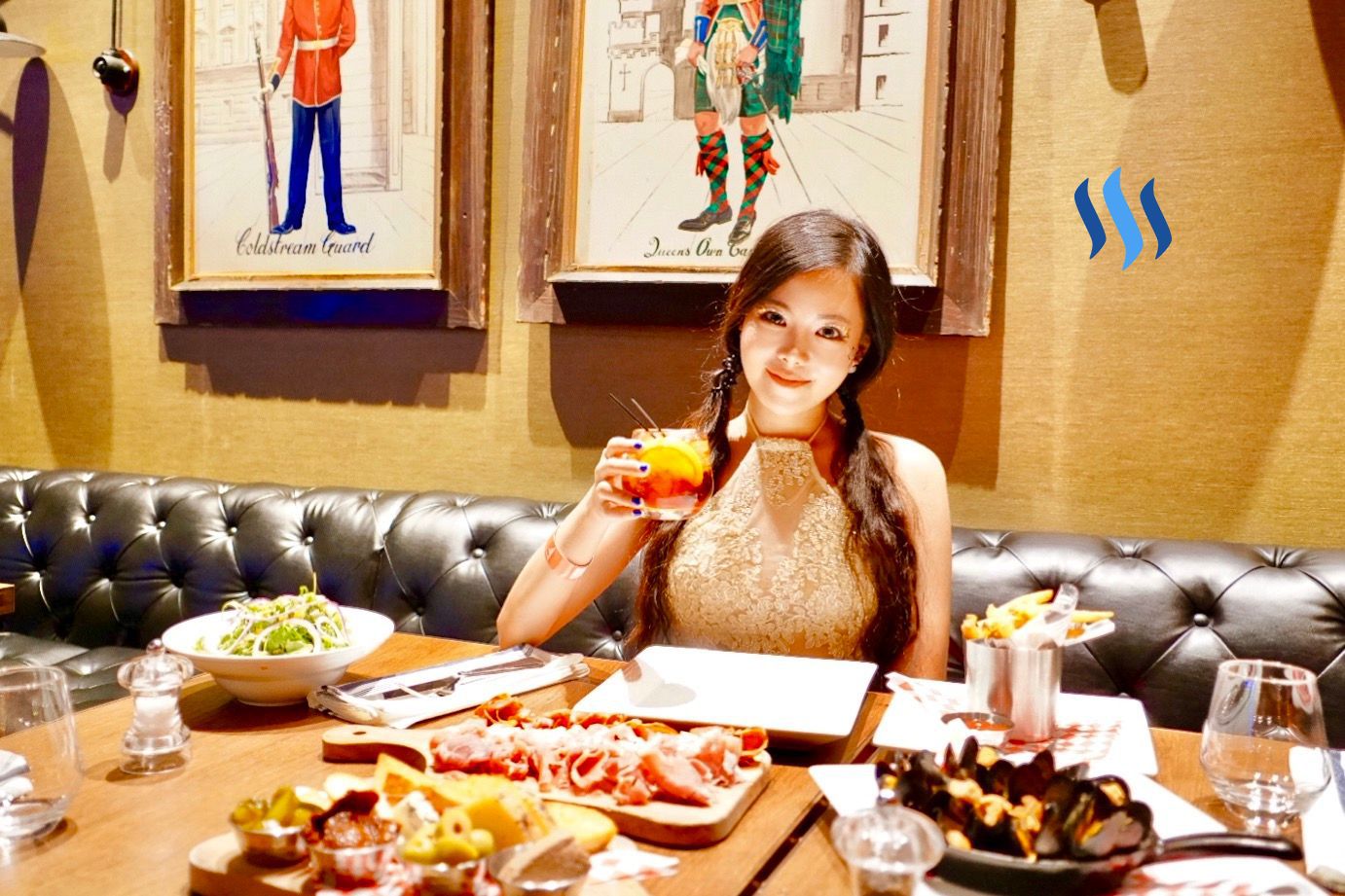 I've spoken very little about the new resort, Baha Mar thus far, and that is because most of my time was spent staying at Atlantis and visiting some of the islands in and around Paradise Island. As a brand new resort only officially opening in May of 2017, Baha Mar remains a resort that has yet to build a reputation but seeks to offer a high quality luxury alternative to the incumbent giant that is Atlantis.
My journey to Baha Mar thus far has taken us to the 3 Tides Restaurant, a lovely Mediterranean restaurant that features some of the best Caribbean fish crafted and served in the heart of the resort.
Those of us who yearn for a more grounded dining experience might be thinking the 3 Tides is too garish and lacks the casual atmosphere that you seek in a resort designed ground up to be the centre of casual relaxation. Indeed, there are other options suited to this demographic, and today's edition of Miss. Delicious will seek to fill that gap!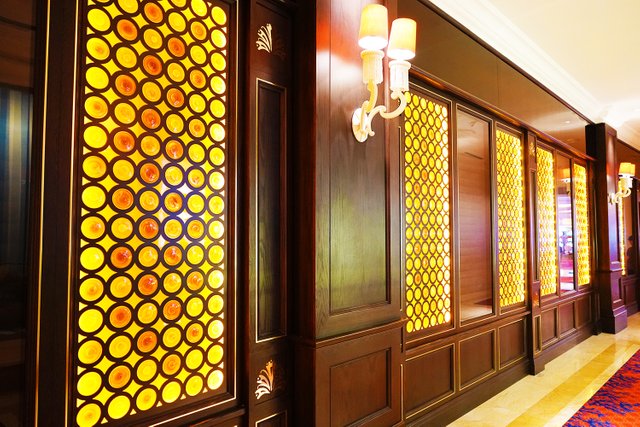 Though not entirely complete, the Baha Mar resort has done a really good job of staging it's intention to impress. A scent of 'newness' and fresh off the construction belt feeling can be felt throughout the hotel.
It's rare for me to visit somewhere completely new because I never know what quite to expect. There isn't a whole lot of literature or reviews regarding the hotel and it's amenities so every experience here is unbiased from any sort of prior research on the venue.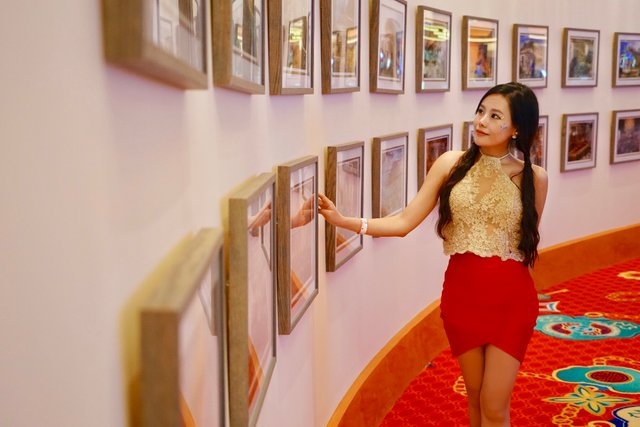 These corks are nearly the size of my body. Behind it, a simple message - Celebrate. And why not? A grand opening with some very audacious goals to conquer the Bahamas calls for the opening of a bottle of wine - or many.
Just opposite this celebratory exhibit, we have our dining venue of choice for the evening.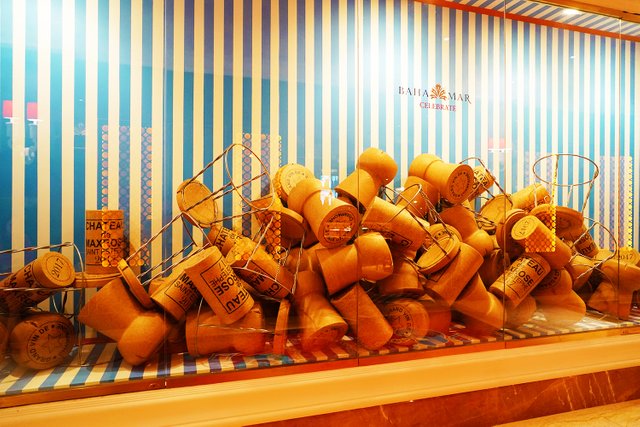 The Swimming Pig Gastro Pub
As the name would suggest, this pub restaurant pays homage to the unique experience Bahamas offers with it's peculiar Swimming with the Pigs. Being the only true pub in the resort, it has the widest range of beers and ales as well as everything else you could expect from a well stocked bar.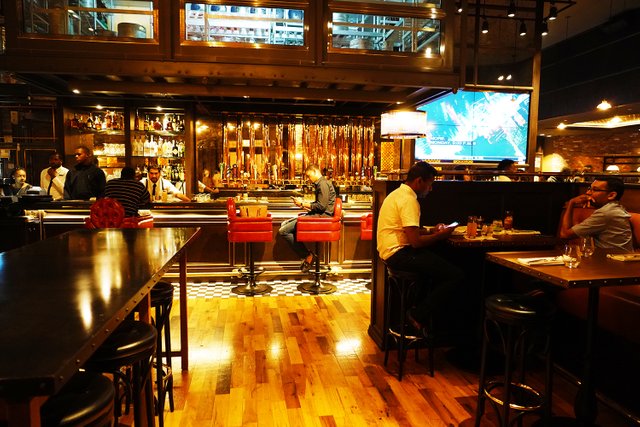 I really like the high red leather chairs at the bar. They look really comfortable for those wishing to spend a night at the bar exclusively drinking the liquors available to them.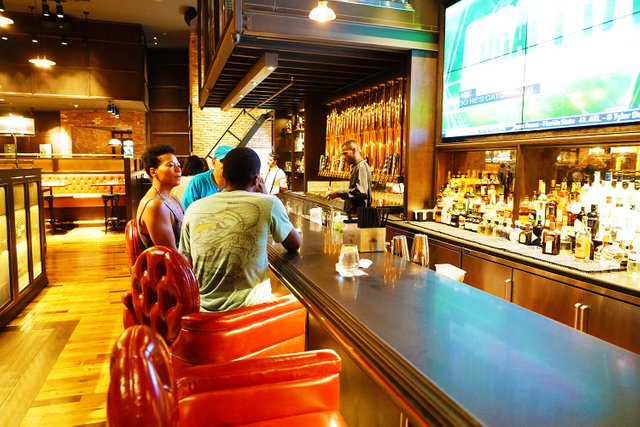 Some privacy dividers separate the bar area from the dining area but you can see the amber bronze theme penetrates throughout the pub and lights up the whole area in a consistent bronze golden haze.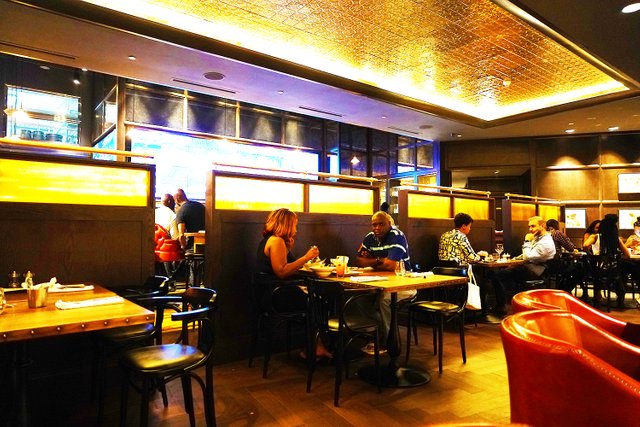 There must be about 20 different ales available here, all displayed at the back of the bar, and funnelled through the shiny golden tubes which draw a lot of attention. These golden metal tubes were the first thing I noticed when I walked in. They remind me of organ pipes - really shiny golden ones.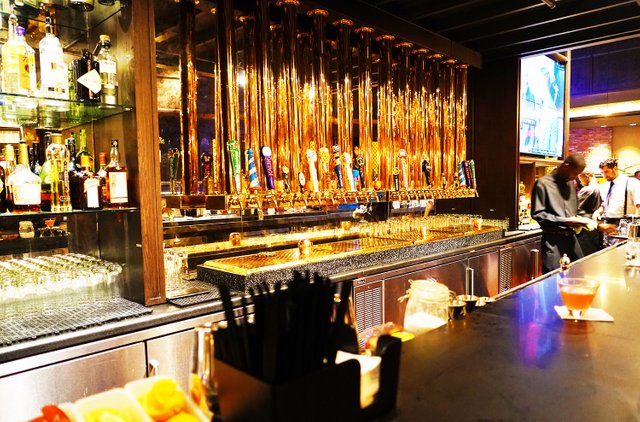 The big mosaic of flat screens behind the bar keep the customers eyes pinned to the front whilst sipping on their drinks.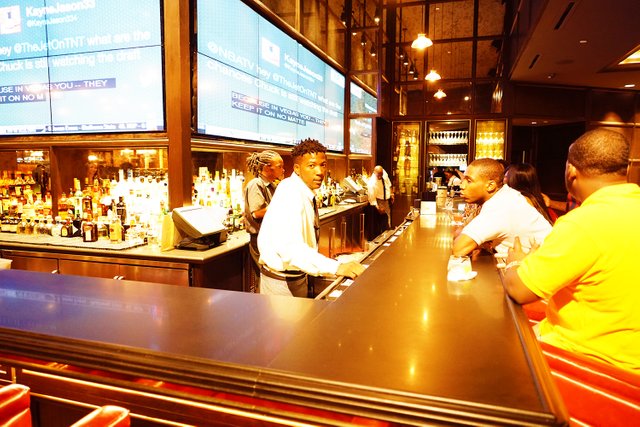 And below, we have a large selection of wines ready to be popped open and their corks added to the display just outside.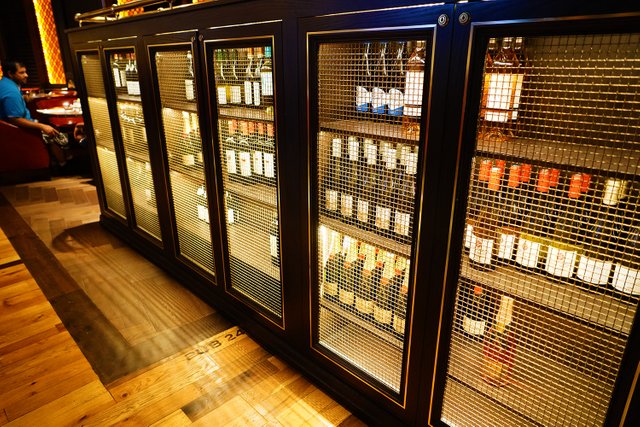 One design element that stood out to me before I even entered the restaurant was the windows which completely obscure the inside of the restaurant. They look a lot like a bee's honeycomb, select cells tinged with amber for effect.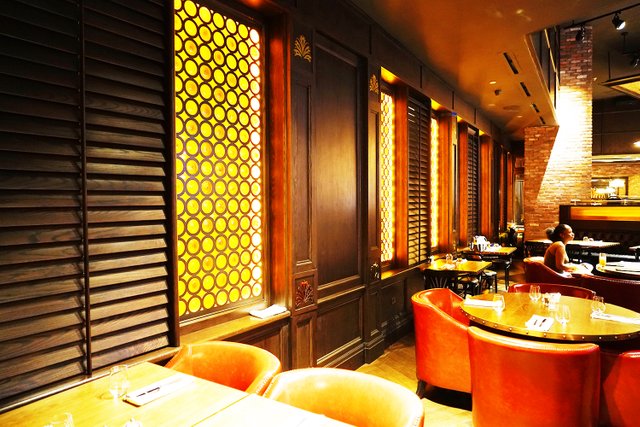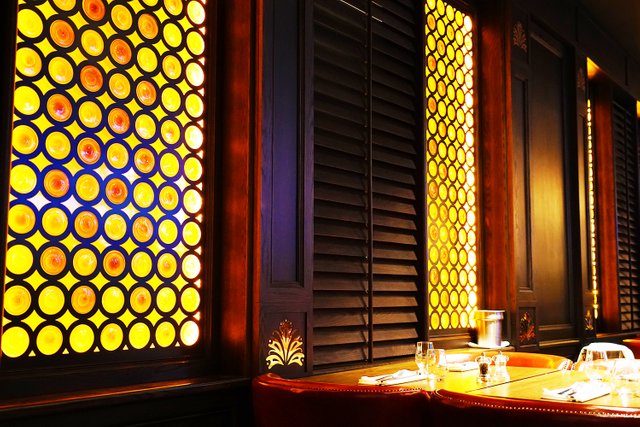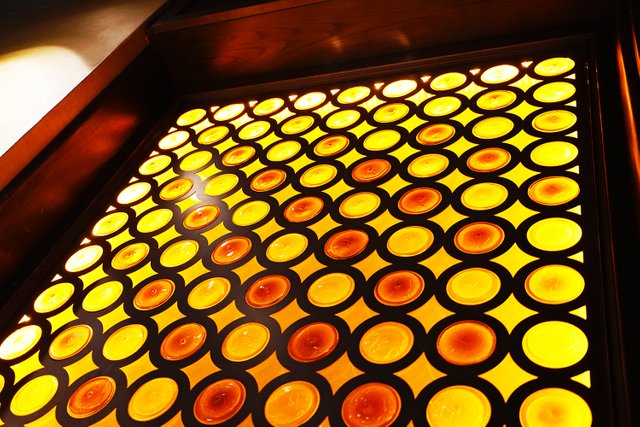 Just behind me and hung on the wall, are two really interesting sketches, one of the Coldstream Gaurds that are now so synonymous the British Empire, and the other of the Queens's own Cameron Highlanders which were formed in 1793.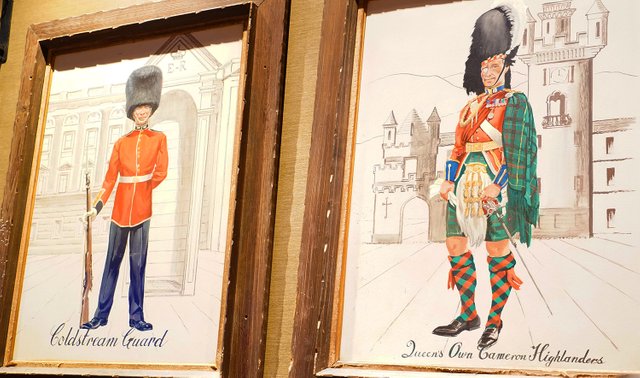 I was still wondering why the pub named itself after the Swimming Pigs of Major cay, indeed, the pub has decorated several wall faces with pictures of the darling pigs and their watery antics.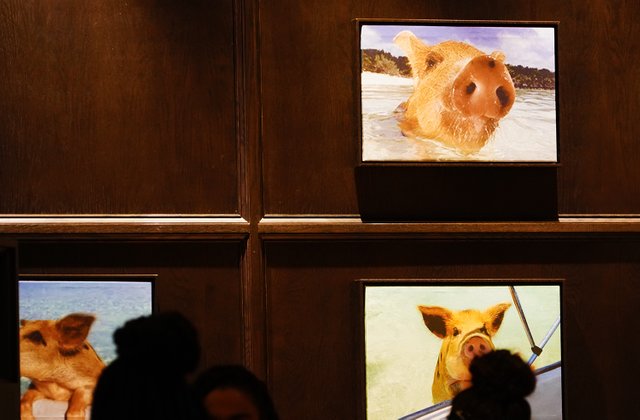 The pictures of the pigs are so adorable, if at this point you haven't had the chance to visit the Swimming Pigs, then the pictures serve as reminder to do so!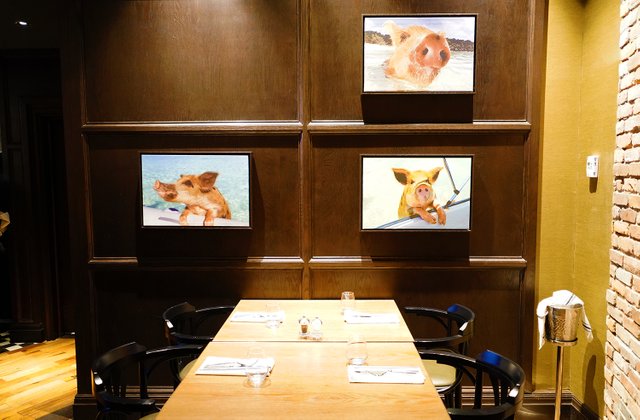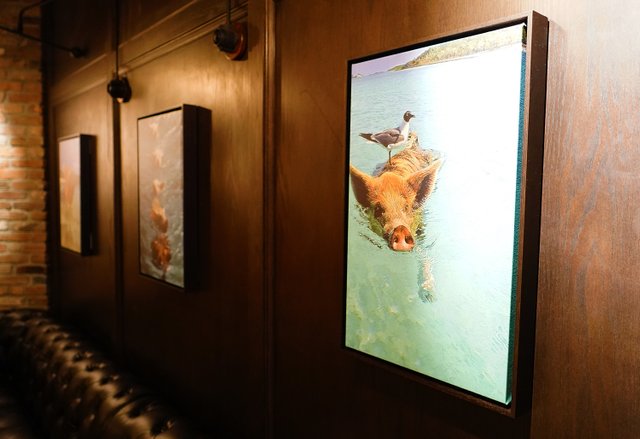 There's even a picture of a bird standing on a swimming pig!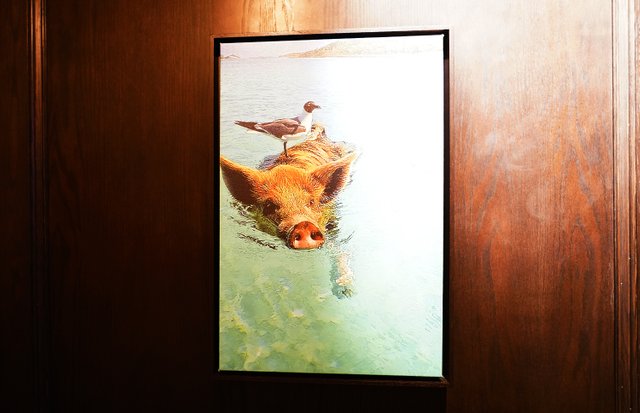 And a neat row of swimming piglets!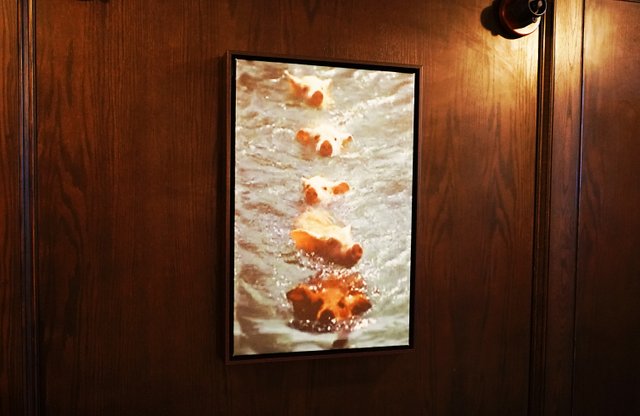 This porker isn't camera shy at all.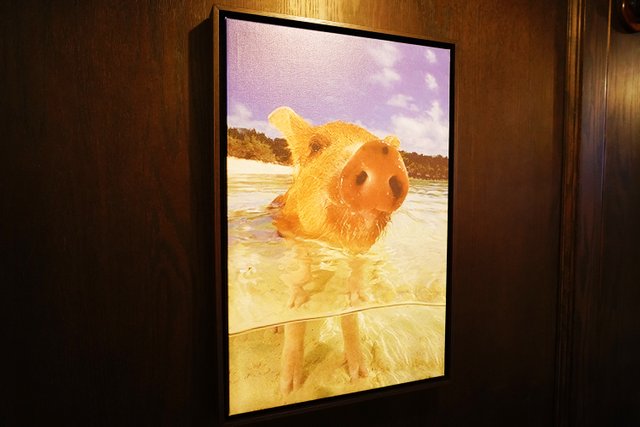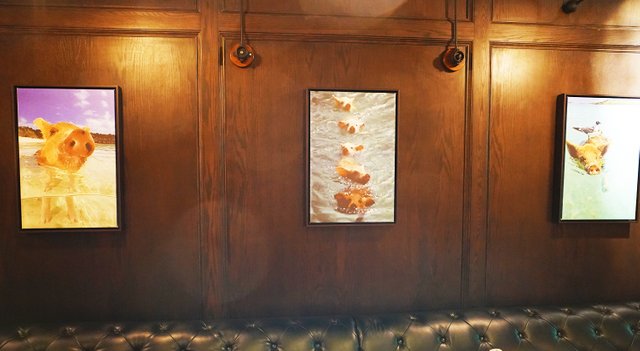 On to the food!
As you can see, the menu has quite a range of foods on offer. I was surprised to see Wagyu Carpaccio on the menu, as it isn't something I would normally expect from a pub restaurant.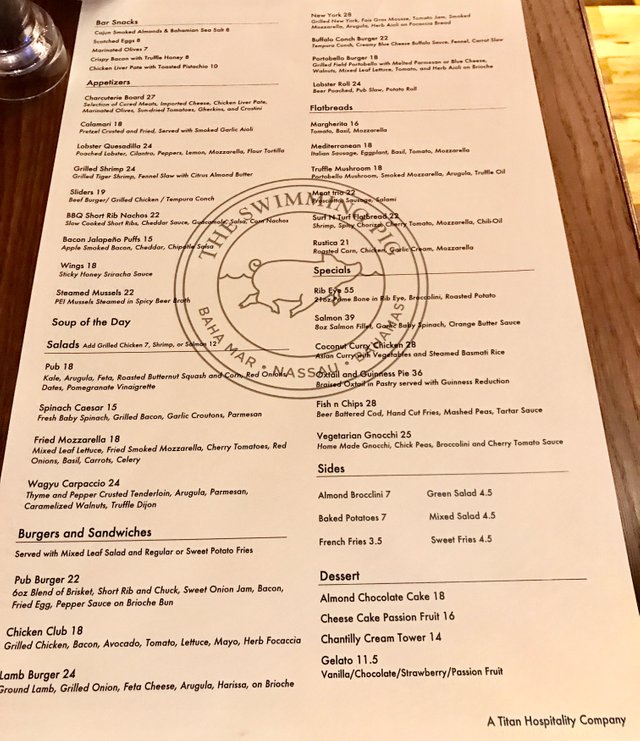 I also really like how they've written a bit of history about each of their "Legendary Cocktails".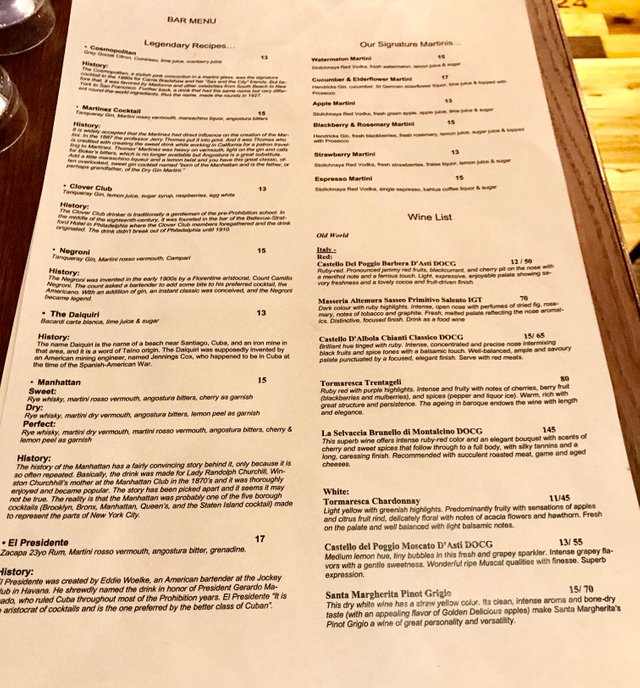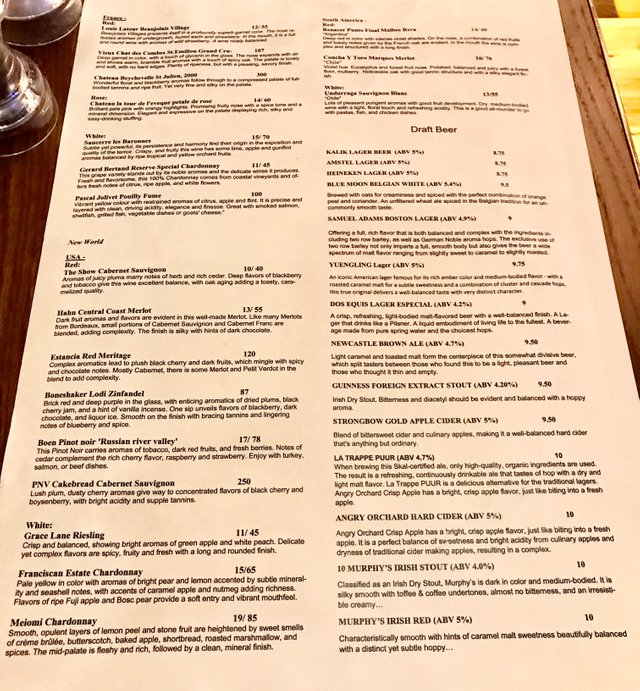 Onto the food
First up, we have a light salad gently doused with olive oil and vinegar. A perfect healthy appetiser.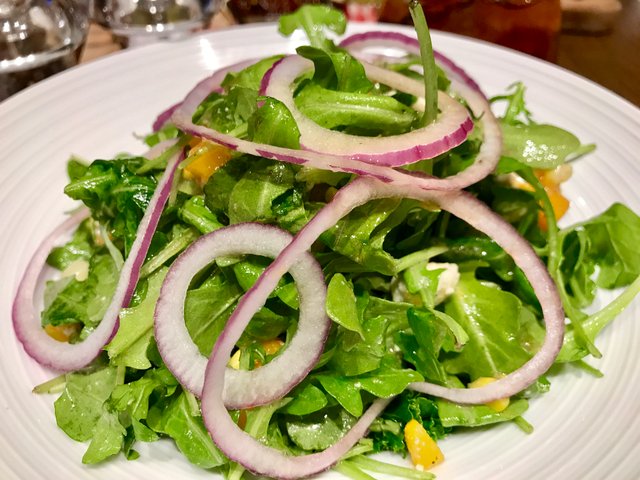 The obligatory french fries which were amazingly crispy and freshly fried. I love to pick at the smaller cuts because they tend to be the most crispy and tasty.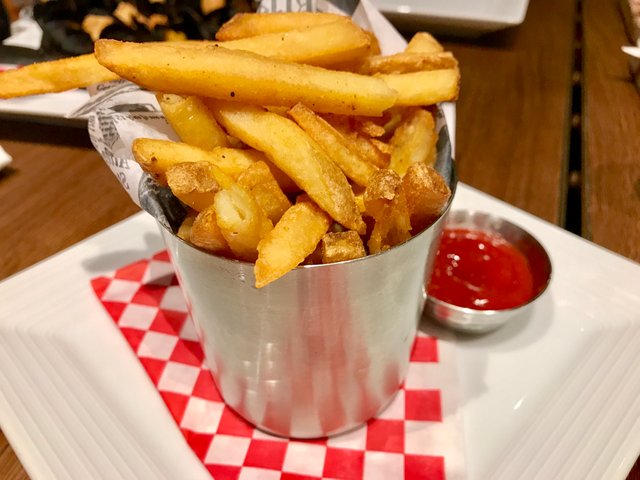 Next, we have Steamed Mussels which are prepared in a Spicy Beer Broth! It tastes a bit bitter, and certainly quite different from the garlic broth i'm used to having steamed mussels in but the mussels themselves are very fresh, and full of fresh sea tasting flavour.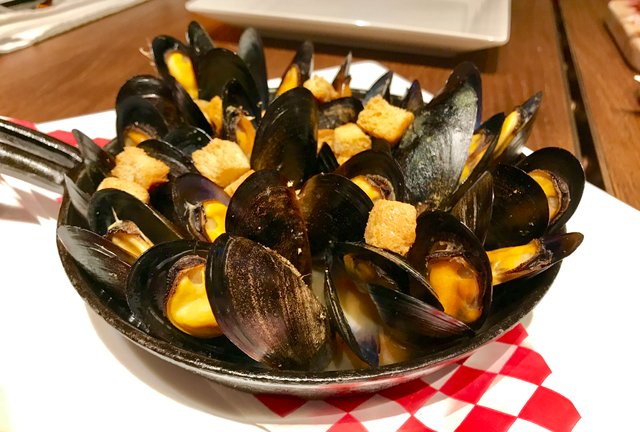 Here we have the Charcuterie Board. It is served with a selection of Cured Meats, Imported Cheeses, Chicken Liver Pate, Marinated Olives, Sun-dried Tomatoes, Gherkins and Crostini bread.
When presented with a wide array of little dishes meant to be eaten together, I'm always a bit confused as to how I should go about consuming it all.
The way I decided to go about it on this occasion, is use the Liver Pate as a spread on the Crostini, then add a slice of the cured meat. Taking a bite from combination, I then nibble on the Sun-dried tomatos, gherkins and olives. It seems to work quite well because the Liver Pate has a very strong savoury taste which is easily offset by the Gherkin, Tomatoes and Olives.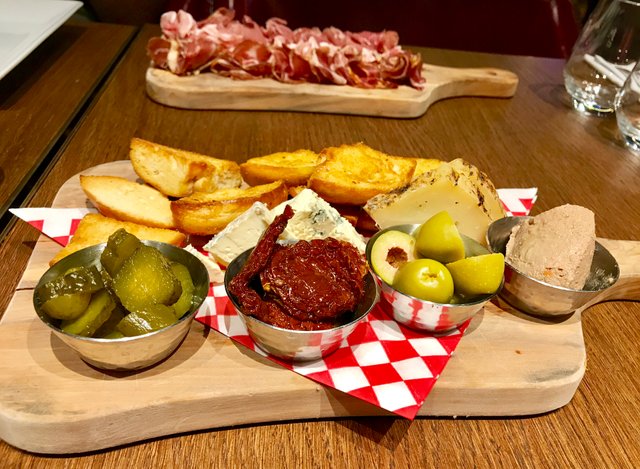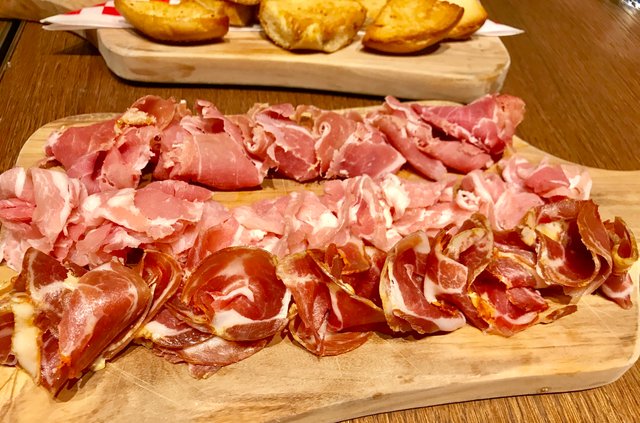 To complete the meal, I opted for a glass of their Legendary Dry Manhattan Cocktail. This was an exceedingly strong tasting whisky based cocktail which nearly made me pass out!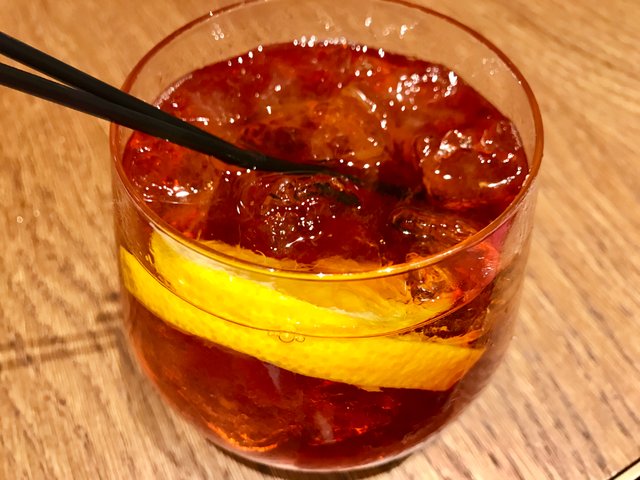 Cheers everybody and hope you enjoyed my post!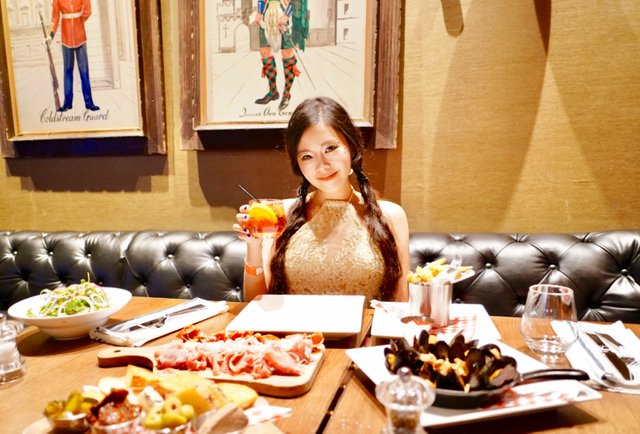 I must say, I really enjoyed the atmosphere of this pub restaurant, and that is a good thing because it took such a long time for the waiters to come take my order, and an even longer time to serve the food!
I was however impressed with the wide variety of dishes to choose from. The mussels were a very welcome change from the Italian garlic style that I'm used to. Servings here are very generous in size, whether it's the food, or the drinks, you won't find this pub cutting back and trying to cost cut with diluted drinks, or small servings of food. For a person with a stomach larger than my frame would suggest, that is always very welcome!
Hope you enjoyed this post, don't forget to upvote if you like it, follow for more, and feel free to leave a comment to let me know what you think!
---
差不多要结束在天堂岛亚特兰蒂斯酒店的旅程,在巴哈马的后一段形成,我选择住在刚刚开放了一部分的巴哈·玛凯悦酒店。在亚特兰蒂斯酒店和Virgil's餐厅的服务员聊天时,她就强烈推荐我住到凯悦酒店,一定不要错过The swimming pigs酒吧餐厅。她说她曾经在那里吃过饭,是非常美好的回忆。这个名字对于来巴哈马旅游的游客并不陌生,这不就是岛上最拉风和吸引人的旅游项目——和小猪游泳嘛。用这个名字"游泳的猪"这么耳熟能详的起名作餐厅名,应该不会有人不记得了。
正好来到凯悦酒店的时候,整理下行李,休息一下,就已经到晚上九点半了,虽然这家酒店目前开放了4,5家餐厅,但是大多九点半已经不再接受新的客人了。突然我在酒店房间自带的Ipad指南系统上看到,"游泳的猪"这家酒吧全天24小时供应食物,再加上想起之前那位友好的店员给我推荐,不多加犹豫,就准备出发了。餐厅门口的装潢非常豪华精致,有拉斯维加斯装修的风格,黄色窗户上的圆形图案,加上玻璃反光放出的流光溢彩,俨然是一座不夜城的感觉,没错,这是一家狂欢到天亮的餐厅。墙上一排排挂着巴哈马的经典宣传照片,当然少不了人类和各种小动物互动的照片,我很有兴趣的把每张都仔细看一下。门口大橱窗里装饰的酒瓶塞子是我最喜欢的部分,大大小小形状不同的酒瓶塞子摆放的乱中有序,非常直观的告诉大家,这家餐厅除了24小时无休眠,供应各种酒也是它的最大特色。想想也没错,度假时候的欢愉场面,怎么能少了酒精的助兴。走进餐厅,这个装修风格依旧延续了拉斯维加斯酒店的风格,木地板配红色椅子,Loft工厂风格的装修,显然这种风格是人们度假时最渴望享受的休闲娱乐环境。吧台后面各种洋酒,还有那竖着一排高高的啤酒关,还有放在柜子里各种高档红酒,这里真是酒的博物馆。酒吧上面的大屏幕播放着球赛,人们聚在一起,无论是一起来的,还是刚认识的朋友,都热情的聊天,气氛欢乐极了。餐厅有各种不同的座位,圆桌,方桌,长桌,还有不少酒吧常见的高脚桌。你可以选择你喜欢的区域坐下。墙上到处都是巴哈马的巨型,会游泳的小猪的艺术照,有张照片,小猪的头顶停下一只海鸥,太有爱了,不禁感慨大自然的美好。
坐下来之后,大家跟我仔细看看菜单吧,这个小猪游泳的logo设计的真可爱,看得我又想和小猪再游一次泳了。好几页的酒单真的显现了这家餐厅对于酒的执著和专业度,不仅有各种酒的名称,成份介绍,还有这种酒的发展历史。让客人除了点一杯自己喜欢的酒,还可以了解到关于这种酒丰富的知识,想得多周到呀。所以来到巴哈马,如果你想大醉一场,就来这家酒吧吧,不过我不能醉阿,醉了怎么写文章分享我的旅行故事给大家呢。下面一起来尝尝我点的菜吧。蔬菜沙拉,加进了洋葱,还有岛上特有的黄色西红柿,味道非常好吃。下面是香喷喷的薯条,在我饥饿的时候,这个最管用呀。青蚝Mussel也是我在海岛的最爱,煮的又鲜又嫩,清蒸的口味配上点蒜茸和奶酪,真是人间美味。接下来是西班牙风格的美味Tapas,配有鹅干,腌橄榄、青辣椒,奶酪,还有很多烤土豆。当然还有主角,各种不同的腌制火腿,肉质风味特别,口感细腻。最后敬上大家一杯浓浓的鸡尾酒,希望大家能享受我今天分享的游泳的猪餐厅,之后还有更多的巴哈马美食等着和大家分享。