Hello, my friends!
Today we will cook an unusual warm salad with champignons and beans. The idea of ​​creating such a salad was inspired by the presence of ready-made ginger dressing and champignons.
The salad is simple, but with nuances.
If you do not have ready-made ginger dressing, you can mix mayonnaise with soy sauce, balsamic vinegar, black pepper and fresh ginger.
Let's Go!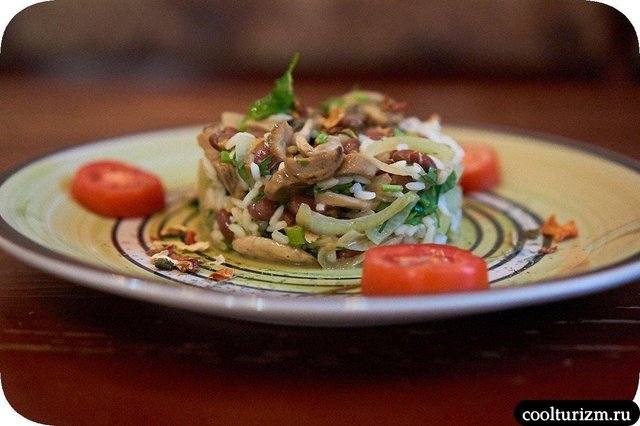 Ingredients:
● Champignons - 300-400 g
● Canned red beans - 1 can
● Rice - 1/2 cup
● Onion - 1-2 pcs.
● Orange - 1 pc.
● Ginger salad dressing - 1 pack.
● Butter - 30 g
● Salt, sugar, pepper, spices, herbs - to taste
1.So, we prepare the initial ingredients and cook half a glass of rice until cooked.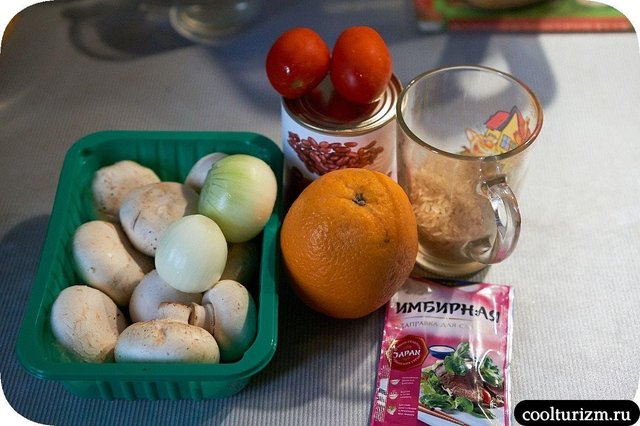 2.Let the rice cool slightly and add red beans from the jar. We don't need the liquid from the can, we need to drain it first.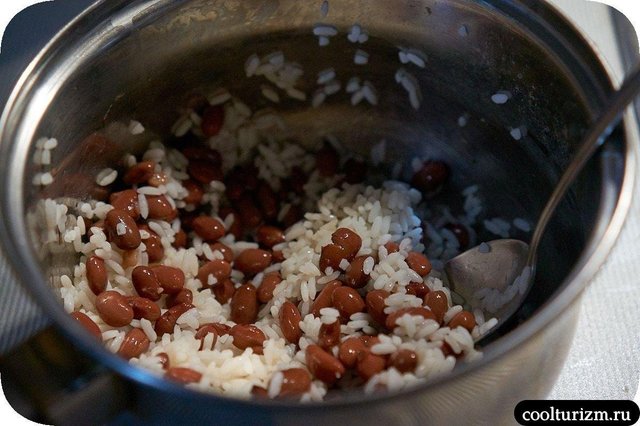 3.Cut the mushrooms into slices. Onions are peeled and cut into half rings. Melt the butter and fry the onion and mushrooms on it until tender.
Initially, I planned to use fresh orange in the salad, but since it turned out to be not of very high quality, I added it to the mushrooms and onions. Just cut the orange into slices and add it to the pan along with the juice released when sliced. Salt and pepper to taste.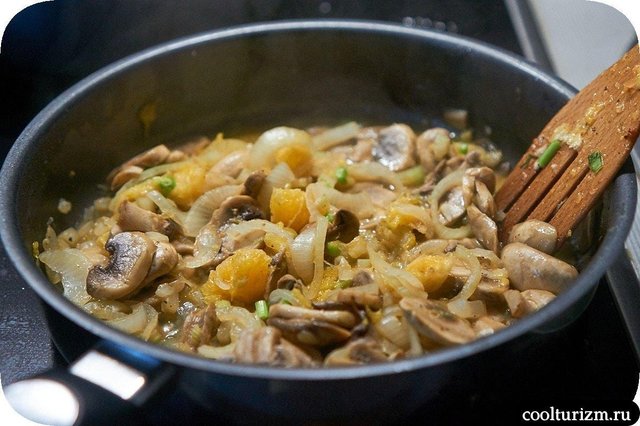 4.Add the contents of the pan to the pan with a warm salad. Here we pour the finished ginger dressing. Refueling is a bit acidic, so I added a little sugar. Cut cilantro, it is well suited for salad.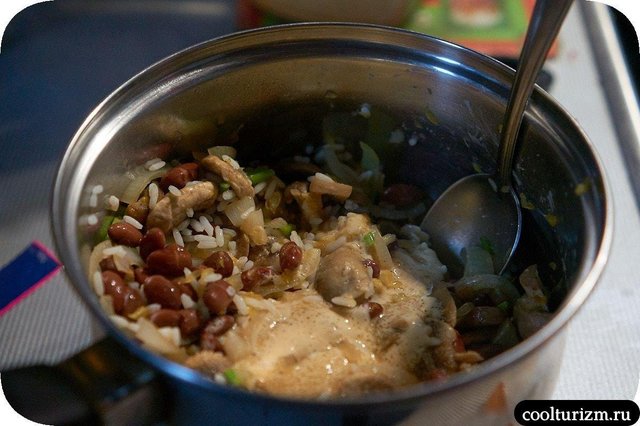 5.Using a serving ring and spoon, put the salad on a plate. Remove the ring. We make a warm salad with champignons. I used cream tomatoes and dried herbs.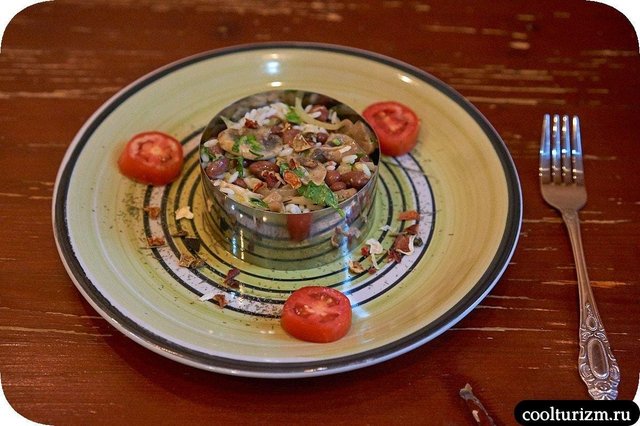 Very interesting rich taste.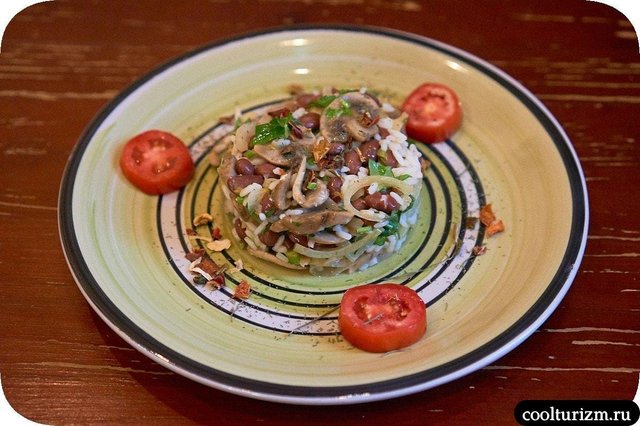 I recommend to try!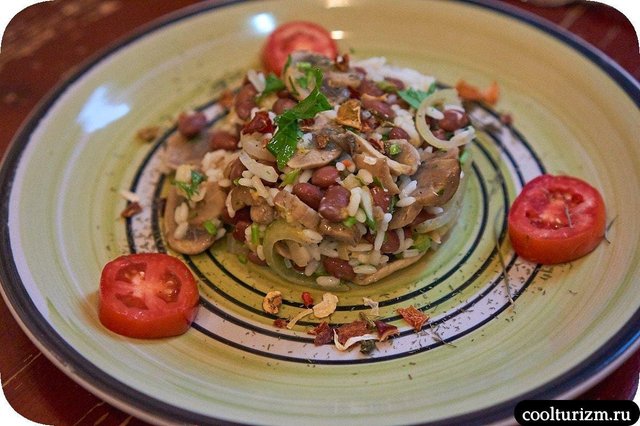 Will we cook?

Heute bereiten wir einen ungewöhnlich warmen Salat mit Champignons und Bohnen. Die Idee, einen solchen Salat zuzubereiten, wurde durch das Vorhandensein von fertigem Ingwer-Dressing und Champignons inspiriert.
Der Salat ist einfach, aber mit Nuancen.
Wenn Sie kein fertiges Ingwer-Dressing haben, können Sie Mayonnaise mit Sojasauce, Balsamico-Essig, schwarzem Pfeffer und frischem Ingwer mischen.
Lass uns gehen!
Zutaten
● Champignons - 300-400 g
● Rote Bohnen in Dosen - 1 Dose
● Reis - 1/2 Tasse
● Zwiebeln - 1-2 Stck.
● orange - 1 Stck.
● Dressing für Ingwersalat - 1 Stck.
● Butter - 30 g
● Salz, Zucker, Pfeffer, Gewürze, Kräuter - nach Geschmack
1.Also bereiten wir die Ausgangszutaten vor und kochen ein halbes Glas Reis, bis alles fertig ist.
2.Lassen Sie den Reis etwas abkühlen und fügen Sie die roten Bohnen aus dem Glas hinzu. Wir brauchen keine Flüssigkeit aus der Dose, wir müssen sie zuerst ablassen.
3.Pilze in Scheiben schneiden. Die Zwiebel schälen und in halbe Ringe schneiden. Die Butter schmelzen und die Zwiebeln und Champignons darin zart anbraten.
Ursprünglich hatte ich vor, frische Orangen für den Salat zu verwenden, aber da sich herausstellte, dass er nicht sehr hochwertig war, fügte ich ihn den Pilzen und Zwiebeln hinzu. Schneiden Sie die Orange einfach in Scheiben und geben Sie sie zusammen mit dem in Scheiben geschnittenen Saft in die Pfanne. Salz und Pfeffer abschmecken.
4.Geben Sie den Inhalt der Pfanne mit einem warmen Salat in die Pfanne. Hier gießen wir das fertige Ingwer-Dressing ein. Das Dressing ist ein bisschen sauer, also habe ich etwas Zucker hinzugefügt. Koriander geschnitten, eignet sich gut für Salat.
5.Mit einem Servierring und einem Löffel den Salat auf einen Teller legen. Entfernen Sie den Ring. Wir machen einen warmen Salat mit Champignons. Ich habe Tomatencreme und getrocknete Kräuter verwendet.
Sehr interessanter gehaltvoller Geschmack.
Ich empfehle einen Versuch!
Kochen wir