How To Make Naturally Cured Chicken Meat or Chicken Tocino
Tocino is a cured and sweetened meat from Philippine culinary. It's usually served in a traditional breakfast with garlic fried rice and fried egg on the side, It called Tocilog or it stands for Tocino, sinangag and Itlog. This simple yet very tasty dish is easy to make with very simple ingredients that may be available in your pantry. You can also use other meat like beef or pork for this dish.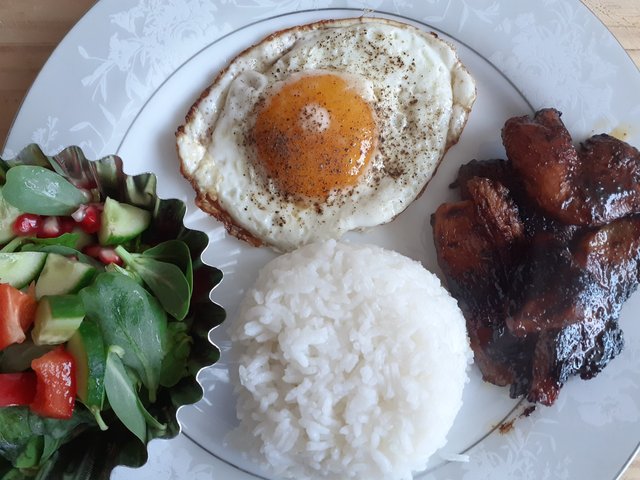 No fancy ingredients and all natural, I did not include any meat preservatives instead I used pineapple juice and sugar to act as natural preservatives. I used the tomato ketchup for the red color or optionally you can use annato powder for the food coloring.
Ingredients:
Chicken breast, 500g
Brown sugar, ⅓ cup
Pineapple juice, ¼ cup
Salt, ½ tsp
Pepper, ½ tsp
Tomato ketchup, 2 tbsp
Preparations:
Slice the chicken in the desired sizes and place them in a bowl.
In the Mixing bowl with chicken, Add the sugar, pineapple juice, salt, pepper and catsup.
Mix them all together and Refrigerate for 12 hours.
For cooking, you can fry them straight in the pan with oil for at least 3 minutes on each side, Alternatively, you can also boil the tocino with the marinade until the liquid evaporates, Then add a bit of oil and fry until caramelised and turned brown in color.
Serve warm with a bed of rice for a flavorful and filling breakfast.
A tasty, convenient meal you can have anytime. You can store it in the freezer in a resealable bag for future use and just thaw it when you decide to cook it.
Try this recipe for a delicious, hearty breakfast.
What do you think of this recipe?