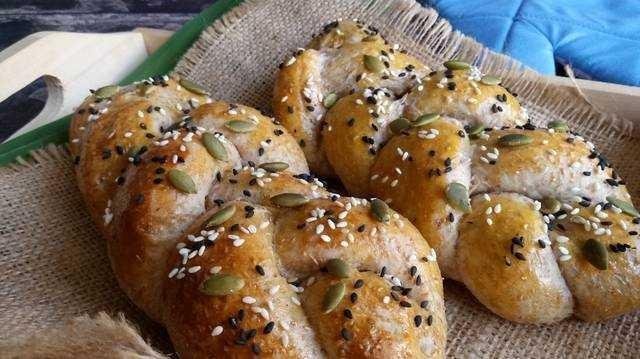 Ingredients
Tangzhong:

25 grams of high protein flour
125 ml of water

Dough ingredients:

110 grams of liquid milk
45 grams of whipped egg
40 grams of sugar
100 grams of tangzhong
5 grams of salt
200 grams of high protein flour
150 grams of wheat flour
6 grams of instant yeast
40 grams of butter

Stuff:

Small diced cheddar cheese

Optional ingredients:
Sprinkles:

According to the taste of pumpkin seeds, sesame seeds, etc.

Material spread after cooking:
Steps
Create tangzhong. Stir the tangzhong ingredients and heat them over low heat until they thicken. Simply thick it, don't boil it. Lift. Cover the plastic wrap and store it in the refrigerator.


Remove the tangzhong from the refrigerator. Mix all ingredients except salt and butter. Mixer / knead until smooth.

Then add butter and salt. Mixer / knead again until smooth elastic.

Transfer to a table that has been sprinkled with flour. Knead until smooth and elastic. Use extra flour when kneading. It's just not too thin.

I use a mixer. The steps are the same as using hands. Butter and salt last. The mixer is smooth and elastic.


Round the dough, cover the plastic wrap. Let it expand to 2x. I am 1 hour.


After 1 hour. Perfectly expanding the yeast sign works well.


Boxing the dough, remove the air. Shape and content according to taste. I usually divide it by weighing it into the size of the dough. Here I am for 6.


Take 1 dough then into 3 parts. Grind with rolling wood.


Sprinkle with pieces of cheese.


Roll up.


Pinch the border and roll it lengthwise.


Tape the ends and braid.


Arrange in a baking dish that has been spread with butter or coated with baking paper. Let it expand again 30-40 minutes. I'm on a plastic lid / napkin.


Preheat the oven to 180C. Rub the surface of the dough with a beaten egg. Sprinkle with seeds. I pumpkin seeds and black and white sesame.


Roast 15-18 minutes or until cooked. The length of time for baking is adjusted to the size of the dough and is adjusted to the type of oven.

While still hot, rub the surface with butter or butter mixture and honey to keep the bread moist.

Cool the dicooling rack for a moment.

After cold input in an airtight / plastic container.

Ready to be enjoyed. Yummy!



Lets Cooking,