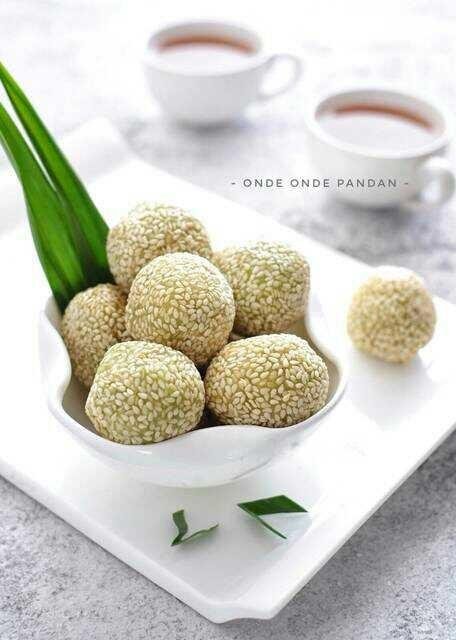 Ingredients
Onde-Onde stuff:

200 g peeled green peas
100 gr sugar
2 pieces of pandan leaves (conclude)
1/2 tsp salt
200 ml coconut milk

Onde-Onde Skin:

250 gr white sticky rice flour
35 gr rice flour
2 tbsp potato flour (brewed with hot water until soft)
1/2 tsp salt
150 ml of warm water
1/2 tsp vanilla extract
To taste pandan pasta
Sufficient sesame
Steps
Onde-onde stuff: Soak peeled green beans for 1 hour, then drain.


Steamed green beans that have been soaked for 30 minutes. let stand until warm then add coconut milk. Blend until the green beans are smooth.


Enter into a finely ground mung pot. Add the sugar, salt and pandan leaves. Stir until sugar and salt dissolve, cook over low heat until the dough is smooth. Set aside, allow to cool the dough. Cover the dough so the stuffing does not get hard.


Onde-onde skin: mix in white glutinous rice bowl, rice flour, soft potato starch, granulated sugar, salt and vanilla extract. Add warm water bit by bit. Stir until smooth and dull. Stop the addition of warm water if you think the dough is right.


Add the pandanus paste to taste. Knead again until well blended.


Completion: weighing onde onde weigh 15 gr. Round and solid shape. For the skin, take the dough weighing 20 gr. flattening then fill the onde, close the meeting round shape.


Roll over the sesame while pressed press for the sesame to stick.


Fried onde-onde with low heat. Put the onde-onde into the unheated oil. Stir well with the occasional press onde onde. Fry until done.


Onde-onde ready to serve and eaten.



Lets Cooking,