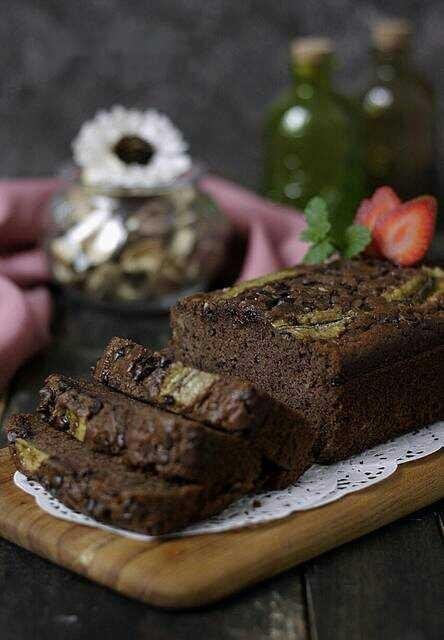 Ingredients
3 pieces of ambon bananas
1/2 tsp ground cinnamon
Dry Material:

220 gr wheat flour
2 tbsp cocoa powder
1 tbsp milk powder
85 gr of caster sugar
1 tsp baking powder
1/2 tsp baking soda

Wet material:

2 eggs
120 ml of liquid milk
120 ml of vegetable oil

Toping material:

Sufficient choco chips
Adequate pieces / slices of banana
Steps
Prepare a loaf pan or a brownie pan. Preheat oven at 160 degrees c.

Peel the ambon bananas and crush it with a fork until smooth and soft.


Mix bananas with cinnamon powder. Set aside.


Prepare dry ingredients and mix together: flour, milk powder, cocoa powder, caster sugar, baking powder and baking soda. Stir well.


Prepare wet ingredients: Whisk egg and milk, After fused, pour vegetable oil. Stir well.


Pour dry ingredients into the wet material, mix well.


Pour into a baking sheet. add toping pieces of banana and choco chips. Bake for about 45-50 minutes.

Set aside if it is cooked.


Choco Banana Cake ready to be enjoyed with hot tea in the day.


The texture is soft, moist and fragrant. Yummy..



Lets Cooking,